Integration Core

Faculty members of our Graduate School comprise top level researchers active in a diverse range of academic disciplines, including Sport and Health Sciences, physical education, medicine, education, social psychology, engineering, economics and business management.
The Graduate School of Sport and Health Science also provides strong support to research activities by allowing students to work in a top-level international research environment, including state-of-the-art facilities and advanced experimental equipment, as well as research laboratories for graduate students.
Integration Core
Individual research offices of faculty members.
Used for research planning, research meetings, seminars, etc.

Research facilities and equipment for physiology and biochemistry studies working to elucidate physiological mechanisms. Tissue and fluids taken from the human body (e.g. blood, muscle) can also be analyzed in facilities on this floor.

Sports engineering and sports psychology laboratories. Carrel space is available for graduate students to concentrate on their studies, as are discussion rooms. The PCs available in the Information Processing Center are equipped with high-level statistical analytical software.

Facilities for applied researches focused on physical activity and exercise for the purpose of health promotion. Devices to evaluate physical fitness for health, equipment for testing in low oxygen environments, and facilities for measuring basal metabolism. Seminar rooms are available for out-of-hours study sessions.

The administrative department of the Graduate School, comprising offices and meeting rooms. The space in front of the administrative offices has a display area featuring the signatures and uniforms of sports men and women associated with Ritsumeikan University.

Equipped with devices used to communicate the research of the Sport and Health Sciences to the local community, as well as devices and equipment that can analyze physical movement, practical cooking facilities and equipment, and facilities that can be used for medical purposes such as MRI.
The Biwako-Kusatsu Campus(BKC)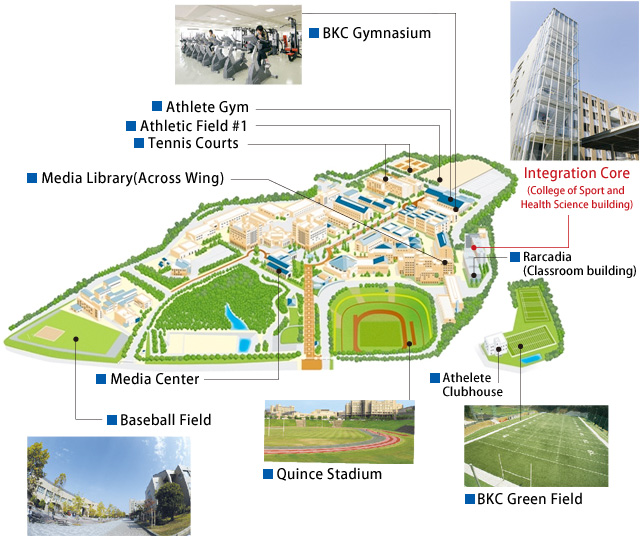 ---