NEWS/EVENTS
01. 26, 2016
Indonesia's Public Policy Planning Training – Fifth Session-
From 29 November to 12 December 2015, the Public Policy Planning Training– Fifth Session- was held at Ritsumeikan University Osaka Ibaraki Campus (OIC), Ritsumeikan Asia Pacific University (APU), Kitakyushu City and Oita City. Twenty university lecturers, researchers and government officials from Indonesia participated in the training.
Based on a request from BAPPENAS (National Development Planning Agency of Indonesia), this ODA-supported program has been carried out four times between 2009 and 2014 with a total participation of ninety-eight people.
The Opening Ceremony was held at OIC on 30 November. The opening speech was delivered by Associate Professor Kazuyoshi Komami, Director of the Division of Global Planning and Partnerships, followed by a speech by the leader of the participants, Ms. Widyanti Soetjipto from University of Indonesia.
During the first week, the lectures at OIC covered several topics such as water environment management, planning ethics, sustainable urban planning and so on. The participants traveled to Kyushu in the second week and attended lectures and fieldwork regarding environmental policy, community development, fisheries management and so on in Kitakyushu and Oita.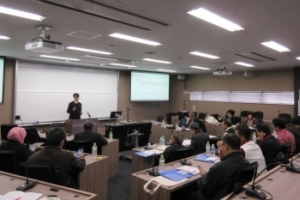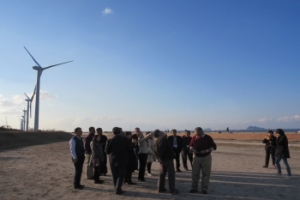 On the last day, the participants made group presentations which reflected their new findings from the training program. As commentators, members of the curriculum development committee for the Indonesian training program, Associate Professor Yusuke Toyoda, Vice Dean of the College of Policy Science and Professor Akira Shibata, Professor of Research Organization of Open Innovation encouraged the participants by giving feedback to each presentation and answering their questions.Following the reporting session, the participants moved to Hotel Hankyu Expo Park to attend the commencement ceremony. The twenty participants were awarded a certificate of completion by Professor Kozo Watanabe, Vice Chancellor of the Ritsumeikan Trust in the presence of Mr. M. Iqubal Djawad, Ph.D, Educational and Cultural attaché of Embassy of the Republic of Indonesia in Japan, a representative from the Indonesia Division, Southeast Asia and Pacific Department of the Japan International Cooperation Agency and Executive Director of Asia Seed. They are expected to bring new ideas they gained from the training in Japan, and utilize them in their training for planners in Indonesia once they return home.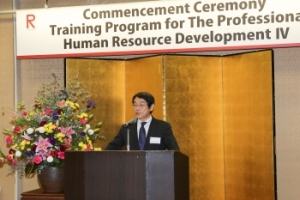 The Ritsumeikan Trust recognizes international cooperation that contributes to the progress of international society as the role educational institutes should play in the 21st century. It considers international cooperation projects as one of the most important pillars of the Ritsumeikan Academy.