Others NEWS/EVENTS
11. 07, 2013
The teachers from Don Muang Disctict, Bankok, visited Ritsumeikan University
27 teachers from Dong Muang District in Bangok, Thailand, visited Ritsumeikan University on 1st November, 2013. Dr. Mikio Yoshida, a specialist of the Thai Labour Law from School of Law, welcomed them at
Matsumoto Memorial Hall Jury Room and gave an introduction of Ritsumeikan. He also talked about
problems Japanese universities are facing such as declining youth population and what out strategy is.
After that, 2 Thai students who are currently studying at Ritsumeikan University talked about their experience of studying and living in Kyoto. Many people were interested in knowing more about studying in Japan,
and there were many question from how to get a scholarship to how much their living cost was.
We hope to have more opportunities to welcome guests from all around the world at Ritsumeikan
to promote our universities/schools, and also to encourage more people to come and study in Japan.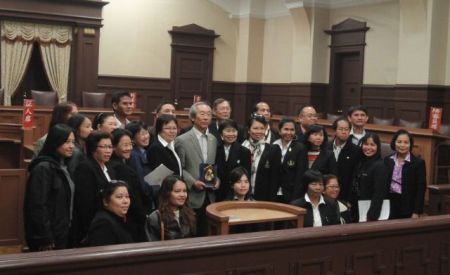 Taking a commemorative photo with Dr. Yoshida