Others NEWS/EVENTS
08. 07, 2014
Ritsumeikan holds JICA Country-focused Training Session for Jordan on Career Support for University Students
On Wednesday, August 6, Ritsumeikan welcomed eleven trainees from the Hashemite Kingdom of Jordan at Kinugasa campus as part of the JICA Country-focused Training Session for Jordan on Career Support for University Students. The training session started with an introduction about regular curriculum programs such as career education subjects and internships by Professor Akira Yamaji (Ritsumeikan University, Institute of General Education). In the afternoon, an administrative staff member from the Division of Career Services explained to the trainees about job hunting situations in Japan, missions and structure of the Division of Career Services and its employment support for students.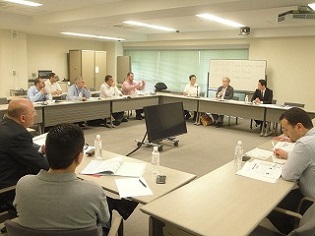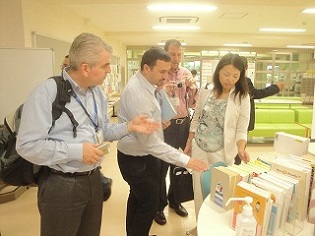 The group of trainees consisted of members from the Amman Chamber of Commerce and Industry, the King Abdullah II Fund for Development (non-governmental organization established by a royal decree which develops university career centers), NGOs which provide career support to university students, and public and private university career centers such as the University of Jordan.
The high unemployment rate, which mainly consists of youth, is a serious social issue in Jordan. Effective employment promotion measures are especially required for highly-educated youth that have been overlooked. During the Training Session, trainees visited the Ministry of Economy, Trade and Industry, the Ministry of Education, Culture, Sports, Science and Technology, universities and corporations in Tokyo and Kyoto and learned lessons from Japan's experiences. They will engage in the management of career centers at universities in Jordan once they return home.
The Ritsumeikan Trust recognizes international cooperation that contributes to the progress of international society as the role educational institutes should play in the 21st century. It considers international cooperation projects as one of the most important pillars of the Ritsumeikan Academy.
For more details about Ritsumeikan's engagement in International Cooperation and Contribution, please refer to this page.