Programs:
program_bilateral

NEWS/EVENTS

02. 27, 2014
Staff Members from Malaysia's MJIIT Visit Ritsumeikan for Administrative Training
From February 25th to March 7th, Ritsumeikan holds a two-week University Administrative Training for eight faculty and administrative staff members from the Malaysian-Japan International Institute of Technology (MJIIT). MJIIT opened in September 2011 with the aim to become an international hub of Japanese-style engineering education.
MJIIT is an independent educational institute within the University of Technology Malaysia (UTM) and its purpose is to develop human capital with high productivity and competitiveness who obtains skills, knowledge and working ethics through Japanese-style education. Ritsumeikan, as one of the twenty-five Japanese Consortium universities, has been providing support to MJIIT such as preparation for its establishment, curriculum planning, dispatch of Japanese professors and joint-supervision for Malaysian students. This two-week Training Program is a part of Ritsumeikan's efforts to contribute to the MJIIT.
On February 25th, an opening ceremony was held in the Suekawa Memorial Lecture Hall. The ceremony was opened with greeting messages by Mr. Kazuhiko Sakamoto, Director of Program Division 2, JICA Kansai International Center, and Professor Masahisa Koyama from College of International Relations. The two-week training focuses on improving the participants' skills in various areas of university administration, such as human resources, finances and academic affairs. The training also includes on the job training in similar offices as the participants work at MJIIT on March 4th and a visit to Panasonic Appliance in Kusatsu city on March 5th. Furthermore, participants will have an opportunity to discuss various issues concerning university administration in Malaysia and Japan with young Ritsumeikan's staff, helping them come together, fully understand each others' challenges towards education and share good practice at workplace.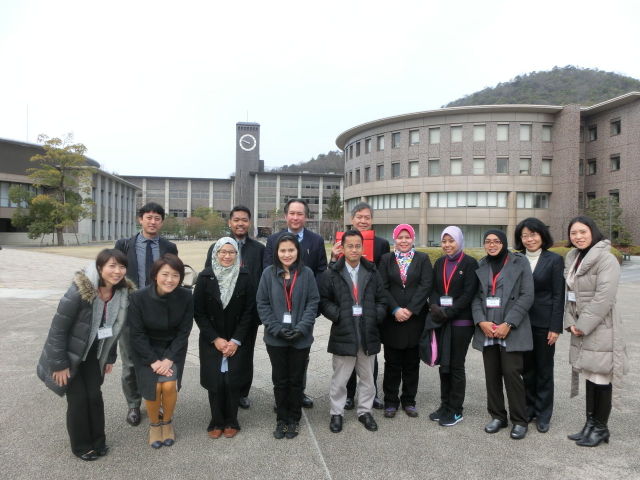 Ceremonial Photograph in Kinugasa Campus, Ritsumeikan University

Opening Speech by Prof. Koyama, Director General of Ritsumeikan MJIIT-WG



Lecture on University Mission by Mr. Nishikawa, Managing Director of Human Resources Division


To finish off the program, participants give a presentation of their action plan for when they return home to Malaysia, ensuring that what they have learned over the two weeks is implemented and utilized to further enhance education at MJIIT.
Ritsumeikan Trust recognizes international cooperation that contributes to the progress of international society as the role educational institutes should play in the 21st century, and considers international cooperation projects as one of the most important pillars of the Ritsumeikan Academy.
For more details of MJIIT, please refer to
the MJIIT website
.
For the project of Ritsumeikan, please refer to
the website of our office
.