Programs:
program_bilateral

NEWS/EVENTS

03. 10, 2014
The MJIIT staff members completed a two-week University Administrative Training course held at Ritsumeikan
The MJIIT staff members were here for a two-week University Administrative Training course held at Ritsumeikan from Tuesday, February 25th to Friday, March 7th. The training was completed on March 7th, followed by an action plan presentation and the closing session.
On Friday, February 28th, Ritsumeikan administrative members and MJIIT representatives exchanged their opinions about current situations and issues at each university in regards to higher education and collaboration between faculty and administrative staff members. A tea ceremony course is available to students at MJIIT at KL campus and the institution considers Japanese cultural experience an important aspect of the training. The tea ceremony experience at the Urasenke Tradition of Tea on Monday, March 3rd deepened the participants' understanding about Japanese culture that values "form". On Tuesday 4th, participants conducted On-the-job training (OJT) at their related sections at Ritsumeikan (Office of Human Resources, Office of Finance and Accounting, Office of Purchasing and Contracts, Office of Secretariat, Office of Research Planning and Development, and Administrative Office of College of Science and Engineering). The OJT gave each participant an opportunity to solve various issues they face at MJIIT. Faculty members also exchanged information about each research field with Japanese faculty members and visited their laboratories and offices. On Wednesday, March 5th, participants visited Panasonic Appliances Company. They learned about 5S values (seiri, seiton, seiso, seiketsu, and shitsuke), workplace organization method in Japan, and joined a factory tour.
On Friday, March 7th, the participants made presentations of their action plan that they had prepared during the two-week training. Professor Masahisa Koyama, Secretary General of the Ritsumeikan MJIIT working group (College of International Relations), and Yukio Nishikawa, Managing Director of the Division of Human Resources, and Ritsumeikan administrative staff members who were in charge of the OJT encouraged the participants by giving feedback to each presentation and answering their questions. The action plan made by the participants analyzes the issues at their workplace from various angles and shows a road map for solutions, which the participants are expected to implement once they return home.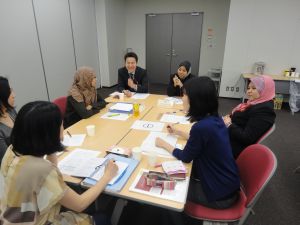 Participants learned not only expertise, but also Japanese professional ethics such as team work, time management and loyalty to work, through lectures, OJT and Japanese cultural experience classes. For the development of MJIIT, a unique faculty that represents higher education of both Malaysia and Japan, the participants returned home full of willingness and expectation. This training was made possible with the support of various sections of Ritsumeikan University, which aims to globalize its organization and administrative staff members.
Ritsumeikan Trust recognizes international cooperation that contributes to the progress of international society as the role educational institutes should play in the 21st century, and considers international cooperation projects as one of the most important pillars of the Ritsumeikan Academy.
For more details of MJIIT, please refer to the MJIIT website.
For the project of Ritsumeikan, please refer to the website of our office.
Facebook Page of Administrative Office of College of Scienece and Engineering