Programs:
program_bilateral

NEWS/EVENTS

08. 08, 2014
President of the Egypt-Japan University of Science and Technology visited Ritsumeikan
On Thursday, August 7, Egypt-Japan University of Science and Technology (E-JUST) President El-Gohary, and his group, visited Ritsumeikan's Suzaku campus. Prof. Dr. El-Gohary was appointed to the second president of E-JUST on Tuesday, July 1. This time he visited Japan with a main purpose of attending a meeting of the E-JUST Japanese University Committee and visiting partner universities to discuss and exchange ideas regarding further collaboration.
On the day of his visit to Ritsumeikan University, following the introduction of the academy by Ritsumeikan video, Vice Chancellor Junichi Hirata explained about the collaboration with Shiga prefecture and Minami-Kusatsu City in the time of an establishment of Biwako-Kusatsu Campus (BKC) and the recruitment of international students in opening Ritsumeikan Asia Pacific University (APU). President El-Gohary was impressed by APU's engagement for globalization and mentioned the possibility to establish a double degree program with Ritsumeikan. He also expressed his hope to increase opportunities for students in the Arab world to receive Japanese style higher education in Egypt in the future.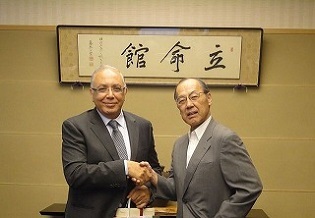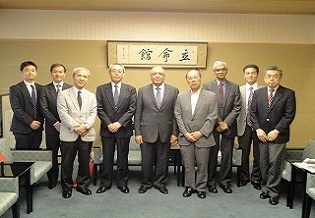 President El-Gohary (left), Vice Chancellor Junichi Hirata (right)
Ritsumeikan has provided human resource development support by implementing the University Management and Administration training course for ten mid-level executive administrative staff at Ritsumeikan's campuses in 2012 and a seminar for top management and workshops for faculty and administrative staff in E-JUST in 2013. E-JUST Project phase 2 started in February 2014. Ritsumeikan aims to strengthen their coordination and suggests a proposal to promote collaboration and cooperation within E-JUST and establish a management organization.
The Ritsumeikan Trust recognizes international cooperation that contributes to the progress of international society as the role educational institutes should play in the 21st century. It considers international cooperation projects as one of the most important pillars of the Ritsumeikan Academy.
For more details about E-JUST, please refer to
this page
.
For more details about Ritsumeikan's engagement in International Cooperation and Contribution, please refer to
this page
.