Programs:
program_hrd

NEWS/EVENTS

10. 24, 2013
Ritsumeikan's Special University Administration Training for the Shenyang University of Technology
From September 29th to October 12th, Ritsumeikan University held a University Administration Training Program at Ritsumeikan's various campuses, in Yamanashi prefecture and in Tokyo. This program was a 'Special Training Program for Administrators from Chinese Universities" that has been carried out since 2004 as part of the "Human resource development program for the inland China" ODA loans. So far Ritsumeikan University has received 930 participants. In this 37th training program, the university received another 19 teaching staff members from the Shenyang University of Technology.
The Opening Ceremony was held at the Soushikan conference hall, Kinugasa Campus, on September 30th. The ceremony began with opening remarks from Ritsumeikan's Vice Chancellor Hirofumi Ogi, followed by an enthusiastic speech from Dr. Yang Junyou, Professor of the College of Electrical Engineering, Shenyang University of Technology and the leader of the delegation. During the two-week training period, participants attended various lectures related to university management and administration. The themes of the lectures included Higher Education in Japan, teaching policy, finance and Human Resources. At each lecture, participants exchanged their opinions and engaged in discussion.
On October 8th, participants visited Dr. Ryuta Ozawa's manipulation laboratory at the College of Science and Engineering at the Biwako Kusatsu Campus. Dr. Ozawa explained his research to the participants while demonstrating the movements of the robot.
Visiting Dr Ozawa's laboratory at BKC
On the last day of the program, a Report Session was held to sum up the two-week training program at Ritsumeikan's Tokyo campus. During the Report Session, participants were divided into four groups and each group made presentations on themes such as university globalization, industry-university cooperation, university teaching policy and the student support system. As commentators, Dr Kenji Hattori, Ritsumeikan's Vice Chairman of the Board of Trustees, Dr Yuji Jido, Emeritus Professor and Masaharu Imamura, Managing Director of Division of International Affairs, encouraged the participants by giving feedback to each presentation and answering their questions. Participants from the Shenyang University of Technology are expected to promote university reforms and improve university management skills once they return home.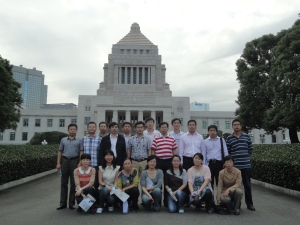 Fieldwork to Houses of Parliament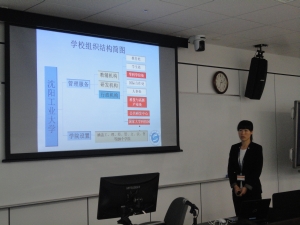 At Report Session
Ritsumeikan Trust recognizes international cooperation that contributes to the progress of international society as the role educational institutes should play in the 21st century, and considers international cooperation projects as one of the most important pillars of the Ritsumeikan Academy.