Programs:
program_hrd

NEWS/EVENTS

12. 02, 2013
The textbooks for the Sri Lanka Tourism Resources Improvement Project Human Resources Development Program are here!
Background of the Project

The Ritsumeikan Trust was commissioned by the Ministry of Economic Development of Sri Lanka and conducted "Tourism Resources Improvement Project, TRIP" with JICA ODA loans from March 2011 till March 2013. The major textbooks which were developed for this project are now all printed and organized in the box for storage and easy reference.
The aim of the TRIP project was to improve income level and alleviate poverty in Sri Lanka by increasing the number of tourists from overseas, especially from East Asia including Japan.
We engaged in education, training and curriculum development for tourism industry, and improvement of the quality of education at the Sri Lanka Institute of Tourism and Hotel Management (SLITHM), an institute specializing in Tourism and Hotel Management.
Activities of Phase 1
In Phase 1 of the Project, the team worked to improve the existing curriculum of the SLITHM ,which were outdated due to the domestic conflict that lasted for nearly 26 years, to the international standard. The team started developing firstly the curricula, instructor's manual andstudent handbooks for the major 11 areas from scratch.
At the same time, training programs were conducted for both the trainers of SLITHM and those who are engaged in the tourism industry in Sri Lanka. The programs counted total 11 areas such as Tourism Management, Food and Beverage Operation, Tour Guiding and, on top of them, Japanese Culture, Hospitality Management, and Japanese Cuisine which were particularly requested by the Ministry in order to receive and host Japanese tourists.
In addition, we provided advices on the tourism policies such as implementation of local tourism development, tourism information system and so on.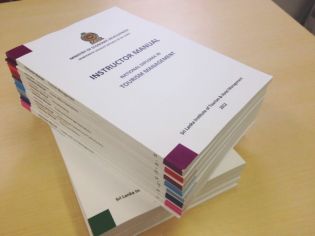 Activities of Phase 2
As phase 2 activities, we prioritized in establishing the system to maintain and utilize the developed materials. Concretely, we gave support in; organizational supervisions, gap analysis based on the UNWTO certification, developing National Vocational Qualification (NVQ) standards, supporting the acquisition of certification, and establishment of main divisions at SLITHM (Curriculum Development Unit, Career guidance and Counseling Unit, Quality Assurance Unit).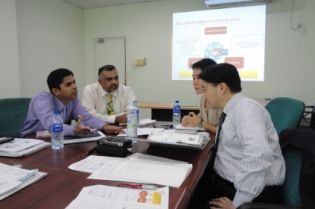 Our continuous communication and support in wide range of fields have built a strong relationship between SLITHM, Ministry of Economic Development and Ritsumeikan Trust. As the project proceeded, more SLITHM faculty members were positively engaged in addressing problems and presenting improvement plans.
Yet the TRIP project has been completed for now, the Ritsumeikan Trust is willing to contribute to the development of Sri Lanka through the promotion of the tourism industries and variety of research activities.