Programs:
program_hrd

NEWS/EVENTS

06. 11, 2014
Indonesian Public Policy Planning Training has started at Ritsumeikan
From Sunday, June 8 till Friday, June 20, Ritsumeikan holds a two-week 'Indonesia's Public Policy Planning Training' at Ritsumeikan's various campuses and Ritsumeikan Asia Pacific University (APU), in Kitakyushu and in Tokyo. Based on a request from BAPPENAS (National Development Planning Agency of Indonesia), this ODA-supported program has been carried out three times between 2009 and 2010 with a total participation of seventy-three trainees. In this years fourth session, seventeen professors from eight Indonesian universities and eight BAPPENAS staff members came to Ritsumeikan for training on public policy planning.
The Opening Ceremony was held at the Soushikan conference hall, Kinugasa Campus, on June 9. The ceremony began with opening remarks from Ritsumeikan's Vice Chancellor and Executive Director of Division of Global Planning and Partnerships, Hirofumi Ogi, followed by an enthusiastic speech from Dr. Budi Santoso, BAPPENAS and the leader of the delegation.
After the opening ceremony, the participants attended two lectures – 'Introduction to Public Policy' by Dr. Hidehiko Kanegae, Professor at the College of Policy Science at Ritsumeikan University and 'Environmental Policy -Role of Impact Assessment for Creating a Sustainable Society-' by Dr. Sachihiko Harashina, Professor at Chiba University of Commerce at the Institute of Disaster Mitigation for Urban Cultural Heritage, Kinugasa campus. On June 10, the second day of the training, the participants visited Kameoka City. They attended the lectures - 'Biochar Activities in Japan' by Dr. Makoto Ogawa, Professor at Osaka Institute of Technology and 'Cooling the Earth from the dinner table: Cool Vegetable and the Carbon Minus Project in Japan' by Dr. Akira Shibata, Professor at Ritsumeikan's Kinugasa Research Institute- and also went for a site visit to the compost center in Hozu town and Biochar making facility in Takatsuki City.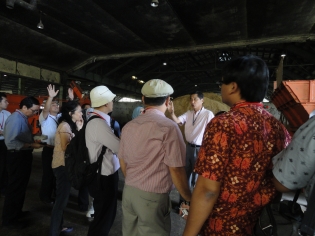 After attending various lectures at Ritsumeikan's Suzaku and Kinugasa campuses, it is scheduled that the participants will visit Kyoto Disaster Prevention Center on June 14 and from June 16 to June 18, go to Kitakyushu Eco Town, Kitakyushu municipal office and attend lectures at APU. On the final day, a group presentation by trainees is scheduled. Trainees are expected to diffuse what they learned from the program to government officials of their country.
The Ritsumeikan Trust recognizes international cooperation that contributes to the progress of international society as the role educational institutes should play in the 21st century. It considers international cooperation projects as one of the most important pillars of the Ritsumeikan Academy.