Programs:
program_hrd

NEWS/EVENTS

06. 27, 2014
Indonesia's Public Policy Planning Training at Ritsumeikan
A two-week 'Indonesia's Public Policy Planning - Fourth Session-' was held from Sunday, June 8 to Friday, June 20 at Ritsumeikan's Kinugasa and Suzaku campuses and Ritsumeikan Asia Pacific University (APU), in Kitakyushu and in Tokyo. It completed on Friday, June 20 after the reporting session, commencement ceremony and farewell party.

During the training program, 25 participants visited Kitakyushu Eco Town, Kitakyushu City Office and learned about Kitakyushu's International environmental strategies on Monday, June 16. On the following day, they attended lectures on the Japanese administrative system and development policy at APU campus, and at night, participated in the Indonesian week event and met Indonesian students currently studying at APU. On Wednesday, June 18, they attended a lecture '"Machi-Zukuri" of Beppu Hatto to develop community and people' by Professor Masahiro Makita from the College of International Management, APU and explored the town of Beppu through a program organized by NPO Kanwana Yukemuri Club. The program consisted of a town walk with a local guide and lunch prepared in a traditional way. It enabled the participants to understand community development in Beppu's Kannawa district.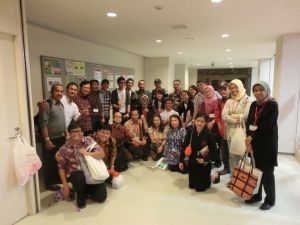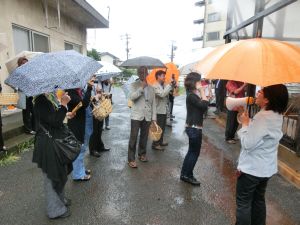 During the reporting session on Friday, June 20, participants were divided into three groups and each group made presentations on what they learned through the two-week training program. As commentators, members of the curriculum development committee for the Indonesian training program, Professor Hidehiko Kanegae, Dean of the Graduate School of Policy Science, Professor Kentaro Hayashi from the College of Social Sciences, and Professor Ken'ichi Nakagami from the College of Policy Science, encouraged the participants by giving feedback to each presentation and answering their questions. Following the reporting session, the participants moved to Gakushikaikan to attend the commencement ceremony. The 25 participants were awarded a certificate of completion by Professor Tsutomu Kanayama, Director of the Division of Global Planning and Partnerships of the Ritsumeikan Trust (College of Social Sciences) in the presence of Mr. M. Iqubal Djawad, Ph.D, Educational and Cultural attache of Embassy of the Republic of Indonesia in Japan and a representative from the Indonesia Division, Southeast Asia and Pacific Department of the Japan International Cooperation Agency. They are expected to promote what they learned from the training program and implement trainings for planners in Indonesia once they return home.
Reporting Session

The Ritsumeikan Trust recognizes international cooperation that contributes to the progress of international society as the role educational institutes should play in the 21st century. It considers international cooperation projects as one of the most important pillars of the Ritsumeikan Academy.
For more details about the training program and the first week of the program, please refer to this page.
Fore more details about the Indonesia Week at APU, please refer to this page.