Programs:
program_hrd

NEWS/EVENTS

10. 21, 2014
Ritsumeikan Conducted a Training Program for Strengthening the Capacity of Tumba College of Technology
On Thursday 16th and Friday 17th October, Ritsumeikan welcomed Principal, Vice Principal, and Director of Academic Program from Tumba College of Technology to conduct the training programs on school management.
Tumba College of Technology (TCT) was established in 2007 by Rwandan Government with the aim of strengthening the capacity of human resources in science and technology field. JICA worked with TCT on the capacity development of teachers and administrative staff as JICA's Technical Cooperation Project (Phase 1).
In the Phase 2 which started in 2013, it focuses on the strengthening of the capacity of teachers and school management. Ritsumeikan was requested by JICA to conduct this program of school management as Ritsumeikan has done similar training programs for administrators from higher educational institutions of China, Egypt, Malaysia and so on.
On the 16th the trainees first participated in a lecture "Entrepreneurship in Japan" by Professor Masaki Kuroki, College of Economics at BKC campus, then observed the Ritsumeikan BKC Incubator and the Ritsumeikan University Synchrotron Radiation Center, and wrapped up the first day session with a lecture on career support by an administrative staff member of the Office of Career Services. As TCT owns its incubator facility, there were active questions and answers about the effective use and the practical support for the students.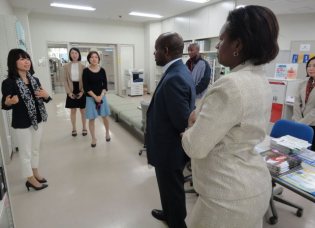 On the 17th the trainees participated in the series of sessions on "Mission-based School Management" by Managing Director, Division of Human Resources, "Change management" by Special Aide to the Chancellor and Professor Monte Cassim, College of Policy Science, and "Faculty Training Program" by Professor Hirotaka Oki, Institute for Teaching and Learning at the Kinugasa Campus. There were quite a few questions from the trainees about how to measure the outcome of the efforts. In response, it was emphasized that it is important to evaluate the outcomes in the long term such as 10 to 15 years as an educational institution that nurtures human resources, rather than only focusing on a numerical target to meet in the short term.
Ritsumeikan will continuously undertake international cooperation programs by broadly diffusing our intellectual property of education and research to the society.