Commissioned Programs
Training Program for Indonesia Professional Human Resource Development Project


Public Policy Planning Program
Disaster Mitigation Program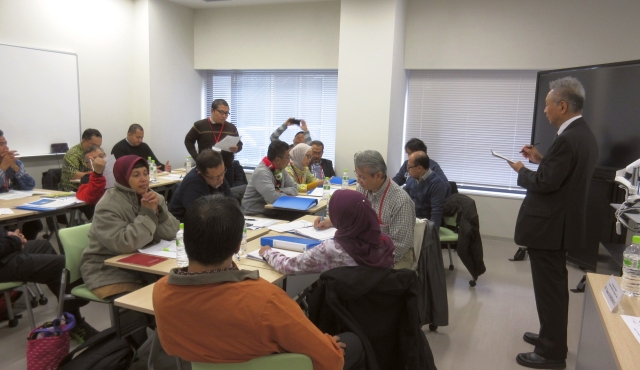 Background
In 2009, based on the Professional Human Resource Development Project Phase III (PHRDP- III), the Ritsumeikan Trust was commissioned by the National Development Planning Agency of Indonesia (BAPPENAS) to implement short-term training programs of "Public Policy Planning Program for Indonesian Government Planners" targeting Indonesian local government officials using the ODA loans. Accordingly, Ritsumeikan carried out the programs and received three groups of Indonesian trainees from 2009 until 2010.
The program received many positive feedbacks from the trainees, thus BAPPENAS requested the implementation of additional trainings of Disaster Mitigation within the framework of PHRDP III. Ritsumeikan therefore developed training programs that were to be implemented over the span of three years from 2011 to 2013.
The Professional Human Resource Development Project has been carried onto Phase IV (PHRD IV) since 2015. Ritsumeikan and BAPPENAS continue to collaborate in developing and conducting Public Policy Planning Programs together.
Visiting a home appliances recycling factory (Public Policy Planning Program)
Fieldwork in Miyako City, Iwate Prefecture (Disaster Mitigation)
Program Overview
The programs is designed for policy makers at local governments across Indonesia and researchers who conduct training for them. The curriculums aim to provide new knowledge and deeper understanding of Japan's effort on a wide range of issues as well as to provide case studies and exercise methods that could be introduced to the training programs in Indonesia.

Topics
Public Policy Planning Program: Marine Resource Management, Environmental Policy, Tourism, Infrastructure, Small & Medium-sized Enterprises etc.
Disaster Mitigation: Community-based Disaster Mitigation, Types of Disaster, BCP, Geospatial Information etc.
Country
Indonesia
Participants
Local, regional and central government officials, university lecturers, researchers etc...
Program duration
2 weeks (excluding 1-2 week-pre-departure training in Indonesia)
Number of participants
25 people
Curriculum

Lectures
Fieldwork
Final presentation

Language
English (interpretation supplied as required)
Cost
The cost of tuition, interpretation, fieldwork, accommodation, meals, domestic travel and ceremony-related expenses is all covered by JICA with ODA loans. (Indirect expense (10%), consumption tax (8%))


* For more details, please make an inquiry.

Logistics
Ritsumeikan University will arrange suitable accommodation during the program, based on proximity to respective training facilities. Regarding the cost of meals and domestic transportation that is not included in the program, participants will receive an allowance by Ritsumeikan during the orientation session on the first day.
Facilities
The program will be held mainly on Ritsumeikan Campuses. As part of the field work, participants will visit municipal offices and other training facilities.
Certificate of completion
Ritsumeikan university will issue a certificate of attendance and a certificate of completion at the commencement ceremony on the last day of the training program.
Past Record
The Professional Human Resource Development Project Phase III (PHRDP- III)


Public Policy Planning Program
First session: June 2009. Second session: November 2009, Third session June 2010, Fourth session: June 2014


Disaster Mitigation Program
First session: November 2011. Second session: October 2012, Third session June-July 2013, Fourth session: November 2014

The Professional Human Resource Development Project Phase IV (PHRD IV)

Public Policy Planning Program
Fifth session: November 2015, Sixth session: December 2016
---