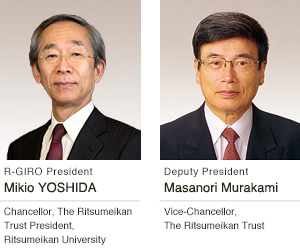 Since its establishment, Ritsumeikan has preserved the high educational standards characteristic of a private university in order to nurture high-caliber graduates by providing a system of education that equips students with a diverse range of skills and values. In the years ahead, Ritsumeikan must also focus on meeting the demands of our changing society by focusing on education that produces highly creative graduates. To this end, students must gain a high level of theoretical knowledge, be actively involved in the cutting-edge research conducted by our academic staff, and be inspired to explore areas of the world about which we know very little. With these goals in mind, we hope to train highly motivated graduates who are ready to tackle the challenges faced in the real world.
At Ritsumeikan, we believe that the first step towards nurturing such graduates is to improve the standards of current research by creating global leading research centers. We believe such research centers will help young researchers develop into world class scientists who are capable of overcoming the tide of globalization and lead Japan into the future.
It is also important that our students understand the social duty of those at the forefront of science and technology. Scientists must do more than simply respond to the demands of society; they must also contribute to the progress of humankind while being ever conscious of the importance of our coexistence with nature. Today, as the earth's environment undergoes a rapid transformation, it is our mission to nurture young scientists capable of driving scientific and technological progress forward while remaining keenly aware of the changing natural environment.
In response to the changing role of academia, Ritsumeikan University established the Ritsumeikan Global Innovation Research Organization (R-GIRO) in April 2008. The organization places great emphasis on developing the next generation of young researchers, and focuses on those research issues that Japan must address with greatest urgency at the beginning of this new century.
The 20th century is often referred to as the century of science and technology. It saw the fruits of scientific and technological progress bring immense benefit to humankind answering our demand for material goods and longer life. These benefits were the collective result of the efforts of countless individuals over many years, all of whom used knowledge as a powerful tool to answer humankind's curiosity about the hidden truths of nature, create an ubiquitous society and respond to the growing demand for a more comfortable lifestyle.
However, we must not forget that only those living in developed nations have been able to fully enjoy the benefits that science and technology have brought. Moreover, we must also remember that there are always negative aspects to balance out the positive. While the word 'Growth' can be used to summarize the rapid advances in our material society produced by scientific and technological innovation in the 20th century, such innovation has also facilitated the global destruction of nature, exemplified by global warming, the depletion of resources, and food shortages. Additionally, the previous century has also left humankind with an unprecedented number of unresolved issues, such as the polarization of wealth, moral decay, and the escalation of religious conflict.
Science and technology in the 21st century must tackle these inherited issues and work towards the creation of a society capable of co-existing with nature. As we battle with issues of the destruction of Earth's natural environment, there is no doubt that we must work towards creating an affluent society that is able to operate sustainably.
R-GIRO aims to contribute to society through education and research, focusing on the issues that need to be overcome in order to create the kind of sustainable society we need. To this end, R-GIRO has identified six areas which need to be urgently addressed: environment, energy, food supply, materials & resources, medical treatment & health, and safety & security. Since April 2008, R-GIRO has been conducting policy-driven, systematic research in these six areas, primarily in the natural sciences. There are currently 22 projects re-examining nature from a multitude of angles through innovative dynamism arising from various interdisciplinary collaborations, academia-industry partnerships, and cross-institutional alliances.
In addition, several new research areas were added in 2009 as part of our efforts to work towards the realization of a sustainable and affluent society from a humanities and social sciences perspective, namely human life & value, peace & governance, and Japanese & regional studies. Also included in 2009 was a newly created integrated research area that combines natural sciences with humanities and social sciences. Today, these new research areas account for 11 of the 33 projects currently underway. With around 50 young researchers participating, these projects are also vital in developing future scientific talent that will become the future drivers of innovation. We also anticipate further development in our integrated research involving natural sciences, humanities, and social sciences, and we are confident that the results of research conducted at R-GIRO will contribute towards humankind's primary aim for the 21st century - the realization of a society capable of coexisting sustainably with nature.
---