STORY #9
What Do Thailand and Japan
Have in Common, in Terms of
Aging Populations?
Kiyoto Kurokawa
Professor, College of Economics
Continuing to work in a lively and rewarding way:
a view of the ideal lives of elderly people in Thailand
A bus-ride of about 450 kilometers from Bangkok, Thailand. In August of 2016, Kiyoto Kurokawa and some Ritsumeikan students visited the town of Khon Kaen to conduct a field survey. In this, the third year of the project, Japanese and Thai students from Khon Kaen University and National Institute of Development Administration (NIDA) jointly visited individual villages and conducted surveys on issues pertaining to the community activities undertaken by groups of elderly citizens.
"An aging population is considered to be a challenge in Japan and other advanced countries, mainly in the West. It is not widely known that in developing countries, aging populations are also becoming a serious issue in rural areas."
This cooperation with Thailand has a long history, and field surveys have been conducted with the assistance of NIDA since 1998 under the theme of revitalization of local economies. In recent years in Thai rural regions, population aging coupled with a population outflow has become a problem that cannot be overlooked. In northeastern Thailand, where Kurokawa is involved, young people are leaving the area to go to Bangkok and other big cities looking for work, and the impact of this depopulation combined with the aging of the population has been rapid. Amidst this aging of the population, Kurokawa is exploring methods to revitalize the local economies.
In particular, for three years, he has continued a unique study comparing northeastern Thailand with the Northern or Kohoku region (Takashima and Nagahama cities) in Shiga Prefecture, Japan.
"As a result of the surveys, it turned out that both regions have many things in common," says Kurokawa, explaining the reason for his selection of these subjects for the comparison. In addition to the fact that both are flatlands surrounded by mountains and rich in water, they also have things in common such as tourism promotion, initiatives for community revitalization, and local specialties. Above all, the point that attracted Kurokawa's interest was that while both regions face similar serious issues in relation to their aging populations, they differ in their approaches to finding solutions. His hope is that "by comparing the two regions, we may be able to find hints or ideas to realize the revitalization of local economies where society is aging in both Japan and Thailand."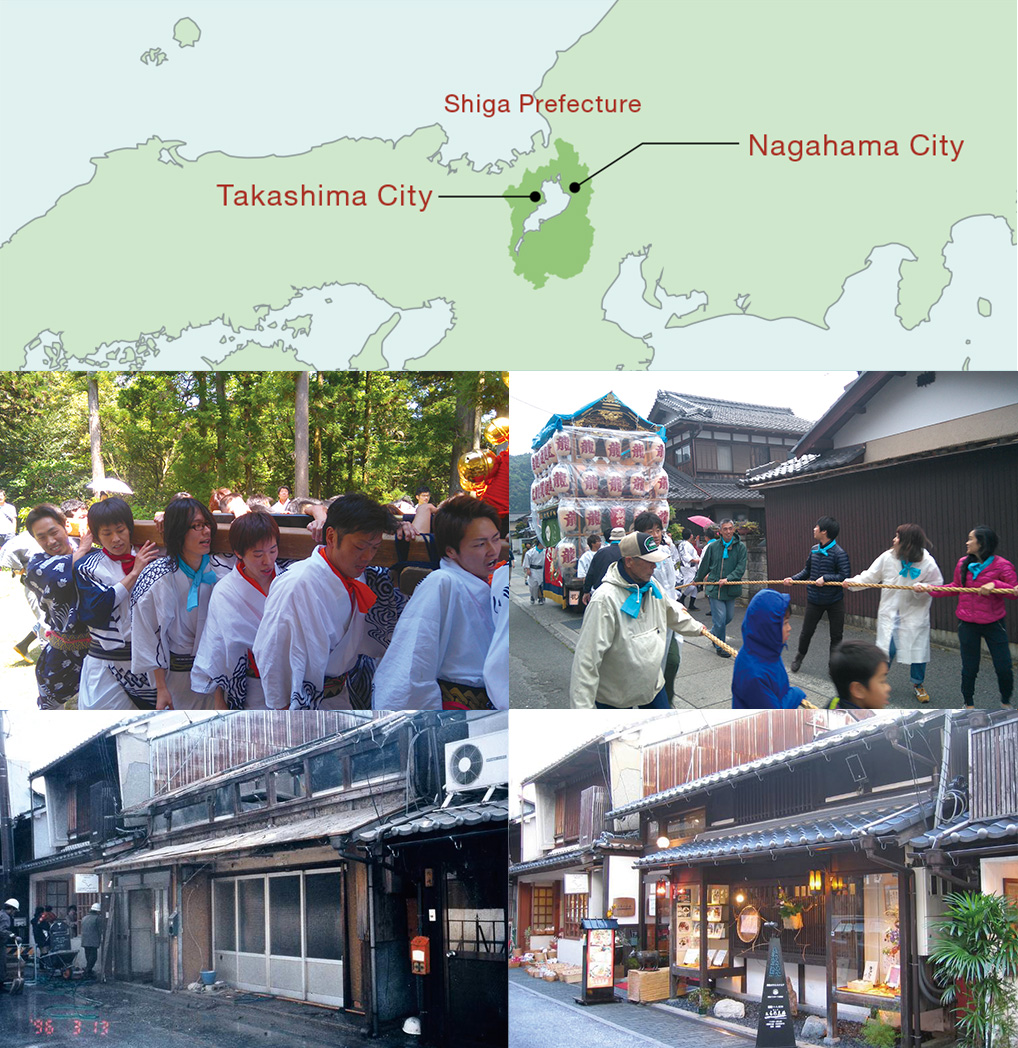 In Thailand, the investigation taking top priority for Kurokawa is the "One Tambon One Product" (OTOP) movement—otherwise known as the one village one product movement. With government support, OTOP has long been conducted as a means of community revitalization. In recent times though, with the aging of the main participants in the activity, it has taken on an even more powerful meaning as a source of employment opportunities for the elderly. Because Thailand has no pension system like Japan, elderly citizens have to earn a living. They manufacture traditional crafts such as silk fabrics known as "Mudmee" and flower decorations, and jointly sell them to earn a profit. "There are many things to learn from this employment mechanism. For example, by placing a weaving machine in each house, the elderly can work at any time and for as long as they like."
Thailand is also ahead of Japan in the use of vacant rooms available in farms in depopulating agricultural villages in an attempt to respond to the global trend for ecotourism catering to backpackers who want to experience agriculture. Kurokawa points out that not only the government but also higher educational and research institutions such as universities and local laboratories are actively involved and are providing support.
"Above all, what really impresses me when I visit OTOP groups in various villages with the students is the fact that the elderly have great confidence in their work in a rewarding and lively manner," Kurokawa continues. Further, OTOP does not simply offer work; it also functions as a mechanism for enjoying recreational activities, contributing to society, and promoting health through mutual care. In Thailand, where there is no national pension system, the economic aspects of OTOP are crucial, but Kurokawa observes that there are many hints and ideas for "living a healthy life with a real reason for being."
Thailand
Korat Plateau in northeastern Thailand
Japan
Kohoku in Shiga Prefecture
Pension system
None
National pension, employees' pension, etc.
Average life span
Male: 71 years/Female: 79 years (2012)
Male: 80.79 years/Female: 87.05 years (2015)
Local vitalization
OTOP (Ministry of Interior)Small Business Promotion (Ministry of Industry)
"Local Vitalization Cooperator" (Ministry of Internal Affairs and Communications), "Michi-no-Eki" roadside rest area (Ministry of Land, Infrastructure, Transport and Tourism), Town Center Revitalization (Ministry of Economy, Trade and Industry, Ministry of Land, Infrastructure, Transport and Tourism)
Tourism promotion
Ecotourism (farmhouse accommodation and farm work experience), catering to backpacking tourists
Improved guest-house district at one point. Now studying the promotion of moves and settlements also as a countermeasure for vacant houses, in addition to the possibilities of homestays.
Use of forestry resources
Afforestation promotion
Shift to self-sufficient forestry
Local specialties/Food
Fish sausages made from fish caught in inland lakes and marshes
Tsukudani (boiled food in sweetened soy sauce) made from species endemic to Lake Biwa such as "honmoroko" sauvage
Local specialties/Fabrics
Mudmee (silk, cotton) products
So-called "Thai silk" fabrics manufactured using a technique handed down for many centuries in the Isan region in northeastern Thailand.
Takashima-tsumugi, Hama chirimen (silk crepe)
A high-quality silk fabric produced mainly in Nagahama City, Shiga Prefecture, which has the two biggest production centers of chirimen, along with Tango chirimen.
At the same time, in Shiga Prefecture, Kurokawa is interested in a successful case of revitalization of the downtown area of Nagahama City as an example of local economic revitalization. Using the traditional building of the Kurokabe Bank that once existed in Nagahama City, the previously struggling downtown area of the city was transformed into a tourist destination that now attracts two million visitors every year. This case of successful regional development mainly driven by the residents without depending on the government, attracted attention from Thailand, Kurokawa notes, as well as across Japan.
"In modern Japan, where the labor force is shrinking and the failure of the national pension system is feared, the ideal of living a comfortable retirement must inevitably change," Kurokawa points out. He finishes by expressing his determination: "From now on, we need to explore a new form of elderly citizenship, in which even the elderly can work for a long time, through which they will contribute to society and have a reason for being. Through international studies, I want to present a new viewpoint on what an aging society should be."