STORY #1
The World's first direct
Uncovering the Mechanisms of Earthquake Generation
Observation of a Hypocenter:
Hiroshi Ogasawara
Professor, College of Science and Engineering
They are drilling a total of 1.6 km from 3 km
underground to reach seismogenic zones, generating quakes of about the same magnitude as the one that struck northern Osaka in June 2018.
In June 2017, the DSeis Project (shorthand for Drilling into seismogenic zones of M2.0–5.5 earthquakes in deep South African gold mines) began drilling 1–3 km underground to get to a location from which earthquakes of magnitudes (M) 2–5.5 were generated. The drilling was completed in June 2018, and the borehole logging survey ended in July.
The proposal for this project was accepted by the Germany-based International Continental Scientific Drilling Program (ICDP) and is led by Japan, with the help of South Africa (SA), Switzerland, the U.S., Germany, India, Australia, and Israel. The individual coordinating this huge international research project is Hiroshi Ogasawara of Ritsumeikan University. Ogasawara has studied the physics of earthquake hypocenters in SA gold mines for more than 24 years. (In Japan, he is currently working together with Tohoku University, Kyoto University, The University of Tokyo, Osaka University, Kochi University, the Fukada Geological Institute, 3D Geoscience, Inc., the National Institute of Advanced Industrial Science and Technology, and the National Research Institute for Earth Science and Disaster Resilience, among others.)
In SA, a large number of deep gold reefs have been excavated over the past 120 years. As a result of the many cavities, the host rock has become severely unstable, resulting in small earthquakes occurring on a daily basis. Ogasawara explains, "It is believed that natural earthquakes are also generated as a result of stress building up in the host rock, but it is too remote to observe processes of stress build-up and natural earthquake generation in detail from the earth's surface. In contrast, in gold mines at great depth, hypocenter faults or ruptures can be easily exhumed or instrumentally closely observed. By studying them, we may discover what controls the occurrence and termination of seismic activity."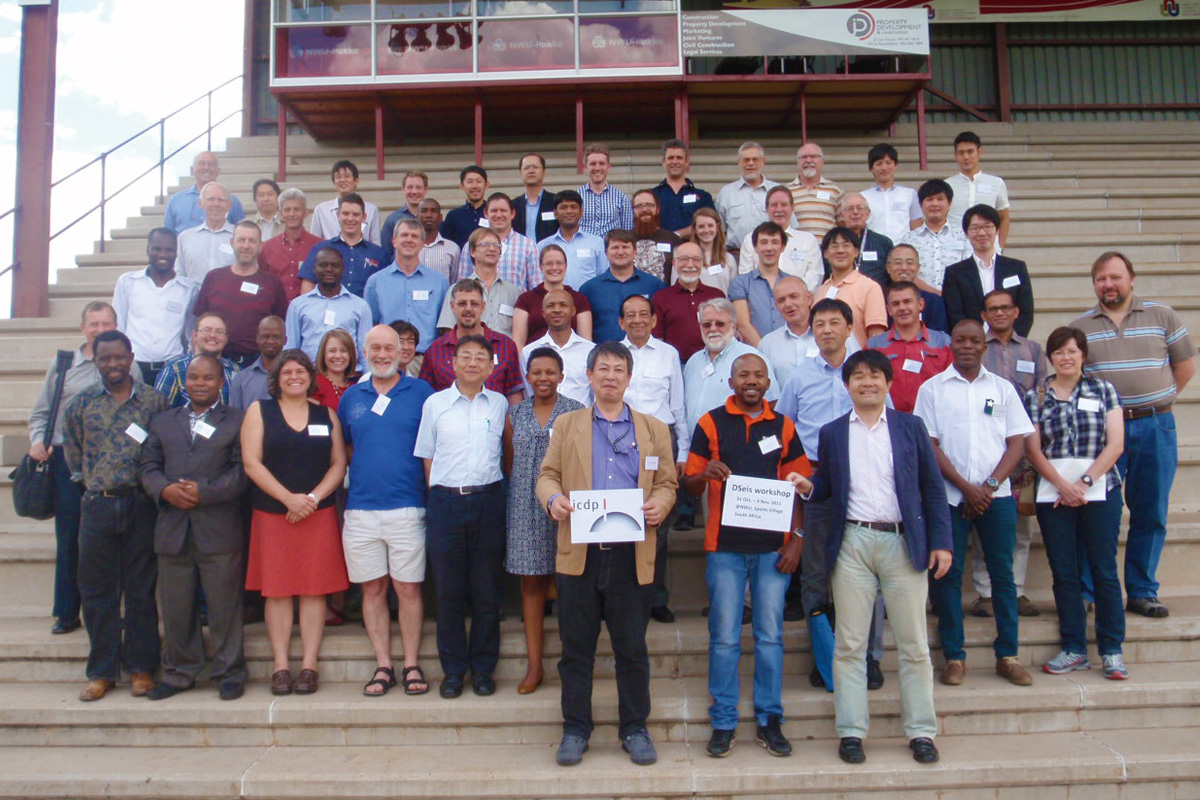 Moab Khotsong mine, in particular, provided the means to enable the team to start drilling from a 2.9 km-depth from the earth's surface. Within 800–900m from the borehole collar, we can gather valuable samples from the faults of a M5.5 earthquake still generating aftershocks. Ogasawara is hopeful, stating, "This is a global first. We are having the closest unobstructed view of hypocenters, something that is unviewable from the earth's surface. We expect to find clues to address fundamental questions of the mechanisms of earthquakes."
Between 2010 and 2015, Ogasawara's research team was able to successfully instrumentally monitor earthquake activity in detail at gold mines at 1–3.4 km depths under the auspices of Japan Science and Technology Agency (JST) and the Japan International Cooperation Agency (JICA) for the Science and Technology Research Partnership for Sustainable Development (SATREPS).
During 2015–2019, the collaborating researchers came from a wide range of academic disciplines, including seismology and rock engineering, as well as geology, structural geology, and geomicrobiology. They have been investigating not only the seismic activity and geological structures around hypocenters but also groundwater and microbiological activities. In 2019, samples will be digitally archived into the ICDP Information System and eventually made available internationally for use in a wider variety of scientific research fields.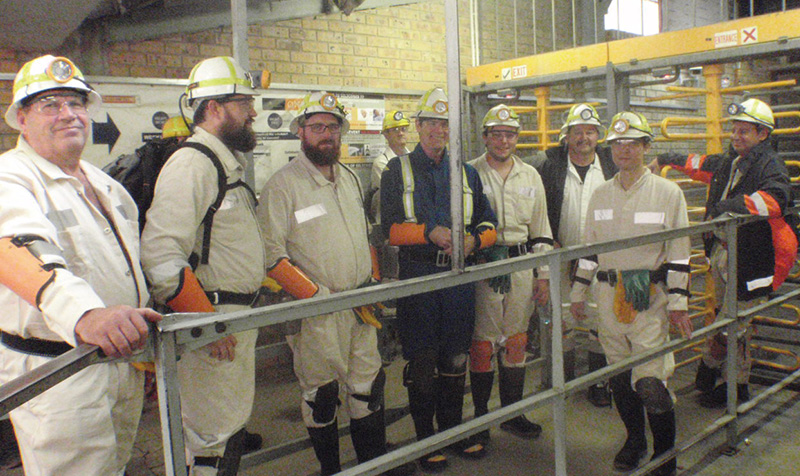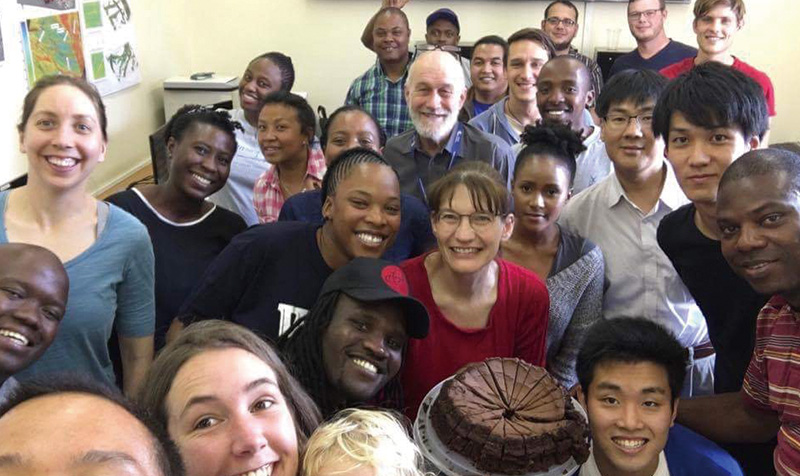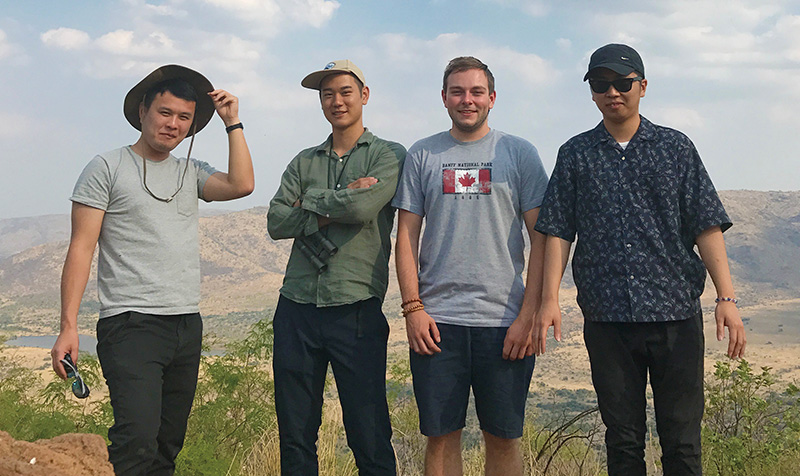 To observe at the closest proximity to a hypocenter, they must first identify the time and location of an earthquake occurrence and install an ultrasensitive seismometer near the hypocenter. Ogasawara made the drilling plan based on data thus obtained by Japan and its partner organizations in SA, which included a main shock and tens of thousands of aftershocks and ultra-microearthquakes. In June 2017, they finally started drilling two holes from a tunnel 2.9 km underground, to probe around the upper fringe of a seismogenic zone of the M5.5 aftershocks. They attempted to collect cylindrical samples called cores by drilling these holes, 76 mm in diameter and about 820 m and 700 m in length. In February 2018, the second drill hole penetrated the M5.5 aftershock zone. Where the fault fracture zone was intersected, a layer of substances thinner than 2 m with very slippery material was recovered.
Ogasawara explained their results, saying, "We were able to collect a large number of extremely interesting samples of fresh fractures thought to have been caused by M5.5 earthquakes or subsequent aftershocks, as well as samples of new fissures caused by rock stress enhanced in host rock without previous seismic history." They have already started measuring rock stress and conducting detailed structural geological analysis with the samples recovered from the hypocenter faults. "It should be noted that a local increase in differential stress was found right at the upper fringe of the aftershock zone. With further seismological analysis of the main rupture and aftershocks of the M5.5 mainshock, we hope to clarify earthquake rupture propagation and the condition that controls rupture propagation."
At the same time, the geomicrobiology research group from Princeton University in the U.S. is exploring rock-hosted microbes that live in the deep subsurface of the earth. They hypothesize that earthquakes rupture host rock, which generates hydrogen to fuel life deep in the rock. This could unravel the mystery of life during our planet's early history or extant life on Mars.
Ogasawara explains that from here on out, "We will analyze the core samples, but we also wish to further extend the drilling of the DSeis Project and conduct drilling to probe a wider extent of the aftershock zones in greater depth." Are they close to a new view of the mechanisms of earthquake generation? Their findings are eagerly awaited.