STORY #3
Measuring Sleeping States
Using Only Videos of Sleeping People
Shima Okada
Associate professor, College of Science and Engineering
Discovering signs of disease or illness early
on with non-restrictive or non-invasive sensing
There are many instruments available for testing human biology, from testing equipment for diagnosing a person's physical condition to diagnosis equipment at medical institutions for discovering the presence of disease. In the development of such sensing technologies, it is said that how measurements are taken has, in addition to what to measure exactly, become important in terms of the consideration of the subject. Under such circumstances, Shima Okada, who studies sensing technology focusing on measuring sleep, has developed a non-restrictive and non-invasive sleep evaluation technique using only human bodily motion, thus surprising a number of experts in the field.
"Sleeping is very closely related to human health. From its quality and quantity, we can surmise many things, such as the state of health, mental state, and the presence or absence of various diseases," Okada explains. A mainstream sleep measurement is known as polysomnography, in which many sensors are attached to the body, continuously recording brainwaves, electrocardiograms, eye movements, electromyograms, and the saturation degree of blood oxygen, etc. Such measurements using many sensors attached to different body parts impose major burden on the subject, as they must also visit special institutions equipped with test devices to conduct measurements.
At the same time, Okada's ideas involve taking videos of the subject while asleep so as to estimate sleep depth and state of health. "The human brain works 24 hours a day, and in response to external stimulus, it constantly moves the body. While asleep, this appears directly," according to Okada. Humans gradually sleep deeper by repeating a cycle of light REM sleep and deep non-REM sleep. The deeper the sleep becomes, the less the number and times of body movement, and ultimately there is rarely any movement. Okada paid attention to this relationship between the depth of sleep and body movements, and established a method for sleep depth estimation.
Firstly, a subject asleep is monitored using a webcam with an infrared function, as body movements are measured from the image. From this data, Okada calculates various parameters such as body movement amount, continuous time of body movement, and continuous time of non-movement. Through difference processing, she created an algorithm to estimate the four stages of sleep depth (Light Sleep, Deep Sleep, REM, and Awake). In experiments to actually estimate sleep depth, the percentage of correct answers reached about 80 to 90%, demonstrating a performance that compares to existing polysomnography.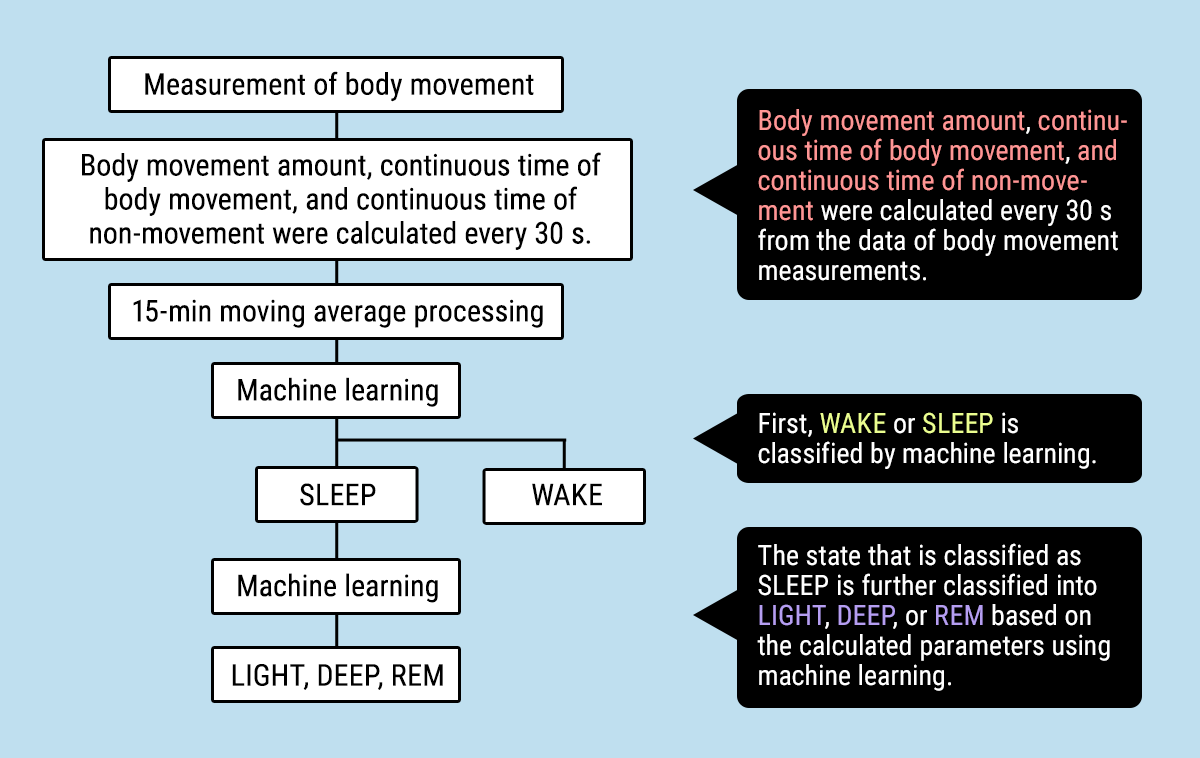 Measuring technology for sleep states can be applied to the early diagnosis of diseases and developmental disorders. As part of these efforts, and in conjunction with the department of pediatrics at Osaka University Hospital, Okada is engaged in the development of a diagnosis assistance method to discover early signs of attention deficit hyperactivity disorders (ADHD). "It is known that children with ADHD tend to be affected by sleep disorders and sleep apnea syndrome (SAS) early on," Okada says. "We conducted more-detailed investigations and found that children with ADHD had an extremely high frequency of body movements during a deep sleep where body movements would normally be inhibited." Okada thus developed a system to measure the frequency of body movements extracted from videos taken during sleep and quantitatively extracted the characteristics of ADHD. Though still in the testing stage, the significance of the performance has been confirmed.
"In the case of a small male child, it is difficult even for doctors to diagnose if he is simply energetic or has ADHD. Parents of course tend to hesitate about suspecting ADHD and thus consult with a specialist institution," Okada says. "If all they have to do is use a video camera to discover symptoms of ADHD, they would be more at ease to have their children tested. Needless to say, early diagnosis contributes to treatment and easier child-rearing later on."
Okada is now focusing on a new attempt to measure the speed of growth in a premature baby in terms of sleep. Premature babies are put into incubators at neonatal intensive care units (NICUs) and are looked after around-the-clock until they become able to breathe on their own or drink milk. "It is said that experienced nurses can judge if a baby is sleeping well and developing normally, based on slight body movement noises superimposed on the line of an electrocardiogram and from the sounds of the respirator attached to the baby," Okada explains. "We are building a method to estimate the degree of development through the movements of a premature baby by mounting a camera on incubators so as to act as the eyes of a nurse."
Okada receives an endless number of requests from medical personnel to work with her. She is also developing a system to judge the presence and extent of symptoms by video-shooting involuntary movements characterizing Parkinson's disease, Huntington's disease, and other diseases that affect the nervous system, along with a system to discover diseases and dementia in the elderly at an early stage by measuring minute changes such as any instability of the body or the dragging of the feet and a system to monitor for signs of depression and dementia by sensing facial expressions. Commercialization is expected to take place very quickly.