STORY #1
A future where exercise
is a part of everyday life,
created by advanced technologies
Tadao Isaka
Professor, College of Sport and Health Science
Takanobu Nishiura
Professor, College of Information Science and Engineering
Naruhiro Shiozawa
Associate Professor, College of Sport and Health Science
A futuristic undergarment that measures
the wearer's physical condition and gives advice on proper exercise.
Everyone gets old, but how we age is not common to everyone. Some age healthily and lively, while others may become sick or bedridden. Everyone of course hopes to "remain healthy, regardless of their age," but in modern times, where the burden of nursing and medical care increases in conjunction with the declining birth rate and aging population, the extension of a "healthy life expectancy" is a challenge to be tackled as a country, beyond the obvious desire for this by individuals.
The Center of Innovation Science and Technology based Radical Innovation and Entrepreneurship Program (COI STREAM), which was launched by the Ministry of Education, Culture, Sports, Science and Technology in 2013, heralds "Secure sustainability as a country advanced in its aging population and declining birth rate" as one of its three visions. A "Bright Future for All Ages with Health Innovation by Daily Exercise" was adopted in 2013 on a trial basis and was officially adopted by COI STREAM in 2015, an advanced research core representing Japan. In this, we target contributing to the extension of a healthy life expectancy by making exercise a part of everyday life.
"The main feature of our research core is an attempt to make exercise an everyday affair from the viewpoint of 'Spaces'," says Tadao Isaka, serving as the leader of the research core. "We are currently studying a new sports health technology that can radically change the 'value of space,' referring to smartwear, space-sharing, and exercise induction/retention technologies." He reports on progress, saying, "From 2015 and onward, a Juntendo University research team aiming at the elimination of 'becoming bedridden' by preventing locomotive syndrome has joined our university as a satellite partner, proceeding with research to contribute to health maintenance and improvement from the perspectives of both 'sports & exercise' and 'medicine.'"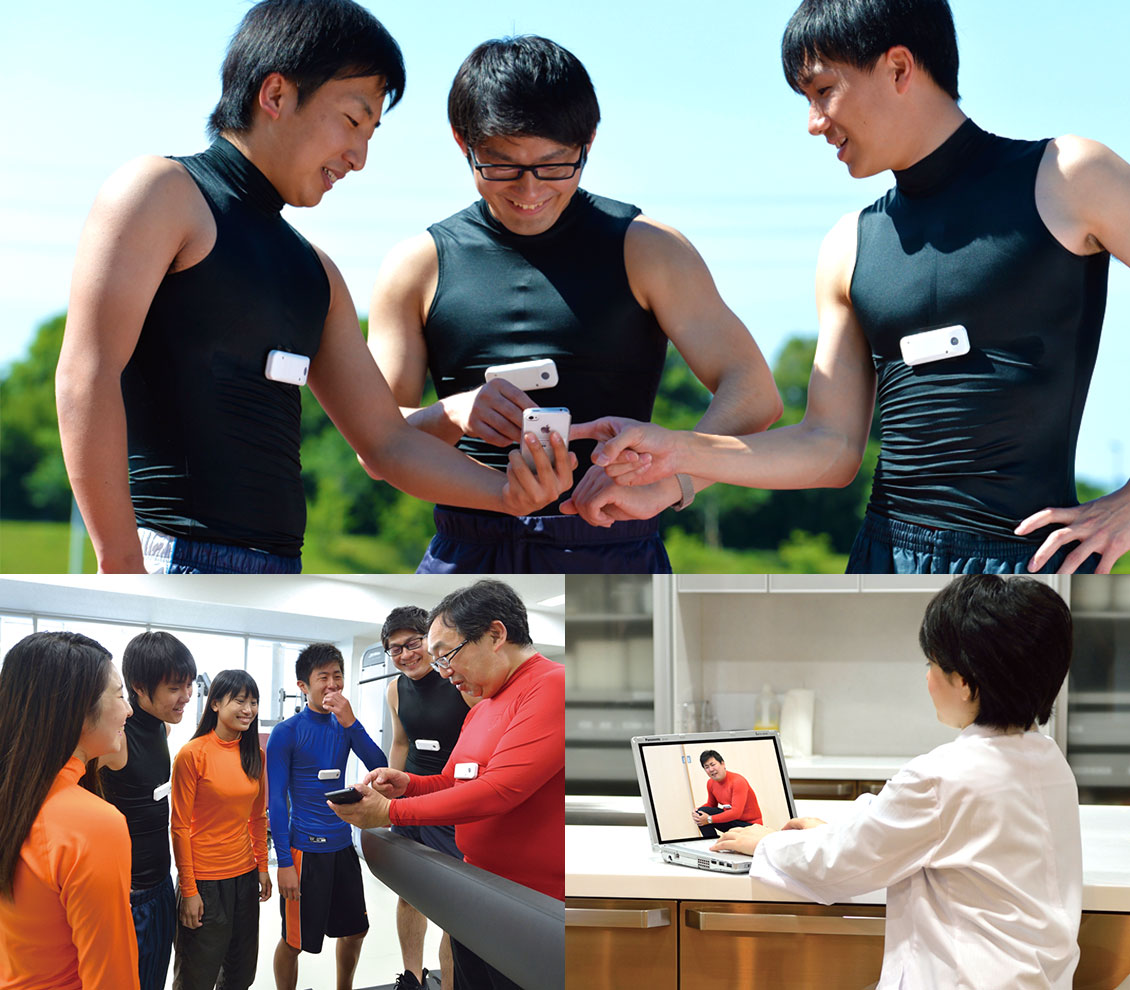 As explained by Isaka, for each research theme "that is in full view of social implementation through cooperation with corporations, not just remaining as research," they are full of surprises that may well appear in the "dreams about the future" of children.
For example, Naruhiro Shiozawa, studying "smart-wear technology," is working with Toyobo to develop "Undergarments that can measure physical and mental conditions." The objective involves measuring body temperature, perspiration, respiration rate, and heart rate, etc., in real time by mounting a device to measure human body data within the undergarment. Grasping physical and mental conditions will make it possible to develop a wide variety of programs and applications to inspire a feeling such as, "I want to exercise" and "Exercise is enjoyable," depending on individual conditions, or to change the contents of exercise and environments.
Shiozawa says, "We are initially developing undergarments with an electrocardiogram measurement function that enables to grasp physical and mental conditions in the most versatile manner." Toyobo Co., Ltd., a fiber material manufacturer, has joined with research members in support of this development.
As Shiozawa says, "It would be ideal that instead of especially wearing undergarments for measurements, to wear them as part of everyday life and to measure physical and mental conditions without being aware of it. For this reason, we paid great attention not to damage any of the functions as clothing." The finished prototype looks like just an ordinary undergarment at first glance and is as comfortable as ordinary products. However, the undergarment is made of a special material excellent in terms of elasticity and is printed with electrodes, and on the front there is a removable device that can utilize an ECG.
It is not only comfortable, but it can also stably and accurately collect data, which is another important development challenge. When you move your body, the undergarment will also move, thus measurements cannot be necessarily made at constant electrode position. For this reason, it was necessary to use ingenuity in the positioning and wiring of the electrodes to achieve more accurate sensing, along with improving device performance.