Tatara ironmaking operated in our laboratory
As mentioned above, the operation of traditional Tatara ironmaking was obsoleted at an early stage of Showa era by the introduction of modern efficient steelmaking imported from Europe. After the world war II, it was restored by the support of The Iron and Steel Institute of Japan in the former Yoshida village (currently Yoshida-cho, Un-nan city), and currently it was operated only three times in winter by the directing of The Japanese Sword Museum.
Besides, many researchers, groups, and interested persons, etc. try to perform small-scaled Tatara ironmaking. In our laboratory, we employ a modified small-scaled Tatara ironmaking proposed by Prof. Kazuhiro Nagata (Professor Emeritus, Tokyo Institute of Technology, Japan).
Tatara ironmaking, a scene of operation
Iron sand
Operational scene
Noro (slag) discharging
Obtained Kera (iron product)
Representative operation
An operation in Finland
Collaboration with high school students
Open campus
Place of operation
Access:

By public transportation: please see following official link;
http://www.ritsumei.ac.jp/accessmap/bkc/
By car: please ask a security guard at the gate the fact you visit Yamasue-lab in Techno-complex experimental building and use parking spaces to be introduced.
Venue:

See following picture (sorry in Japanese). The operation venue is an open space in front of Techno-Complex experimental building (テクノコンプレクス実験棟).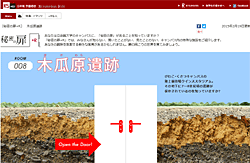 Interestingly, we, BKC campus, Ritsumeikan University, preserves an ancient site of Tatara ironmaking named Bokewara. Through our operation, we would like to offer information on Tatara ironmaking in Kansai area, Japan.