(C) 2017, 2018 by T.Izumi &nbsp ver.2018.8.23
Hello world in Verilog &nbsp/&nbsp Verilog で Hello world
Displaying "Hello world" is the first code to be written by a beginer who starts to learn the progrmming language. So, here is a sample code written in Verilog to display "Hello world".
プログラミング言語を勉強する初心者が最初に書くのが"Hello world"を表示するプログラム。なので、Verilogで"Hello world"を表示するコードを書いてみた。
Izumi Lab, Dept. Elec.&Comp. Eng., Ritsumeikan Univ.
---
Target Boards and Tools
---
0. Setup
boardfiles

install boardfiles:
https://reference.digilentinc.com/vivado:boardfiles

Source Codes

extract sample source codes:
HelloVerilog.zip
1. Launch Vivado
2. Create Project
Project Name: hello
Project Location: specify good location for you
Project Type: RTL Project
Target Board: specify the board you use
3. Add Files
4. Build
Run Syntehsis
Run Implementation
Generate Bitstream
5. Program FPGA
Plug USB cable to "PROG UART" connector
Switch the board "ON"
Open Target
Program Device
6. Check "Hello world"
Plug VGA cable to "VGA" connector
See the monitor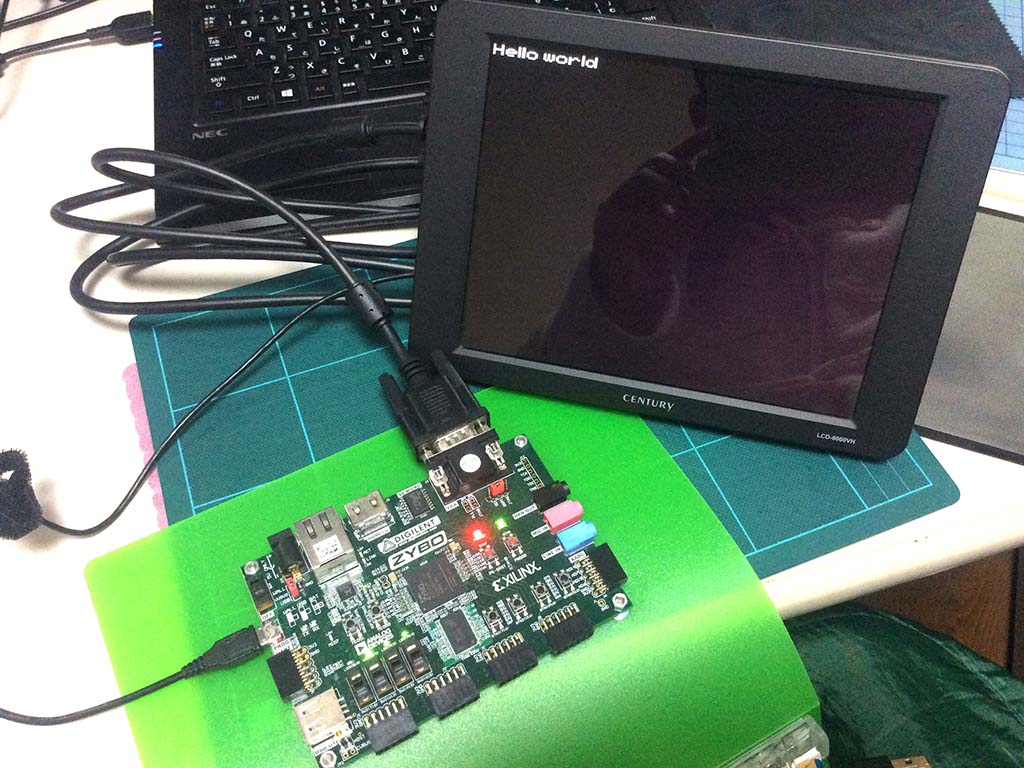 ---
Source Codes
hello_vga.v (excerpted)

// (C) Tomonori Izumi , Nov. 2017. All rigts reserved.

module hello_vga(P,HS,VS,clk);
   
   // 640*480, Pixel 25.175MHz, Horiz 31.46875kHz, Verti 59.94Hz
   parameter Pcount_W  =    5; // 39.722ns = 4.965clocks@125MHz
   parameter Hcount_W  = 3972; // H width       800 pix  3972clk
   parameter Hactive_H =    0; // H display     640 pix     0-3176
   parameter Hactive_L = 3177; // H front porch  16 pix  3177-3256
   parameter Hpulse_L  = 3257; // H pulse(neg)   96 pix  3257-3733
   parameter Hpulse_H  = 3734; // H back porch   48 pix  3734-3971
   parameter Vcount_W  =  525; // V width       525 lines
   parameter Vactive_H =    0; // V display     480 lines   0-479
   parameter Vactive_L =  480; // V front porch  10 lines 480-489
   parameter Vpulse_L  =  490; // V pulse(neg)    2 lines 490-491
   parameter Vpulse_H  =  492; // V back porch   33 lines 492-524
   
   output    reg  P=0;
   output    reg  HS=1,VS=1;
   input     wire clk;

   reg [11:0] Hcount=0;
   reg [9:0]  Vcount=0;

   // Horizontal&Vertical counters
   always @(posedge clk)
     if (Hcount<Hcount_W-1) begin
	Hcount<=Hcount+1;
     end else if (Vcount<Vcount_W-1) begin
	Hcount<=0;
	Vcount<=Vcount+1;
     end else begin
	Hcount<=0;
	Vcount<=0;
     end

   // Horizontal&Vertical sync pulses
   always @(posedge clk) begin
     case (Hcount)
       Hpulse_L: HS<=0;
       Hpulse_H: HS<=1;
     endcase
     case (Vcount)
       Vpulse_L: VS<=0;
       Vpulse_H: VS<=1;
     endcase
   end

   // Hello World
   function [6:0] tbl;
   input [9:0] col;
   case (col)
      0: tbl=7'b1111111;
      1: tbl=7'b0001000;
      2: tbl=7'b0001000;
      3: tbl=7'b0001000;
      4: tbl=7'b1111111;
      5: tbl=7'b0000000;
      6: tbl=7'b0111000;
      7: tbl=7'b1010100;
      8: tbl=7'b1010100;
      9: tbl=7'b1010100;
     10: tbl=7'b0011000;
     11: tbl=7'b0000000;
     12: tbl=7'b1111111;
     13: tbl=7'b0000000;
     14: tbl=7'b1111111;
     15: tbl=7'b0000000;
     16: tbl=7'b0111000;
     17: tbl=7'b1000100;
     18: tbl=7'b1000100;
     19: tbl=7'b1000100;
     20: tbl=7'b0111000;
     21: tbl=7'b0000000;
     22: tbl=7'b0000000;
     23: tbl=7'b0000000;
     24: tbl=7'b0111100;
     25: tbl=7'b1000000;
     26: tbl=7'b0111100;
     27: tbl=7'b1000000;
     28: tbl=7'b0111100;
     29: tbl=7'b0000000;
     30: tbl=7'b0111000;
     31: tbl=7'b1000100;
     32: tbl=7'b1000100;
     33: tbl=7'b1000100;
     34: tbl=7'b0111000;
     35: tbl=7'b0000000;
     36: tbl=7'b1111100;
     37: tbl=7'b0001000;
     38: tbl=7'b0000100;
     39: tbl=7'b0000100;
     40: tbl=7'b0001000;
     41: tbl=7'b0000000;
     42: tbl=7'b1111111;
     43: tbl=7'b0000000;
     44: tbl=7'b0111000;
     45: tbl=7'b1000100;
     46: tbl=7'b1000100;
     47: tbl=7'b0101000;
     48: tbl=7'b1111111;
     default: tbl=0;
   endcase
   endfunction

   function [6:0] rowdec;
   input [9:0] row;
   case (row)
     0:rowdec=7'b0000001;
     1:rowdec=7'b0000010;
     2:rowdec=7'b0000100;
     3:rowdec=7'b0001000;
     4:rowdec=7'b0010000;
     5:rowdec=7'b0100000;
     6:rowdec=7'b1000000;
     default: rowdec=0;
   endcase
   endfunction
   
   always @(posedge clk)
     if (Hcount<Hactive_L && Vcount<Vactive_L)
       P<=(tbl(Hcount[11:4])&rowdec(Vcount[9:1]))?1:0;
     else
       P<=0;
   
endmodule

zybo_top.v (excerpted)

// (C) Tomonori Izumi , Nov. 2017. All rigts reserved.

module ZYBO_top
  (CLK125M, vga_r, vga_g, vga_b, vga_hs, vga_vs);
   input  wire        CLK125M;
   output wire [4:0]  vga_r;
   output wire [5:0]  vga_g;
   output wire [4:0]  vga_b;
   output wire        vga_hs,vga_vs;

   wire   CLK125M_ibuf,clk;
   IBUFG ibuf_clk(.I(CLK125M), .O(CLK125M_ibuf));
   BUFG  buf_clk(.I(CLK125M_ibuf),.O(clk));

   wire   vga_p;
   hello_vga hello_vga_0(vga_p,vga_hs,vga_vs,clk);
   assign vga_r=(vga_p==0)?0:5'h1f;
   assign vga_g=(vga_p==0)?0:6'h3f;
   assign vga_b=(vga_p==0)?0:5'h1f;

endmodule

zybo.xdc (excerpted)

# parts XC7Z010-1CLG400C

##Clock signal
#IO_L11P_T1_SRCC_35
set_property PACKAGE_PIN L16 [get_ports CLK125M]
set_property IOSTANDARD LVCMOS33 [get_ports CLK125M]
create_clock -period 8.000 -name sys_clk_pin -waveform {0.000 4.000} -add [get_ports CLK125M]

##VGA Connector
set_property PACKAGE_PIN M19 [get_ports {vga_r[0]}]
set_property PACKAGE_PIN L20 [get_ports {vga_r[1]}]
set_property PACKAGE_PIN J20 [get_ports {vga_r[2]}]
set_property PACKAGE_PIN G20 [get_ports {vga_r[3]}]
set_property PACKAGE_PIN F19 [get_ports {vga_r[4]}]
set_property PACKAGE_PIN H18 [get_ports {vga_g[0]}]
set_property PACKAGE_PIN N20 [get_ports {vga_g[1]}]
set_property PACKAGE_PIN L19 [get_ports {vga_g[2]}]
set_property PACKAGE_PIN J19 [get_ports {vga_g[3]}]
set_property PACKAGE_PIN H20 [get_ports {vga_g[4]}]
set_property PACKAGE_PIN F20 [get_ports {vga_g[5]}]
set_property PACKAGE_PIN P20 [get_ports {vga_b[0]}]
set_property PACKAGE_PIN M20 [get_ports {vga_b[1]}]
set_property PACKAGE_PIN K19 [get_ports {vga_b[2]}]
set_property PACKAGE_PIN J18 [get_ports {vga_b[3]}]
set_property PACKAGE_PIN G19 [get_ports {vga_b[4]}]
set_property PACKAGE_PIN P19 [get_ports vga_hs]
set_property PACKAGE_PIN R19 [get_ports vga_vs]

set_property IOSTANDARD LVCMOS33 [get_ports {vga_r[*]}]
set_property IOSTANDARD LVCMOS33 [get_ports {vga_g[*]}]
set_property IOSTANDARD LVCMOS33 [get_ports {vga_b[*]}]
set_property IOSTANDARD LVCMOS33 [get_ports vga_hs]
set_property IOSTANDARD LVCMOS33 [get_ports vga_vs]


---