Theme:

"There's always a helping hand"

The future of the sharing economy as seen in the light of underground economy in Hong Kong
Guest:Sayaka Ogawa/Professor, Graduate School of Core Ethics and Frontier Sciences, Ritsumeikan University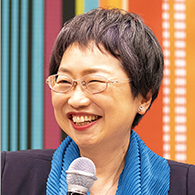 Moderator:
Yoko Matsubara
Vice Chancellor of The Ritsumeikan Trust and Vice President of Ritsumeikan University, Professor
<Fields of specialization>
history of science; bioethics; science, technology and society studies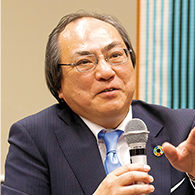 Host:
Yoshio Nakatani
Chancellor of The Ritsumeikan Trust and President of Ritsumeikan University, Professor
<Fields of specialization>
disaster prevention information systems, artificial intelligence, human interface, cognitive engineering, memory engineering, affective engineering
The guest for our first Ys Salon was Professor Sayaka Ogawa from the Graduate School of Core Ethics and Frontier Sciences. Around 60 students and faculty members gathered in the Hirai Kaichiro Memorial Library, Kinugasa Campus, for the professor's special lecture on her research into the sharing economy formed among Tanzanians in Hong Kong. The lecture, which also included brief accounts of some of the more amusing situations the professor found herself in during her field work in Hong Kong, was followed by a three way discussion with Chancellor Yoshio Nakatani and Vice Chancellor Yoko Matsubara, before a question and answer session brought the 90 minute event to a close.
What lies behind the Tanzanian faith that "It'll work out somehow"?
Ladies and gentlemen, thank you for coming. Today, I'd like to seek ideas for a sharing economy through the use of ICT, drawing on a case study of an informal trade system formed by Tanzanians in Hong Kong.
With the start of the 21st century, the emergence of informal trading came to attention. Small-sized traders from Asia, Africa and Latin America flock to China to purchase goods including second- hand and imitation products and export them to their home country. The size of this informal economy is growing and a trading network has recently been built to connect Thailand, Indonesia, Macao and elsewhere. Some people even say that, when totaled, informal economy is now the world's second largest economy next only to the United States.
In Hong Kong, one of the most important gateways to China, I am studying the mechanism of informal trading by Tanzanians as well as their union activities and life histories. My research base is in the Chungking Mansions, where many Tanzanians live. Chungking Mansions is a complex of five multipurpose buildings, crowded with countless residential units, low-budget hotels, shops and various other services. It is sometimes referred to in the media and in other circles as the "Den of Vice."
Here, you can meet many Tanzanians. Some tell you "I came to Hong Kong for a try, although I don't speak either English or Chinese." Others may confess "I was conned and left without a penny," but somehow, they never seem to lose confidence. They say that "there are lots of Tanzanians here in Hong Kong and also in mainland China, so there's nothing to worry about."
Japanese people have the notion of self-responsibility deeply entrenched inside, so if I go to Hong Kong without a decent plan, lose all my money, and ask another Japanese person for help, I think that person would be disgusted at me. I was intrigued by this mystery of what gives Tanzanians the unshakable confidence that "It'll work out somehow." As I continued my field work, I found the answer in a kind of mechanism that allows people to casually help each other.
"TRUST," a trading mechanism utilizing SNS
There are two types of foreign traders who come to Hong Kong: short-term visitors who only stay in Hong Kong while they purchase the goods for selling back home, and trading brokers who stay in Hong Kong for long periods to guide traders and act as an intermediary for their country. My research focuses mainly on long-term stayers, who engage in the export of used cell phones and used cars. In the case of used car brokers, for instance, they visit a local auto dismantler, and when they spot a vehicle that looks good enough for selling, they take snapshots of the exterior and interior of the car and send those photos to their customers back home. This kind of international trading is enabled by an SNS-based system called TRUST.
Using this system, brokers in Hong Kong hold online auctions via services such as Facebook, Instagram and WhatsApp, while local brokers in Africa make bids. When the top bid has been determined, the Hong Kong broker starts raising money through crowdfunding to buy the used car from the dismantler. The car is then resold to a customer of the broker who made the successful bid. The profit generated through this entire process is shared among the Hong Kong broker, the local broker in Africa and the funders. TRUST is a system that directly connects people staying in Hong Kong and local brokers and customers in African countries. Now Tanzanians in Hong Kong have completely shifted to trading over SNS. Moreover, because TRUST enables brokers to raise purchase funds through crowdfunding, they can start a broking business even if they have no money to start off with.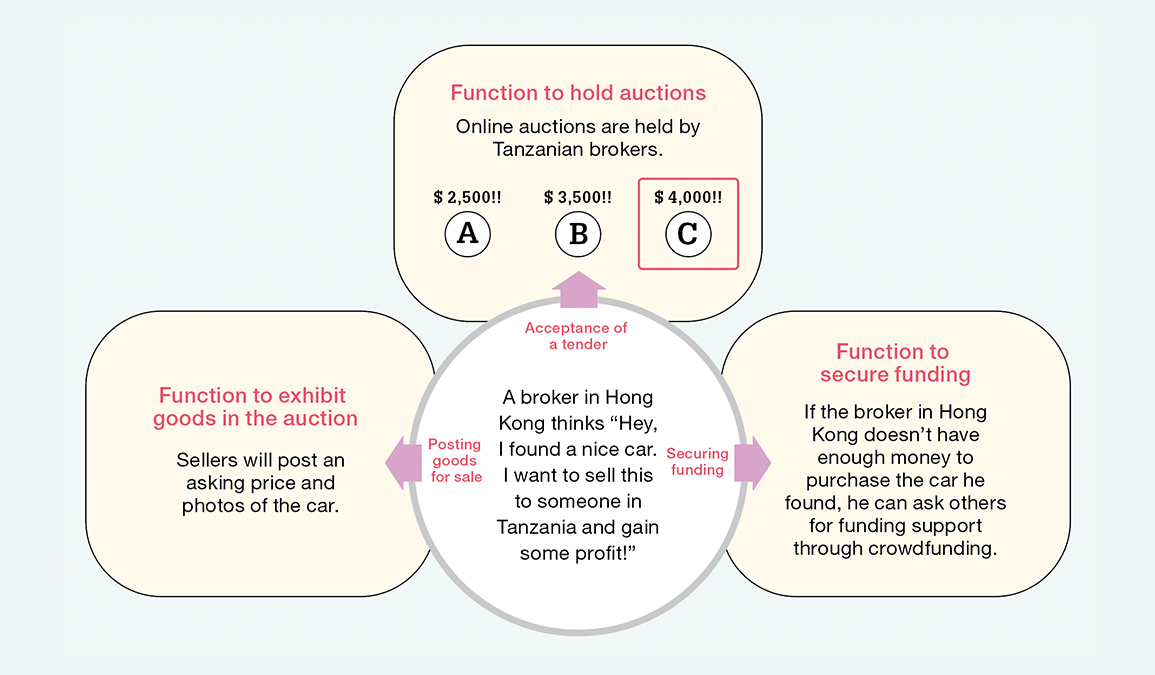 Figure 1: Many bloggers are registered on TRUST, a popular SNS with the above three functions
At the same time, TRUST users can also make bits of money by investing pocket money in the crowdfunding, which offers a safety net to support the livelihoods of brokers both in Hong Kong and Tanzania who were not successful in their trading activities.
One significant feature of TRUST is that international money transfers are done in an unusual way. For instance, let's say that a used car broker in Hong Kong colludes with a gem trader who has an office both in Hong Kong and Tanzania. If so, the used car customers or investors in Tanzania can make their payments in local currency to the gem trader's office in Tanzania. Next, the gem trader buys some gems with that money and the Hong Kong office of the gem trader pays the same amount to a money transfer service. That amount would then be paid from the transfer service to the brokers in Hong Kong. Such a series of trades can be completed in less than five minutes. This is how TRUST makes overseas payments and conducts crowdfunding without involving a legitimate international money transfer system.
Another feature of TRUST which is even more important than this function for securing funding is the ability to build "alternative credibility." Since the pricing negotiation is recorded and viewed by third parties on SNS, one can always find proofs and witnesses whenever a dispute arises. However, since most brokers are violating the law in one way or another (through staying illegally, or through drug trafficking), there is always the possibility of non-performance, regardless of the broker's intent to perform. That's why purchasers need to carefully assess the credibility of the brokers.
Consequently, brokers are busy branding themselves. One man I know took a photo of himself wearing a designer outfit he tried on in a high-brand shop and posted that photo on his SNS account to make himself look well off. Another Tanzanian man posted a photo he took with me to make people believe that he wouldn't run away if he had an Asian girlfriend.
Needless to say, the credibility that could be built with this kind of technique is fake. Nevertheless, they qualify themselves as traders, not by presenting measurable and objective indicators, but by manifesting themselves as human beings, developing a conspicuous online presence through the use of ICT, including references to their faith and even their everyday lives. In fact, this indeed is the underlying mechanism that enables Tanzanians to share a small niche market amongst themselves – one which, by not relying on concepts such as 'capital funds' or 'business stability', operates outside the normal logic and values of the market economy; even going so far as to provide an economic safety net.