We are very pleased to introduce an article written by one of our Sakura Scholars Amari Pulido (right on the bottom row) about the amazing experience of internship at the KYOTOGRAPHIE International Photography Festival. Amari is a student author and shares us the time in the JDP internship program. Check out the details below!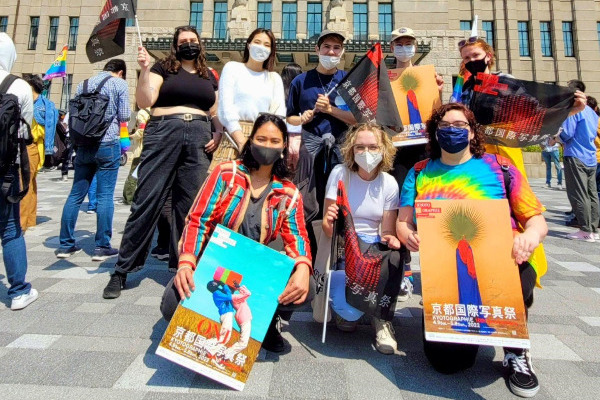 One was the theme of the tenth annual KYOTOGRAPHIE festival. The website describes:

"One represents unity, and ten represents infinite numbers. One thing (individuality) is in an auspicious relationship with the other while containing everything else (the whole) in itself."

As the world reemerges from the COVID-19 pandemic, KYOTOGRAPHIE was held in person with safety measures and saw immense support- an estimated 200,000 people attended!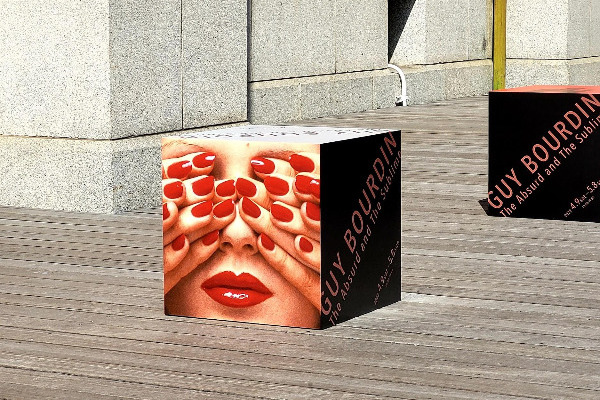 This internship is a perfect match for anyone who wants both behind-the-scenes and direct experience on an international project in the arts, regardless of their intended career path. Interns were required to participate in the required working hours to receive academic credit and then attend classes at Ritsumeikan for lessons related to the experience, including a class trip.

I enjoyed working with Lauren Hadler (Director, Education & Public Programs, and Head of SNS Strategy at KYOTOGRAPHIE) and Luke Fujii (Project Manager at KYOTOGRAPHIE) because I felt my contribution to the Public Programming team was meaningful. In March, I created signs for special events, edited and fact-checked website and flier information, and filled out guest itineraries. I helped run the festival as support staff from April 9th to May 8th by scanning visitors' QR codes upon entry and guiding them as needed while observing the artwork. In total, there were thirteen venues and over twenty artists.
World Press Photo Exhibition

When interviewed by another intern for the @kyotographers Instagram page, I chose the word "immersive" to describe this year's festival. I was impressed with how the venues' locations and architecture matched each artist's collection. Each artist was unique; for example, Prince Gyasi, well-known for his vibrant colors, used his phone to take photos instead of a professional camera. Most people in the world have access to a smartphone, and seeing somebody use the device to the best of its ability is motivating for up-and-coming photographers, especially those who cannot afford the equipment.

Prince Gyasi

The festival's photography varied in style, and I think of the portraits from Irving Penn's exhibition, sponsored by Dior. Penn photographed everyday workers with plain backgrounds; for celebrities, he focused on facial expressions or positioned them in a corner. Working with bland, cramped spaces required models to emerge from photos through their personalities. If one piece stood out to me the most from the festival, it would be Guy Bourdin's "Etude de mode, a l'Hotel" (1975), whose exhibition was sponsored by Chanel. I admire how Bourdin revolutionized the way people perceive fashion over the decades by creating a suggested storyline.
Irving Penn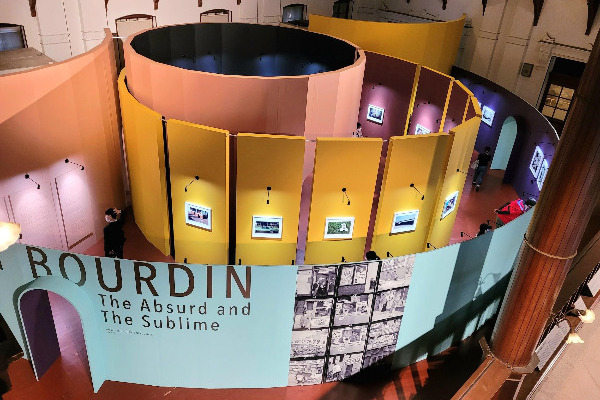 Guy Bourdin

I was glad to walk in the Kyoto Rainbow Pride Parade Festival 2022 on behalf of KYOTOGRAPHIE. While Tokyo and Osaka are better known for their LGBTQ activities, it was nice to experience a pride event in Kyoto, where the Mayor appeared. Back in the States, I participated in and helped organize several activities for the LGBTQ community, which differ significantly from here. Most attendees in Kyoto represented organizations with modest work-related attire and behavior, which provided insight into how social advocacy activities are managed in line with cultural norms.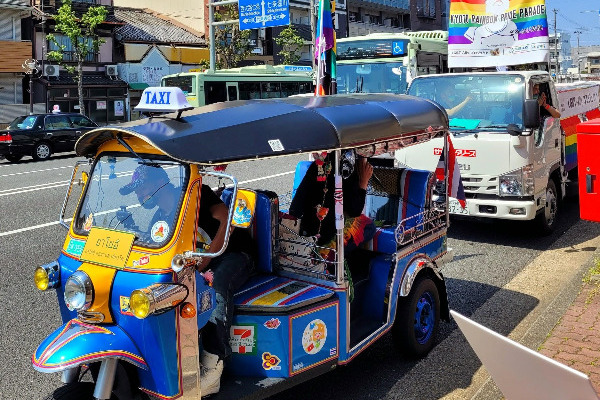 Kyoto Rainbow Pride Parade Festival 2022
I am grateful to have found a close-knit community of staff members, volunteers, interns, and visitors. I received great support in adjusting my schedule and locating venues from Junko-san, who frequently communicated and connected me with other staff. She created a point-card system so interns could receive rewards depending on the number of shifts completed. One of the rewards was a discount for Delta Cafe- KYOTOGRAPHIE'S permanent space near the Kamogawa Delta.
Professor Lauren Hadler visited our class and explained how changes are made until the festival's beginning, sponsors are added, and new events are pulled together, which requires immense flexibility. After its conception in 2013, KYOTOGRAPHIE gained attention worldwide, drawing support from the Kyoto City Government. We learned that by carefully considering which sponsors to connect to in the private sector, the staff ensures that artists remain the festival's priority.

Ms. Amanda Ling-Ning Lo (Project Manager and Bookshop Manager at KYOTOGRAPHIE), our second guest lecturer, analogized the venues as theaters regarding production management. Professionals collaborate on the layout and lighting ("set") while considering the visitors ("audience") and how they move throughout the exhibition ("show.") I appreciated the connection to the theater because my older sister, a musical performer, exposed me to many outlets of creativity growing up.

This year's festival theme was One. I felt a sense of unity as KYOTOGRAPHIE provides a platform for photographers worldwide, making my most significant takeaway that everyone and everything truly is connected. I am inspired by the numerous ways I can apply my International Relations education to life. Also, I am open to working in an environment that promotes creativity in my future.

I thank the Joint Degree Program Office, especially Reiko-san, Erika-san (JDP administrative staff), and Professor French (Vice Dean of the JDP), for finding this amazing internship opportunity for the Sakura Scholars!