Sala Kurtz is one of the AU Sakura Scholars in the first cohort and completed the Joint Degree in 2022 despite a number of disruptions caused by the pandemic. We caught up with Sala when she revisited RU for the first time after graduation.

She is currently pursuing the interdisciplinary Juris Doctor (JD) and Master of Arts in Peace and Justice (MAPJ) Dual Degree at the University of San Diego. This is the only program in the U.S. that combines graduate studies in peacebuilding and human rights advocacy with legal training.
Inspired and Enriched by Classmates
As a JDP alumna, Sala said that studying in two different countries added value to her education. She gained experiences that would become highly applicable to her future career in the international field.
"Taking classes on topics relating to gender and sociology with students from other countries reminded me that the concepts and terms that I had learned through experience and considered more basic were completely new to others."
Sala's time at RU was enriched by communication with her classmates from various parts of the world.
"Having grown up primarily in the U.S., I've always been aware of how my race, gender, and sexuality impacts my life. Because of this, personal conversations relating to these issues happened often and I approached class discussions with the knowledge I took from those conversations. Studying at RU made me realize that I approached class discussions with the subconscious expectation that other students had this same background understanding. Obviously, it was unfair of me to have this expectation, intentional or not, and I'm thankful for my time at RU for revealing such a limiting belief."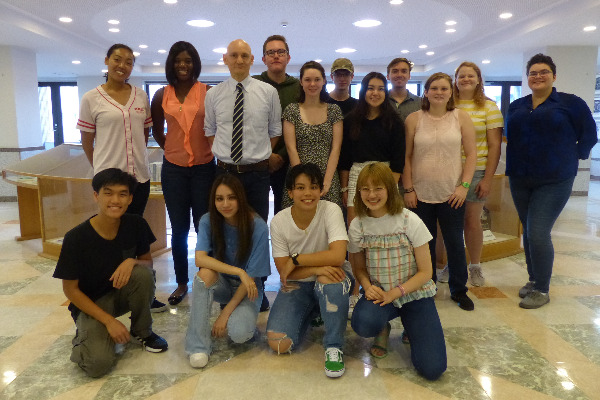 Developing Passion for Helping Climate Migrants
As Sala was doing her studies at RU, she grew more interested in climate issues. Her passion specifically focuses on climate migrants, i.e., people who are being forced to flee from their traditional lands due to extreme weather events.
"While I was taking classes and doing my thesis, I discovered my passion for helping climate migrants. An increasing number of people are being displaced due to climate change but they have no protection. Under current international refugee law, they do not qualify for refugee status."
While doing her bachelor thesis, she noticed that law could be the most powerful tool to impact policy-makers in the fight for climate issues.
"I believe that law is one of the best ways to change governments' decisions because they respond best to legal pressures, rather than experiences on the ground. Using law, my goal is to get either better reparations or environments for climate migrants."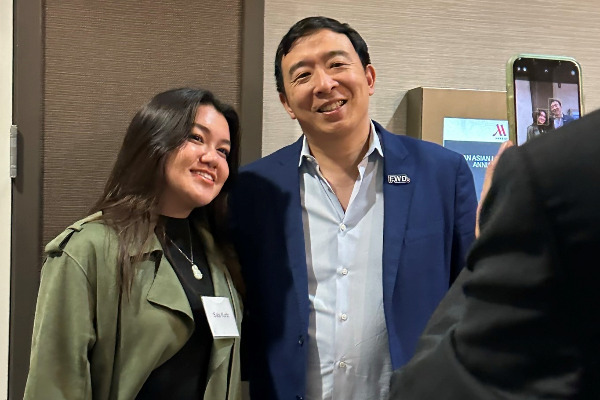 Sala met and spoke with a 2020 presidential candidate Andrew Yang at a dinner event.

Pursuing a dual degree in peace and law seems to be the best fit for empowering herself with these practical capacities to make an impact. However, as Sala transitioned from her time in the JDP into her graduate studies, she found that she needed to gain different academic skills for studying law.
"Because I was getting my degree in global international relations, my classes at both AU and RU were extremely theory-based. It was rare to be told your analysis of a global conflict or issue was wrong, as the analysis was based on your own application of theory to the identified issue. So, I struggled a bit this past year because law school is the complete opposite. You're given the law, you learn how to apply it, and there are definitely right and wrong answers. It was completely different from what I had been doing."
Applying Extra-curricular Activities to Future Academic Career
Sala's desire for helping climate victims has also stemmed from her internship experiences. At RU, she actively participated in internships and volunteer activities with Ambassador's Youth Council at the Consulate-General of the United States in Osaka, Kiko Network, Kyotographie, and the Utoro Peace Memorial Museum.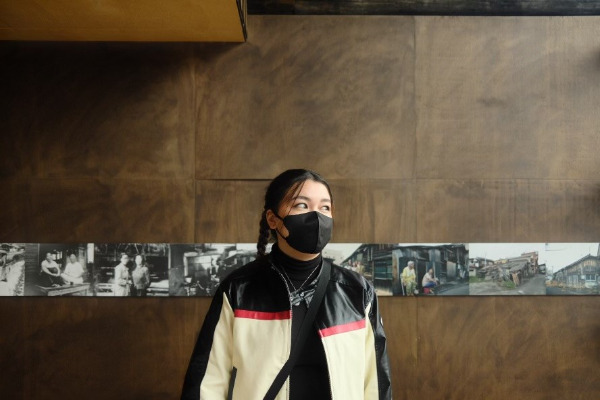 Sala at the Utoro Peace Memorial Museum.
"These experiences definitely helped me find what I wanted to do. Interning with Kiko network (a nonprofit that works to combat climate change through policy) was truly beneficial though this was a short period due to the pandemic. It was the first chance I had to actually apply what I had been learning in my classes, and it made me realize just how different the academic setting was from the NPO setting.
She also reflected, "During my time as a Research Assistant for Tomimasu-san, a Kyoto-based lawyer, I was given the opportunity to work with the Utoro community. It was, and will continue to be, one of the most impactful experiences I have had. The time that I joined them was incredibly complex, as they were not only recovering from a hate-motivated arson that had happened the year prior, but they were also preparing for the opening of the Utoro Peace Memorial Museum. The Zainichi Korean community in Utoro has experienced decades of discrimination and loss, and the museum memorializes their history, both good and bad. I spent a lot of my time advocating the importance of their story being shared internationally, because I was positive that it would resonate with many other marginalized communities around the world. Since then, I've seen a lot of domestic and international news coverage on the museum, which makes me really happy."
Sala was giving her friend a tour of the Utoro museum.

Trying as much as possible on and off campus
In the end, Sala gives future and current Sakura Scholars a great piece of advice.
"Take every opportunity to engage in activities on and off campus. If you just rely on school, you may not get the most out of it. Interning with Kyotographie (an international photography exhibition) did not really align with my career interests, but I felt that I was part of the Kyoto community, which was really rewarding. Going out and meeting people make you see yourself as a Kyoto citizen, not as an international student."
Although climate migration still lacks international legal recognition, there is no doubt that there will be more and more displacements due to climate change. Through her academic career, Sala has discovered her calling to secure a safer, healthier future for climate migrants.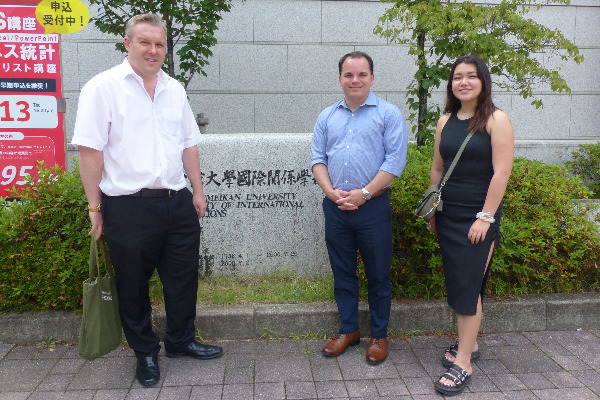 With Prof. Thomas French (left) and Mr. Jeremy Lowe, AU Admissions Officer (middle)