In commemoration of inaugurating the American University-Ritsumeikan University Joint Degree Program, a special ceremony was organized at Ritsumeikan University's Kimugasa Campus.
From the School of International Service of American University, Professor Patrick Jackson, Associate Dean for Curriculum and Learning, and Professor Rosemary Shinko, Assistant Dean for Undergraduate Education, were invited, among other distinguished guests.
For details of the ceremony, please click on the link below.

Inauguration Ceremony for American University-Ritsumeikan University Joint Degree Program (JDP)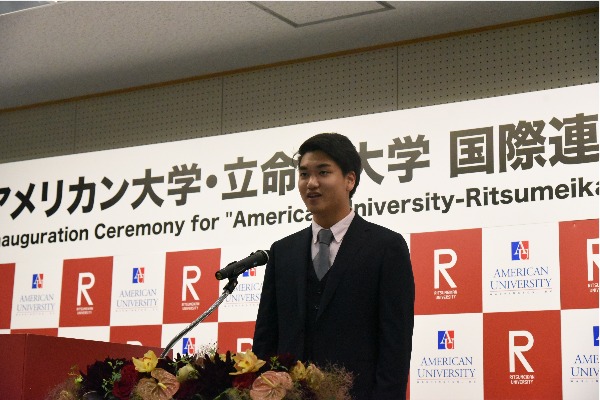 A RU Home Student representative, Ryoma Endo made a speech in English. His impressive remarks stressed the importance of taking opportunities in order to be successful and expressed his ambition to contribute to world peace in the future.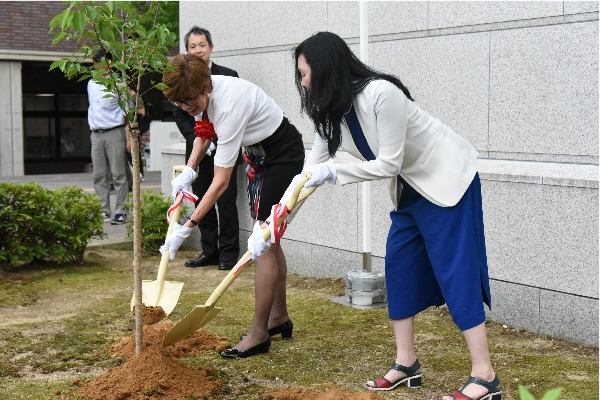 A tree planting event took place following the inauguration ceremony. The guests planted a sakura tree hand in hand between the dogwood trees, both of which are known as symbols of the long-standing friendship between Japan and the United States.
Professor Jackson and Shinko had a special open lecture with the theme of "Introduction to Global IR" for College of IR students.
The lecture tried to reconsider International Relations, which has long been Western-centric, as "Global International Relations" by incorporating non-Western values including Asia.
During the lecture, the participating students including those from Ritsumeikan University affiliated high schools did group work together about the topic, and exchanged their opinions interactively with the professors.