The second cohort of RU-home students have enrolled and have completed their weeklong orientation.
Let us introduce what happened at the orientation for JDP students, who have just enrolled at both Ritsumeikan University and American University.
On Monday, April 1st and Tuesday, April 2nd, the JDP students participated in the Entrance Ceremony and College of IR Welcome Ceremony alongside of the Global Studies major and International Relations major students.

During their first 3 semesters (1.5 years) at Ritsumeikan, the students will study together with not just their fellow JDP classmates, but also with Global Studies major students.
Wednesday, April 3rd was the start of the orientation that was just for JDP students.
Information sessions were held at which faculty members from Ritsumeikan University explained about the curriculum and taking courses, while faculty and staff from American University explained about student life and how to use the computer system at American University.*
On Friday, April 5th, the final day of orientation, a welcome lunch was held for the first cohort of JDP students (2nd year students), the second cohort of JDP students (1st year students), and the Ritsumeikan University and American University faculty and staff (a look at the lunch will be posted soon).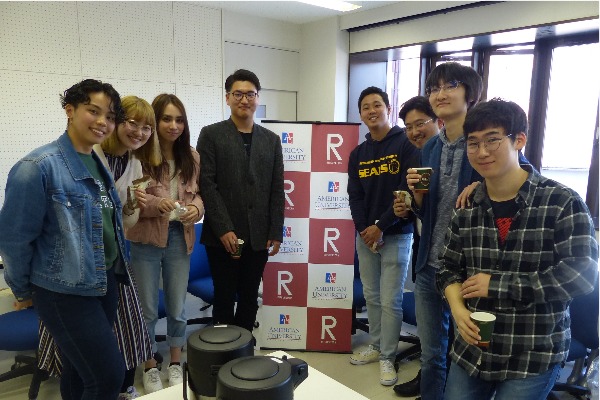 In the afternoon, students had their first academic advising session with their academic advisor (a faculty member from Ritsumeikan University).
Students met with their advisors one-on-one and discussed the Spring Semester courses they planned to take before finalizing their schedules.
At last, classes begin on Monday the 8th. Although our JDP students may be both anxious and excited as they begin university, we hope they will enjoy their JDP student life!
*JDP students have access not only to Ritsumeikan University's library and research databases, but to American University's extensive research databases, as well; they will be able to make use of both universities' computer systems all 4 year.