The JDP hosted a live online Q&A session for the first-year RU Home Students.The event provided them an opportunity to be introduced to the RU JDP community and to ask anything about the JDP experience.
Second-and third-year students were invited and asked to share their experience both at American University (AU) and Ritsumeikan University (RU).
They are currently taking AU classes online due to the COVID-19 pandemic and joined the session from their home addresses (Japan and Korea).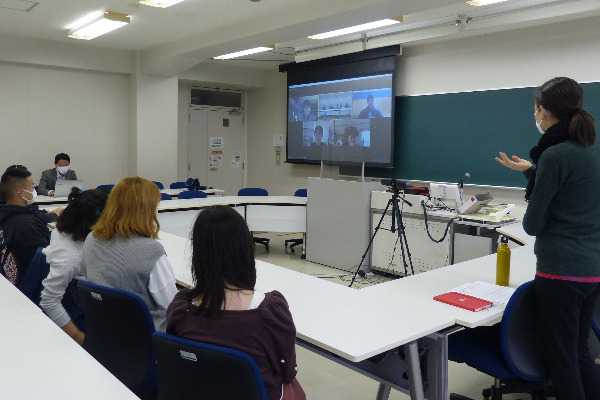 Upon being asked what AU classes were like at AU, the juniors, who already spent one semester on the AU campus, stressed the importance of active participation in classes.
"First, you may be overwhelmed, but do not hesitate to contribute to discussions. There will be friendly classmates that help you."
One junior added that taking classes with RU's international students was helpful in improving discussion skills before going to AU.

The juniors also shared their fist-hand experience that communicating with instructors during office hours would be beneficial.
Knowing that the class load per week at AU was heavier than at RU, the freshmen seemed a bit nervous but soon became reassured to know how their "senpai" have been well-managing their assignments.
The freshmen were also curious to know social life at AU. It was a pleasure to learn that the juniors were engaged in many activities outside class and demonstrate their leadership. To name a few, internship in a government organization, tutoring Japanese to peer students, and organizing visits to international institutions in DC.
Life in dormitories always draws students' interest. The juniors shared some nice tips to get along with a roommate and said that learning how to respect each other in dorm life would be a good communication training.
One junior didn't forget to mention about how to get a room for a popular dorm building. "Hop online even at night and apply immediately after dorm application opens!"
The event proved to be a great way to get to know each other and make connections among RU Home Students.