The Joint Degree Program organizes a variety of extra-curricular programs to provide students with learning opportunities outside of the classroom.
As part of these opportunities, we held a global career seminar on December 2 with the participation of AU and RU Sakura Scholars.

The intent of the seminar is to provide students with the time to think about their career paths. It was designed to benefit both those who have a specific goal of finding a job overseas and those who do not have a clear plan for the future.
The seminar, held both in person and online, was led by two career consultants from GJJ Co., Ltd, a consulting firm for overseas jobs, offering total support services for people who want to develop their career globally.
For the first part of the seminar, one of the GJJ consultants made a presentation on the development of global career.
The agendas ranged from trends in employment amidst and post the COVID-19 pandemic, jobs and capacities needed in the future, to differences in job markets and career opportunities between Japan and overseas. All the students listened intently while the presenter talked about each topic.
In the second part of the seminar, the students participated in a small workshop on career design. The other GJJ consultant guided the students to think about past experiences using a worksheet, identify common values that emerge, and examine what dreams and goals these values can connect with. The students also shared their findings with and gave feedback to each other.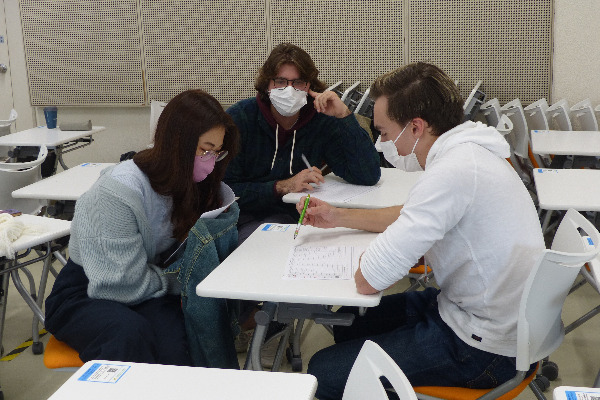 Based on takeaways from the seminar, the students will write a 6-month action plan to approach the goals they have set.

At the end of the seminar, we received student comments including:
"I reaffirmed I was always orientated to go overseas."
"I now know that each student has a totally different background and future dream."
We hope that this seminar will help students think of career and future in a broader way and take a step forward with a dream goal of acting on the global stage.