On Sunday, March 20, 2022, Ritsumeikan University (RU) held a commencement ceremony for the Class of 2021 on its Kimugasa campus. Three students in the first RU cohort of American University-Ritsumeikan University Joint Degree Program (JDP) marked the beginning of their new journey.
During the ceremony, Yoshio Nakatani, President, Ritsumeikan University conferred a degree to students representing their College and Graduate School at RU.

Ryoma Endo, one of the RU Home Students in the first cohort, was named as the representative of all the graduating students to deliver a commencement address.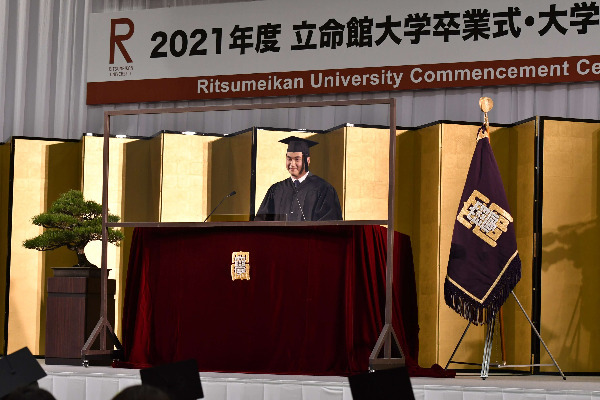 He expressed his gratitude for his faculty, classmates and family in his remarks, recalling the two years at American University and the two years at Ritsumeikan University.
View the ceremony by accessing
here
.
Following the university commencement ceremony, the College of International Relations organized its own ceremony for their graduates.

Ritsuko Kawamura, Dean, College of International Relations made a speech and mentioned the three JDP graduates.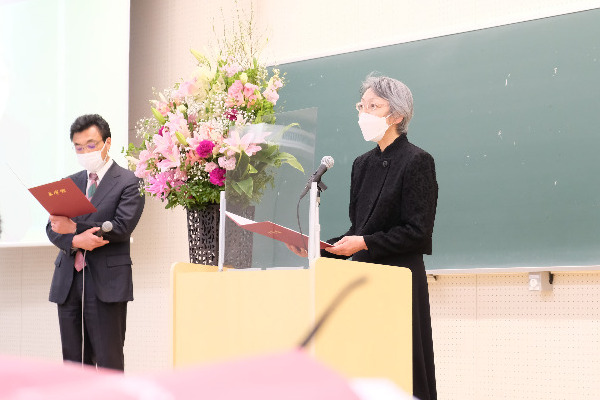 "We are pleased to celebrate the first-ever group to graduate from the program, which was launched in 2018", she said.
The JDP also held a special ceremony for the JDP graduates to celebrate their completion of the first joint degree undergraduate program between the US and Japan.

Prof. Koga-Browes Scott, Vice Dean for the JDP, conferred to the students the first joint degree authorized by both American University and Ritsumeikan University.

"I believe the 4 years you spent as a JDP student will definitely help you grow as a person", he said with encouragement.

Congratulations, graduates! We in the JDP team hope that you will make a difference in your next stage with knowledge and capacities gained through the program.