The College of International Relations organized a Newcomers Orientation before the beginning of the Spring semester. We have 8 students newly enrolled in the RU fifth cohort of the Joint Degree Program.
On the first day of the orientation, Thursday, March 31, our new Vice Dean FRENCH Thomas W. addressed a welcome speech to the newcomer students. The following orientation helped them deepen understanding about the JDP's curriculum offered by both American University (AU) and Ritsumeikan University (RU), how to register courses at RU and more.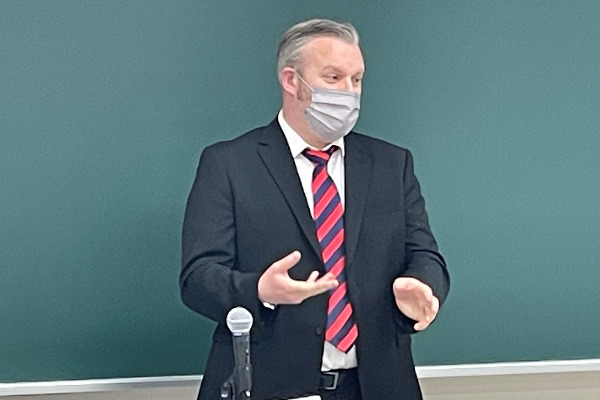 Next day, on Thursday, April 1, the AU staff held an online guidance session, where the students learnt how to use the AU student portal and other resources. After the session, the students met upperclass students for peer academic advising. By talking to the upperclass students, the newcomers get the picture of how they should select classes and spend life on campus, and more.

On Monday, April 4, a pre-class activity was offered for students taking Introductory Seminar. This seminar is a mandatory course for all college newcomers, designed to help students learn academic basics and college life.
During this pre-class activity, the newcomers got to know each other, and met with the peer support group called the oritor, which gives support for new faculty and first-years to navigate their college life.
On the final day of the orientation week, Tuesday, April 5, the newcomers participated in academic advising, one of the JDP's academic support systems. The students discussed the schedule and academic goal with their assigned academic advisor, which helped them prepared to jumpstart their student life.
Our students have been taking RU Spring classes beginning Wednesday, April 6. The faculty and staff sincerely hope that all in the fifth cohort will enjoy an amazing student journey at RU!