Minori Sekine (AU Home)
Studying in Japan, Finding Myself More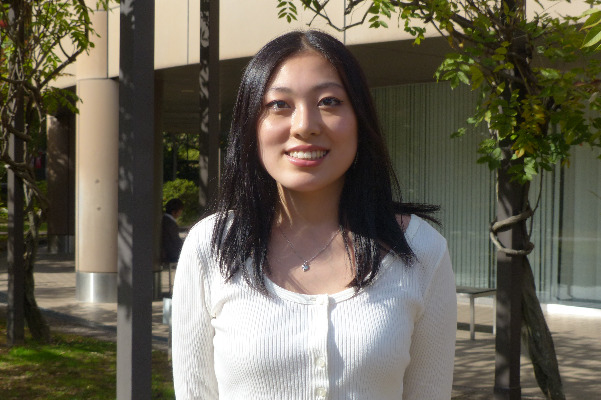 Minori Sekine is one of the Sakura Scholars in the American University (AU) second cohort and currently spending her final year at Ritsumeikan University (RU). Having roots in Japan, she talks about the importance of developing a deeper knowledge and connection to the country. Interviewed by Dr. Ana Mosneaga, JDP Program Coordinator.

Q. Why did you choose the JDP for your undergraduate studies?

A. What first drew me to the JDP is that this is a joint degree, through which you complete one degree in two different universities. I felt that there are not many universities offering such a unique opportunity. What I noticed from applying to other universities is that they typically offer study abroad programs for one semester or one year. I wanted to study abroad longer, so the JDP seemed like the best fit for my plan.

Being Japanese-American, I always had the desire to explore Japan and experience what it will be like living here. Also, I wanted to improve my Japanese skills, as speaking Japanese is really important to my identity. For these reasons, I decided to join the JDP.

Q. In your view, what are the main differences between student life at AU and RU?

A. I first noticed that the structure of RU classes is very different from that of AU. There are some discussion-based classes at RU, but others are lecture-style ones that frequently entail lengthy lecture sessions. AU classes are more discussion-oriented. Another thing that surprised me is that many RU students commute from home to campus, unlike AU students living within or nearby the campus. Some of my friends living in Osaka or Shiga prefectures spend about 2 hours just to come to campus every day. One of the main benefits of studying at RU is that I can enjoy delicious food at the cafeteria!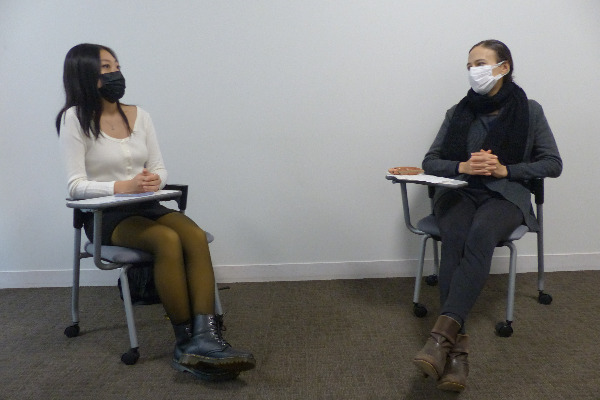 Q. How would you compare your original expectations about life in Kyoto/Japan and your experience so far?

A. When I first came here, I realized how much Japanese I didn't know! I do speak Japanese but using honorifics (Keigo) is still challenging. The fact not that many people speak English in Kyoto made it hard for me to navigate life in the city at the beginning. Also, the Kansai dialogue (Kansaiben) was totally new to me. My father and mother are originally from Tokyo and Chiba Prefectures respectively and I had never been to the Kansai region before. Learning how people interact with the dialect is quite interesting.

Q. You participated in an internship at the KYOTOGRAPHIE International Photography Festival this year. Could you please tell us about your experience as an intern?

A. I really had a wonderful time working with the KYOTOGRAPHIE. It was a very unique opportunity to see how an international photography festival was being organized. All the staff at the KYOTOGRAPHIE were very welcoming and helped me to complete the internship. I don't have an arts background but was able to gain much knowledge in this field thanks to this internship experience. Experiencing work at a Japanese organization was also interesting and will benefit my future career as well.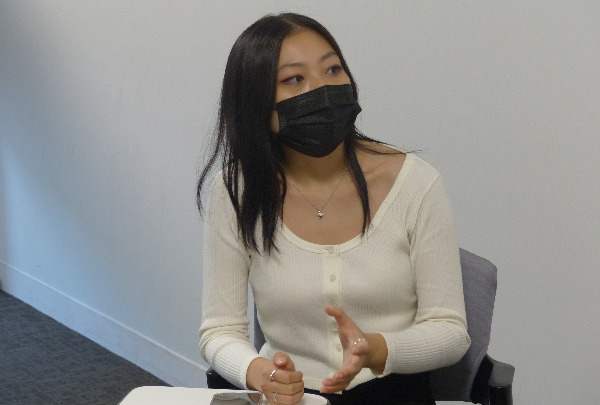 My internship site was the Museum of Kyoto Annex, in which the works by Guy Bourdin, a renowned fashion photographer, were exhibited. My duty was to supervise the exhibition site, helping visitors check in at the venue and answer questions they had. These experiences definitely developed my customer service skills. I worked there for the entire period of the internship, which enabled me to get to know some of my colleagues and supervisors not just professionally but also at a more personal level. The internship also enabled me to meet artists and visitors from various parts of the world, which was an amazing experience. I learned that arts can be an important tool to send messages to people around the world, no matter where they are from.

Q. You spent your time at AU in the midst of the COVID-19 pandemic. Could you please tell us how you coped with the situation during that time? How did you keep your motivation?

A. When the pandemic first broke out in 2020, I had just started my second semester at AU. I was so saddened to be moving back to my home in New York because I didn't want to miss out on living in Washington D.C. In addition, online classes were challenging to everybody including me. I was able to cope with this situation by frequently communicating with my peers and keeping myself busy. For example, I participated in a US-wide Japanese speech competition online. Thankfully, I became a finalist in this competition and am happy about my achievement.

Q. What would you like to do in your remaining time as a student? Do you have specific plans or goals that you would like to pursue?

A. Although I haven't shaped a clear vision for my future at the moment, I am interested in potentially pursuing a career in international organizations or government agencies. In order to establish my career path, I am considering going to graduate school be it in the US, Japan or anywhere else. Before completing my undergraduate degree, I want to explore many different parts of Japan I have never been to, such as the Okinawa and Hokkaido Prefectures. I think this will give me a better-rounded view of Japan.