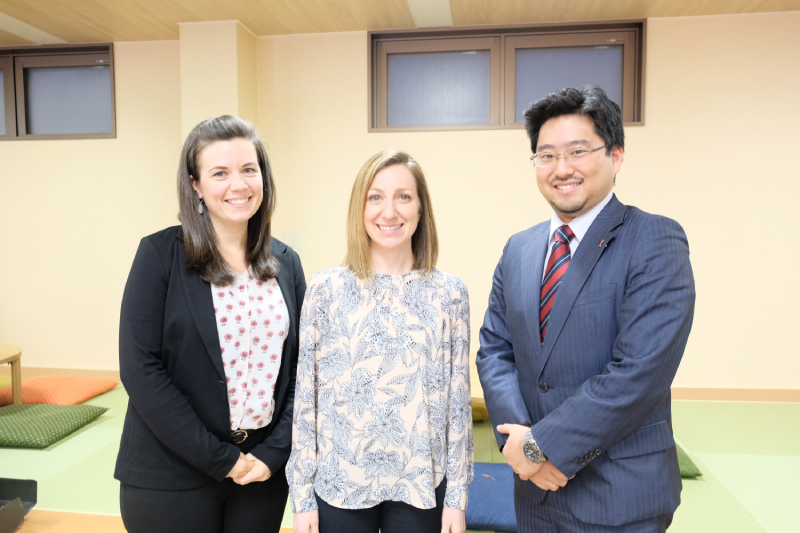 Marianne Norman (center), Director, Undergraduate Academic Advising and Amy Marrion (left), International Programs Manager, both from School of International Service, American University talk about the advantages of studying at AU and send messages for prospective JDP students. Interviewed by Hajime Akiyama (right), Program Coordinator, Joint Degree Program, Ritsumeikan University.
■ Uniqueness of AU
■ Internship
■ Academic Advising
■ Life in Washington, DC
■ Messages for Prospective Students
---
Uniqueness of AU -What is a strong point of AU among universities in the US?
Marianne Norman
American University is a liberal arts university with a heavy focus on research, SIS in particular. Students do a full year of research in the sophomore year, and conduct a capstone project in their final year.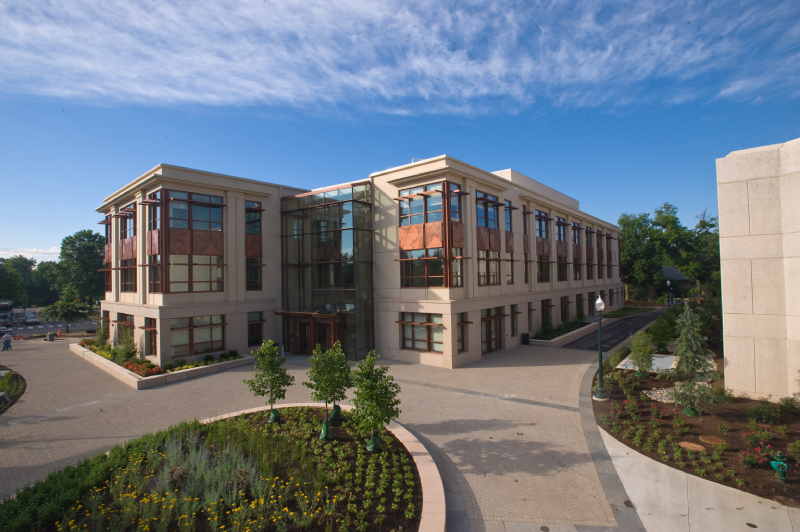 Unlike many other schools of international studies and international relations, "service" is very important piece to us. For students who are coming to SIS, service is a value they have, and it is a value that most staff and faculty in SIS also have. We work here because of our value of service. A lot of our students are doing public service work for the government, for non-profit and working for international organizations.
We consider DC as an extension of our campus. About 90% of our students do at least one internship while they are at AU. Many of our faculty work in the field in DC, bringing that experience to the classroom.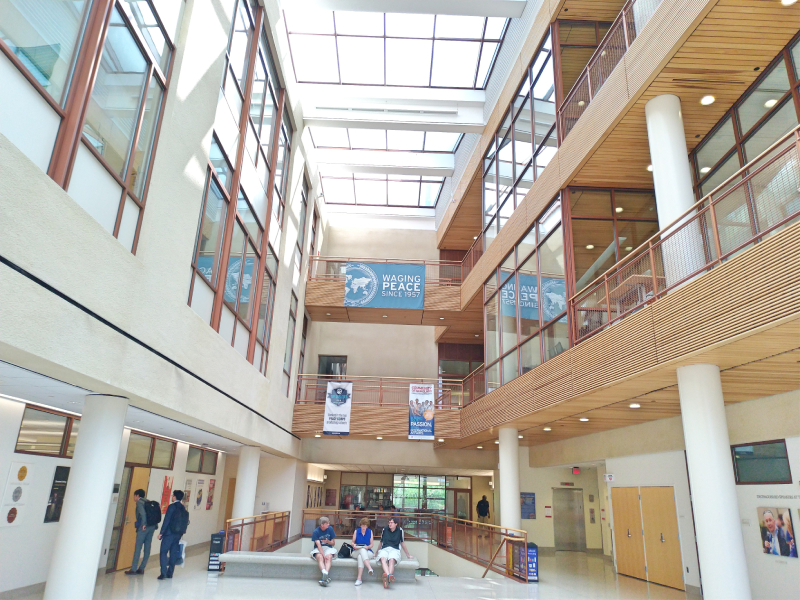 Amy Marrion
AU is committed to global learning. We have a large study abroad program and about 75% of students study abroad. We have full degree seeking international students who are coming from all over the world (1,000 international students currently on campus). This helps develop more dynamic conversation and perspectives to classroom and campus clubs.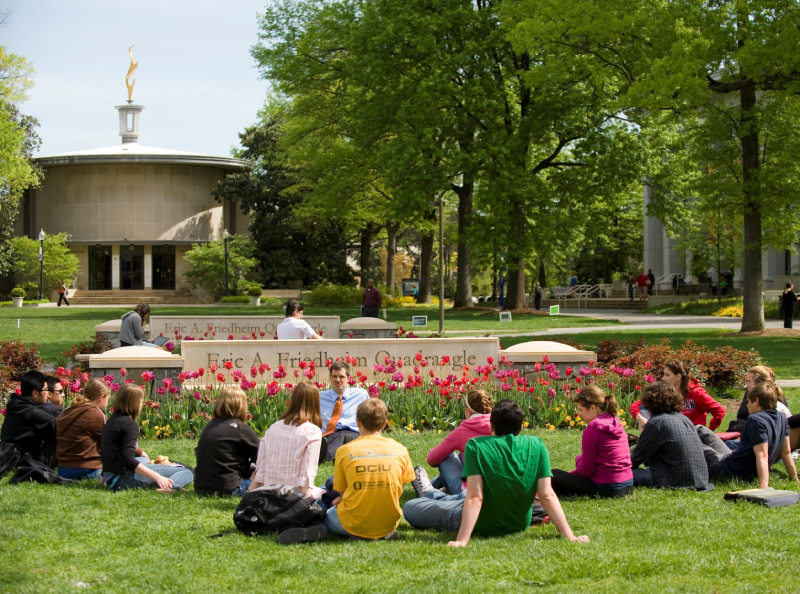 Internship -How do students participate in internship programs?
Marianne
Their internships are just as varied as their academics. We have students who participate in internships on Capitol Hill working with Senators in Congress, the World Bank, the U.S. State Department on a variety of levels, embassies, lots of private sectors as well.
I think that's one of the things that makes our schools so wonderful, not just diversity of student population, but diversity of thought and diversity of career that they want to get into.
Amy
Many of them actually end up in Washington, DC working for companies and organizations located there. Those connections are very important to us.There is an online system which allows students to receive postings and for various internship opportunities directly to their email. It could be competitive at times, but many students have three or four internships over a couple of years.
Marianne
They also have the opportunity to do internships for academic credit. The credit is associated with the course that they take with the faculty member in SIS, and that course focuses on professional development. This credit course allows them to learn some of the skills that are needed to be successful in the workplace.
We also want JDP students exploring internships in the DC area in their second year at AU!
Amy
The opportunities are a lot of times brought to the university, but they are not necessarily set up. We offer support for filling out job application, doing a cover letter, customizing a resume, practicing interview questions, etc., but students still have to do the work to get the internship.
They won't always get the first choice or maybe they will have to go to a couple of interviews. but that's actually a very good experience we want.
Marianne
We have an AU career center and any student is able to meet a career advisor there. They host a job and internship fair every semester where over a hundred employers in the DC area will come in and talk with interested students. We also have an in-house career development center within SIS.
All of the JDP students will be assigned to a career advisor within SIS as well as a career advisor in the AU career center.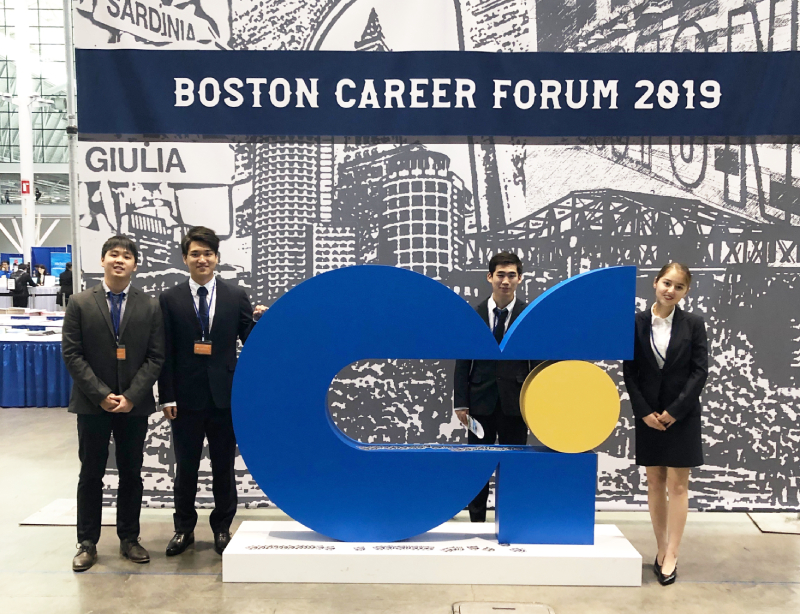 Academic Advising -How do AU value the importance of advising for students?
Marianne
All students are assigned to academic advisers for the four years they are at AU. Each school has own advising unit, and so depending on the major, a student is assigned to advisors within that area.
Their job is to help support student throughout their academic career, but also to challenge students to think outside of the box a bit. We really want them to explore different areas of interests they may have, and also to help them explore areas they didn't think about in high school.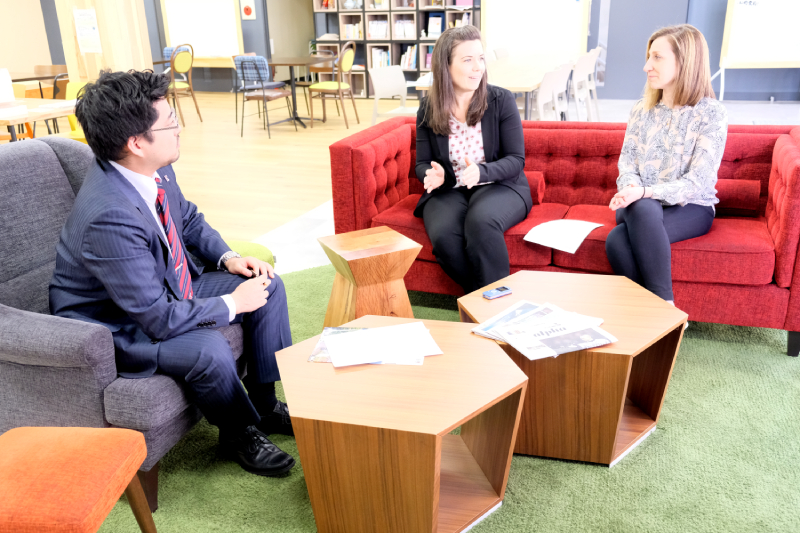 That is really a foundation of the AU Core, which has a variety of different areas of learning. There are Habits of Mind courses that students take, and those courses outside of their major help them expand their knowledge to different areas. Their academic advisers help figure out what those other courses they want to take, that maybe they know nothing about, and it's something that they can explore during the semester.
Another piece of academic advising is connecting students to the resources on campus that they might need.
Maybe they have questions about career advising, and we set up a meeting with a career adviser. Maybe they are having trouble with managing their time, so we set them up with a counselor at the Academic Support and Access Center who can sit down with them to help organize their days.
Our job is to connect them to a lot of people on campus that can support them.
Life in DC -What is the life in the DC in general?
Amy
AU is located in a residential area of Washington DC, in the upper northwest quadrant of the city. It's connected by busses, the subway (Metro), and there are also rental bikes and scooters, so there are plenty of cost-efficient ways to navigate the city and surrounding areas.
The campus is located about 5-6 kilometers from the U.S. Capitol, the White House, and the various national memorials and Smithsonian Institution Museums which have free admissions.
Students can visit any of these museums including the National Zoo and the Air and Space Museum to name a few. It's really a good opportunity for anybody in DC, including our students at AU.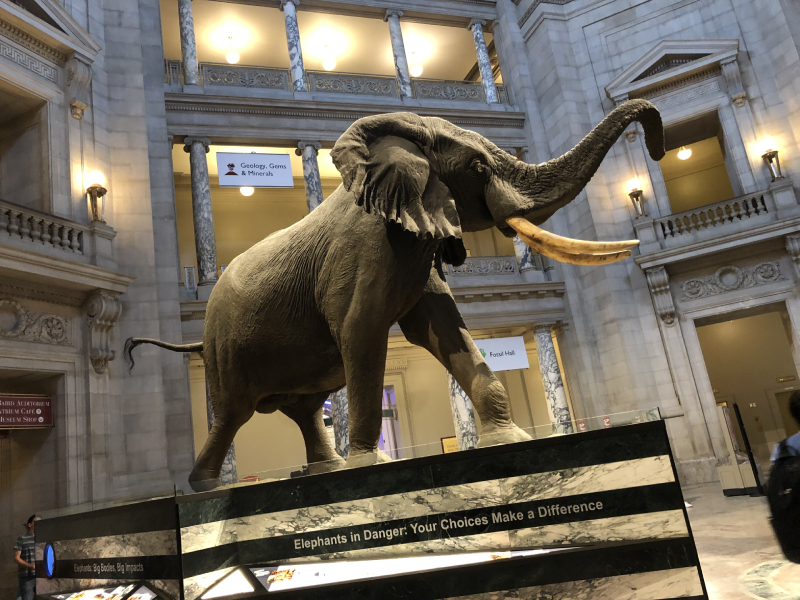 Marianne
The city is broken up into different and unique neighborhood.
Eastern Market has a wonderful market on the weekends. There is a drum circle in Columbia Heights that has been around for over fifty years. Community members of all ages go out there and play the drums. Rock Creek Park is a very large expansive park for hiking and biking. The Georgetown Waterfront area is nice for kayaking and paddle boarding.
There are a lot of ways to explore the city do all sorts of things, and easy to get around.
Amy
DC also has a lot of diverse sport teams such as Washington Nationals (baseball), Washington Redskins (American Football) and Washington Wizards (basketball), to name a few.
Students can also enjoy watching their peers on the AU sport teams throughout the year.
-How will JDP students be supported when they live in dorms?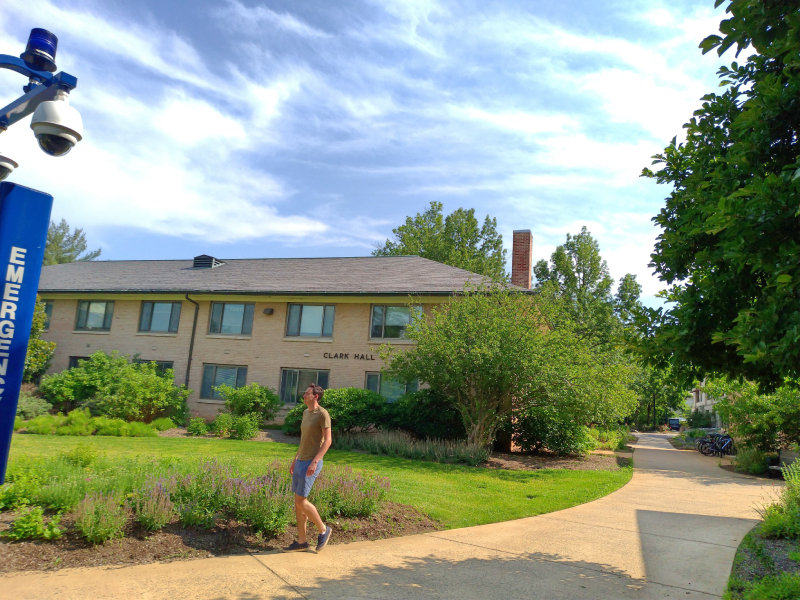 Amy
All students in JDP will be required to live on campus for their first year for two semesters. Typically, students are living in a room with two beds, with a roommate.
Usually the dorms are separated by gender, and typically there is a group restroom and a kitchen on each floor. Students are able to cook for themselves. There is a plenty of grocery stores and specialty markets close to university, which carry all sorts of ingredients around the world.
There are variety of configurations of dorms including suites style, with several rooms,restrooms and a shared kitchen, and apartment style, which is closer to campus.
Students will be able to fill out some preferences for where they would like to live, and then there will be an assigned roommate randomly; in the case of the JDP, not a JDP student but an AU student from a different program. They will receive their roommates contact information so they can contact them before they arrive at AU.
On move-in day current students and staff members from around campus help students move in. Resident Assistance (RA's) who are typically junior or senior level live each floor of any dormitory to support students. They may plan social events, and they will deal with any conflict.
Messages for Prospective Students -What kind of students fit into the JDP to spend their time at AU?
Amy
We would like to welcome students from all backgrounds, but there are somethings that would be helpful for students to have. An interest in US-East Asia relations, would be beneficial. I also think having a strong base in the English language is very important.
We currently have a diverse JDP cohort in the JDP and I only see that growing more and more, so I think students should be really passionate about having a global experience and interacting with people from many different backgrounds, focusing on the degree itself.
Marianne
I think developing an open mind and willingness to challenge others such as fellow students and your faculty members are important because there is this whole world that we all see things through different lens.
Amy
We value diversity and opinions and perspectives and having those really valuable conversations to think about "real world". Through the exchange factor of the program, there is a lot of student mobility with two years in the U.S. and Japan during the four-year degree. Thinking about what that looks like being away from families and other obligation and 'comforts of home' are important considerations for all prospective JDP students. There are plenty of ways that we can work with the students to mitigate any challenges that they may encounter during their studies.
Marianne
One of the things we are actually just talking to the JDP students in advising is the importance of getting to know each other and building their own community. And that is not just within themselves, not just students, but really building relationships with faculty, and staff that they are working with. Really creating a community of "Sakura scholars." Especially in program like this, you need to get out of your comfort zone a lot. You need that community to support and challenge you.
Amy
Trying to understand what the curriculum includes help you have strong understanding of what the future looks like. JDP has been jointly designed by both AU and RU which is very unique and not commonly seen in other places. Even for prospective students, it is important to understand beyond just the two years in the US and two years in Japan, the academic component what that looks like in reality.