The complexities of contemporary civil society and how nation states interact with acculturation of immigrants.
Sandeep Krishnan
3rd Year Student in Global Studies Major/ International Student from India/ Vice President of the Society, First Grade Support/ Recipient of Commendation from the Consul General of India for his research on the Indian community in Japan/ Representative of Kansai in Cricket
Mr Krishnan is the beneficiary of the 2021 +R Undergraduate Scholarship: a grant awarded to students who have accomplished outstanding achievements in their academic activities. We interviewed him about his reason for attending IR, his life in Japan, and his future aspirations.
Which part of India are you from?
I hail from the southern part of India, specifically from the state of Kerala along the western coast of the Indian peninsula. However, I was raised in the city of Chennai along the eastern coast of the country.
Why did you choose to study IR?
The rationale behind my decision to study IR is primarily based on my fascination with the complexities of contemporary civil society and how humans, as nation-states, interact with one another. Accordingly, in my quest for higher forms of intellectual prowess, I had stumbled upon the depth and scope that IR provided and had categorically solidified my position on the pursuit after the same. I took it upon myself to further challenge my academic capabilities and meaningfully contribute towards solving some of the greatest predicaments facing our volatile social strata.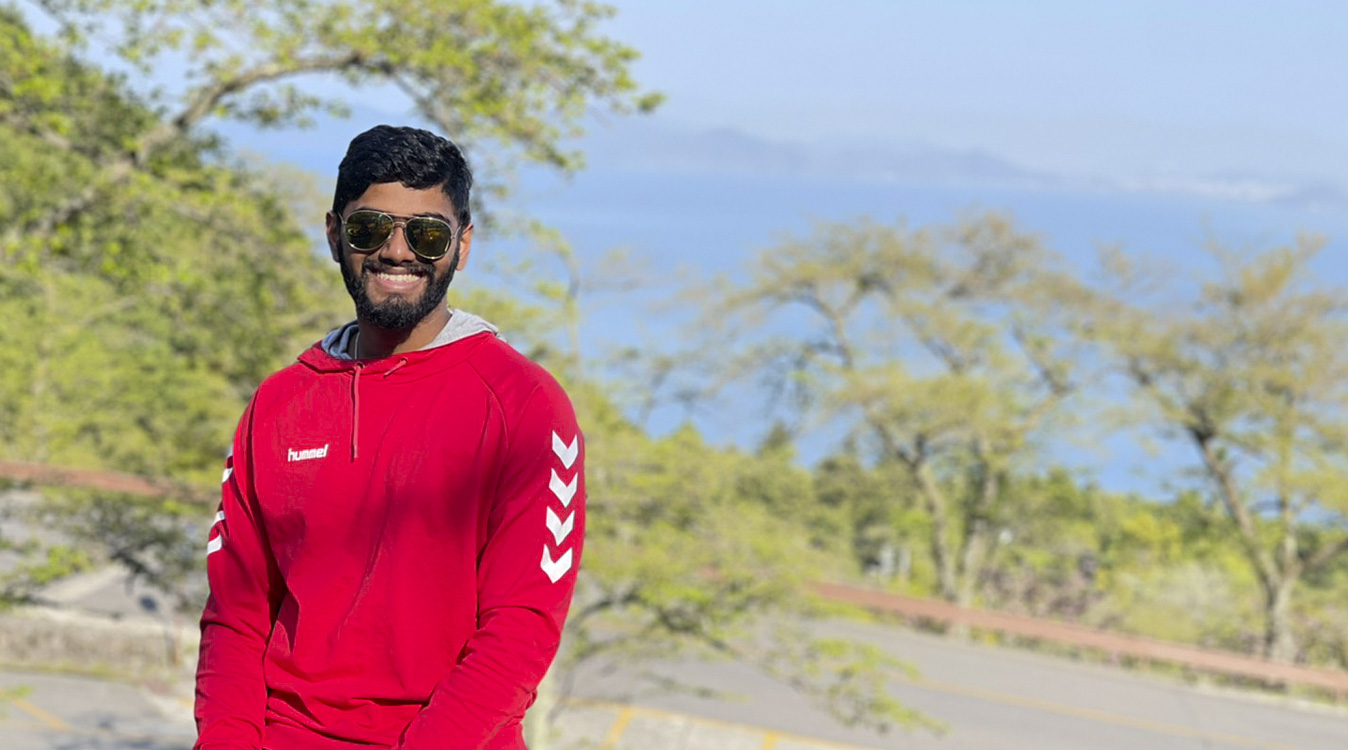 Why did you choose to study in Japan?
Right since my childhood, I had always pondered over the intricacies of global society and had consequently engaged myself with in-deep analysis of the same. Seemingly, the interest in pursuing something out of the ordinary had compelled me to choose an English based course in a predominantly non-English speaking country. While the notion of exploring a new educational destination seemed to be dangerous and uncertain at first, I took it upon myself to opt for an educational destination other than the traditional norm (United States, U.K and Singapore). With respect to the realities of life and the importance of moral values, Japan has provided me with a diverse academic environment and trans-national exposure that I would have erstwhile missed if I had enrolled in an Indian university.
What are some of your experiences in Japan that has blown you away?
One of the greatest advantages of studying in Japan relates to the ample networking opportunities that lie here. Being a predominately non-English speaking country, the sheer scope for foreigners to network among themselves makes for a cohesive and inclusive learning experience. Japan has aided in transforming my personality and social outlook by providing me with the opportunity to interact with people from different countries. This diverse environment of students/professors from different cultures and countries broke the conventional stereotypes that I had usually associated with studying abroad, increasing my rational perception of our globalised world. Additionally, by opting to work part-time in a foreign country, I have subsequently learned the importance of hard work and the value of money. The challenges of living alone in a foreign country combined with the importance of financial management have instilled values of social responsibility and financial prudence in me. Considering the intricacy of Japanese society, I find the cultural difference between home and the people I study and work with, to be a game-changing experience.
You have received a Commendation from the Counsel General of India for your research on the Indian community in Japan. Please give a brief overview of your research.
As a part of my academic curriculum, I had conducted a survey and a quantitative research paper on the Indian community in Japan. The paper was about the Malayali community in japan and how they had successfully assimilated into Japanese society. The paper deduces that the multiple social and cultural organizations that worked within the community represented varying civic and religious interests reflected through a common linguistic tradition unique only to the Indian sub-continent. Additionally, by celebrating Indian festivals and creating close-knit relationships with their fellow countrymen, they had consequently been successful in recreating the nostalgia associated with home and solidified their relevance in such a monoethnic society like Japan. While the paper was based on one specific community Indian community in Japan, I had also been approached by prominent media outlets from India (For the conscripts of my research) and had subsequently been recognised by the Consulate General of India for my above-mentioned efforts. Moreover, by conducting such a survey, I had also actively involved myself in expanding the social reach of numerous such communities in the Kansai region alone. Besides, by interacting with fellow Indians regularly, I hope to serve as a bridge between the numerous Indian communities here in japan. Conclusively, by basing my research on the Indian community in Japan, I had also hoped on reviving interest among future fellow scholars, to the complexities associated with immigration and living aboard.