Ritsumeikan University College of International Relations AY 2018
The 1st "First Year Retreat" in the College of International Relations was held on June 23, 2018. The First Year Retreat (FYR) is a new initiative of the College of International Relations for the students who enrolled in AY2018 to plan for their four year study at Ritsumeikan University. Students talked about the selection of IR program & ZEMI, and other possibilities such as the study abroad with faculty members & graduates and thought about possible paths as the first step to maximize learning opportunities.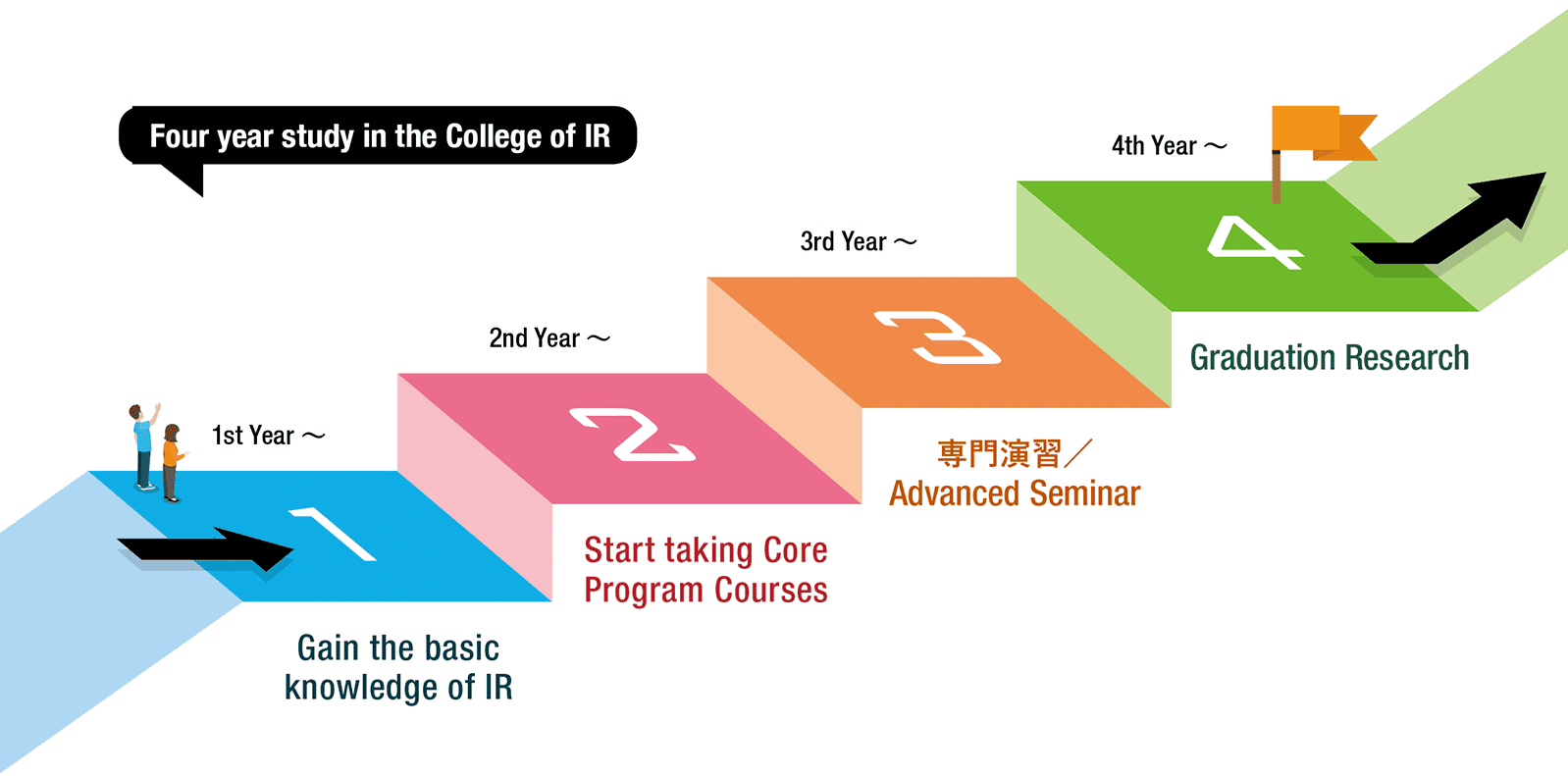 The event started with an overall guidance that many freshmen learned about the meaning of the Graduation Research which become one of IR Graduation Requirements and the importance of selecting a proper program and advanced seminar followed by the information sessions by Alumni who have been actively working in various areas.
In the first part of the event, two professors in the College of IR: Associate dean Dr. Ryoji Nakagawa and Dr. Sayaka Fukumi explained about what they will learn in each professional area and cluster as well as the importance of the Graduation Research as a capstone to the students in IR and GS major.
In the second part, students split up into small groups based on their interests and listened to the talk of 9 alumni who have been working at business companies or in the area of official affairs, Mass Communication, and international cooperation or studying in the graduate school of International Relations at RU about what they learned through the Core Program Courses, the selection of an advanced seminar and thesis theme, study abroad experiences, extracurricular activities such as clubs and self-directed seminars, and how these experiences lead to where they are now. The alumni was kindly answering to many questions which were given by students at the end of each session.
The event become a good opportunity to think of their four year study plans and careers as students were inspired by alumni's talks and commented "My motivation for studying at RU has been lifted up", "Guests provided me with new choices", and so on. Since it is rare for the alumni to talk with university students, they also commented "I was very much inspired", "Students are lucky as there was no such event when I was a RU student".
In the afternoon, students departed for Soni Kogen in Nara prefecture and participated in a camp for networking, which was planned and organized by Oritors.
The College of IR has been providing freshmen with various supports in the area of the academic writing, advising, and so on to make sure that their study will be in a planned manner and go smoothly from the first year through their Graduation Research and selection of careers.
*The event was held in cooperation with the College of IR, Office of Student Affairs, and Career center.
Alumni Profiles
IR major
*Information sessions were held in Japanese
International Order & Peace program ⇒ Japanese broadcasting company
International Cooperation & Development program ⇒ International Tourism company
International Cooperation & Development program ⇒ Japanese maker
International Cultural Understanding program ⇒ Local public officer
International Administration program ⇒ National public officer
International Administration program ⇒ JICA JOCV & will study abroad for a graduate school
GS major
* Information sessions were held in English
GS major ⇒ European Consulting Firm
GS major ⇒ Graduate school of International Relations at Ritsumeikan University
Messages from Alumni
Welcome to Kyoto and Ritsumeikan University! As one of the alumni, I really wish you could enjoy your study here, but choose your class and academic direction wisely so that you could do the things that you are interested in in the future. You could try out a lot of the things offered here and know the university as well as the city. You can make this 4 years the most unforgettable years of your life and really make use of it.
There is any chance out there if you look for, during your university life.
There are many chances to find platforms and scholarships to have various experiences. As being a student, adults can help you as much as they can. Please try to learn how to influence people. I suggest you to do what you really want to do, rather than compromising and feeling "I have to ". Time flies. Please enjoy your university time.
Choose your interests、Don't give up、Respect professors and try to make friends with them、Be nice to your friends and peers. Enjoy your college life.
When you feel confused, read more.