Transportation / Accommodation
Kyoto
Study in Kyoto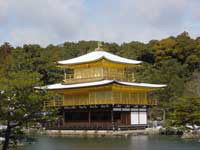 Kyoto is home to some of Japan's most important World Heritage Sites such as the Ryoanji, Kinkakuji (Golden Pavilion) Temples, and Nijo Castle. Ritsumeikan University School of Law is located within walking distance of Nijo Castle. Kyoto enjoys a harmonious blend of ancient and modern, thus giving students a unique opportunity to experience all aspects of Japanese culture.
---
More Information on Kyoto
---
Tourist Information
Tourist information and consultation for sightseeing will be available in the following information offices:
Kyoto Tourist Information

Open
8:30 to 19:00


Tel
075-344-3300
Place
JR Kyoto Station Bldg. 2F
http://www.jnto.go.jp/eng/location/spot/tic/kyoto.html
---
Links
Transportation
Getting around in Kyoto (bicycle)
In big cities like Tokyo and Osaka, you can go almost anywhere with subways and trains, but in Kyoto, you may find it difficult to choose the right transportation to take. City buses routes are extensive in Kyoto city main area, and may be more convenient than the train or subway. All-day passes are available.
To get around in Kyoto freely and conveniently, a rental cycle is a good option. With a bicycle, you can go narrow alleys where you may find old houses and small local stores which are not in the guidebook.
There is no parking space in Ritsumeikan Suzaku Campus itself. But there is a public bicycle parking lot right next to Suzaku Campus, where you can park your bicycle for 150 yen a day.
There are many places you can rent a bicycle, and some Inns or hotels may have rental cycle service also. Here are some suggested places you can rent a cycle.
---
City Bus
The Kyoto City bus is useful to reach various places within Kyoto.
You will be provided an English Bus Route Map on the first day of the seminar.
The fare within the city center is 230 yen and the fare for traveling outside of the city depends on the distance traveled.
To find out how to ride the bus, please refer to the following website.
Public transport in Kyoto | Kyoto City Web
---
Subways and Train
The Kyoto Municipal Subway Line consists of the inner city south north "Karasuma" Line and the east-west "Tozai" Line. The fare is from 210 yen to 340 yen.The Nijo station on the Tozai Line is 3 minutes from the Suzaku campus.

If you wish to know the Kyoto Municipal Subway Line Map and How to ride the subway, please refer to the following website.
Public transport in Kyoto | Kyoto City Web
---
Train
Train companies such as Keihan, Hankyu, Kintetsu and JR have their own train lines in the city. JR covers the whole Japan, and Keihan, Kintetsu and Hankyu cover only Kansai area.The JR Nijo station is also 3 minutes from the Suzaku Campus.

Accommodation
Ritsumeikan does not offer on-campus or off-campus accommodation for visiting students. However, in Kyoto, there is a wide variety of choices of accommodation, from reasonable youth hostels to nice city hotels. On this page, we provide information for different types of accommodation for your reference.
---
Recommended hotels in Kyoto.
Inexpensive Accommodations
Reasonably priced, English speaking staffs, quiet area
Very Reasonably priced, payment has to be up front in cash
Closest to Suzaku Campus! Accepts credit card

Reasonably priced hotel
---
Furnished Apartment Hotel
---
City Hotels
One of the nicest hotels near Nijo Castle
Regular city hotels
---
The information and contacts provided on this page are to assist you in your search for accommodation and provide you with details of the services you may require. The information provided is compiled in good faith, and is intended as a guide only. We may not investigate the content of any information provided and do not endorse, guarantee, warrant, or recommend the accuracy of the information or necessarily subscribe to any such opinions or recommendations. We do not profit in any way or sponsor any of the contacts listed. They are provided solely as a convenience to you.
---