RU-IITH International industry-academic collaborative PBL program
Activities in this program
Several teams consisting of RU and IIT-H students investigate problems facing Indian society and propose solutions from an aspect of science and technology with the cooperation of engineers from local companies.
RU and IITH students visit each other's university for about 10 days. In India, investigation will be conducted through observation of infrastructure, fieldwork as well as lectures and laboratory visits in the university. In Japan, visiting companies advanced to India, lecture of Japanese science and technology and laboratory visits will be conducted.
Before and after these visits to each country, students conduct investigation in their own country while exchanging information with team members via SNS, e-mail in order to craft solutions to the problems.
Schedule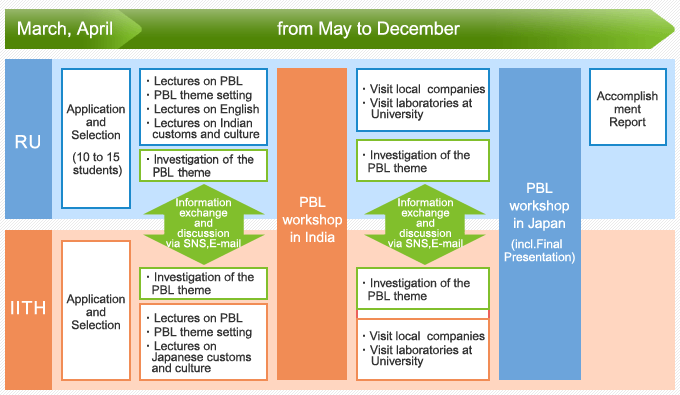 Host Institutions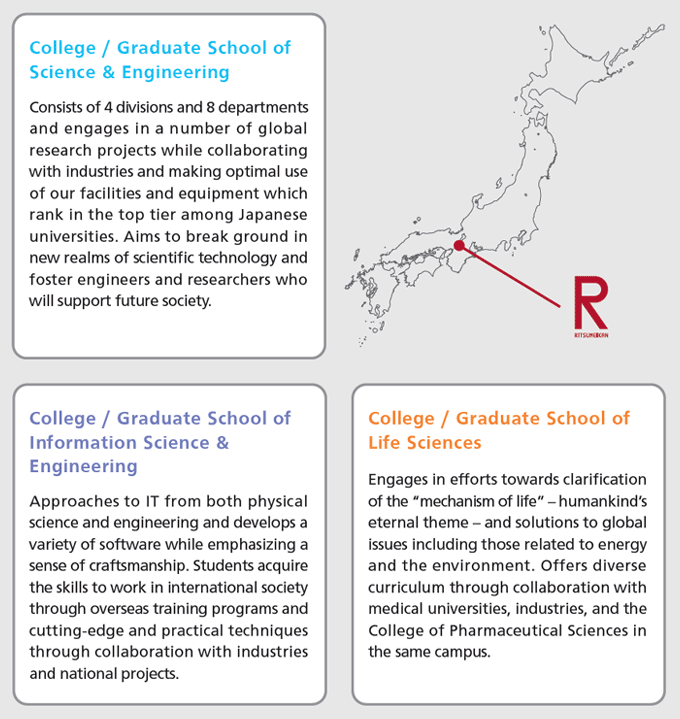 Contents of the program in 2018

Five teams (each team consisted of RU and IITH students) invest igated problems facing Indian society and proposed solutions.

RU and IITH students visited each other's respective university for about 10 days. After students engaged in investigations through site visits and workshops, final presentations were conducted.

Before and after these exchange visits, students also conducted investigations from their own countries while exchanging information with team members via the internet in order craft solutions for the problems.

Themes

Water, Transport, Energy, Healthcare and Waste management

① PBL Workshop in India

(from August 29 to September 7, 2018)

② Information exchange and discussion via internet

(from mid-September to early December, 2018)

③ PBL workshop with RU students in Japan

(from December 14 to 23, 2018)

PBL workshop between RU students and IITH students
Visit to local companies
(Mitsubishi Electric, OMRON HEALTHCARE, HIYOSHI)
Shinkansen (Bullet train) Experience & Fieldwork in Kyoto-city
Lectures on science and engineering, Laboratory introduction
Lectures on Japanese language and customs
Lectures on the relationship between Japan and India
Final presentation of solutions

Contents of the program in 2017

Five teams (each team consisted of RU and IITH students) invest igated problems facing Indian society and proposed solutions.

RU and IITH students visited each other's respective university for about 10 days. After students engaged in investigations through site visits and workshops, final presentations were conducted.

Before and after these exchange visits, students also conducted investigations from their own countries while exchanging information with team members via the internet in order craft solutions for the problems.

Themes

Water, Transport, Energy, Healthcare and Waste management

① PBL Workshop in India

(from August 16 to 24, 2017)

PBL workshop between RU students and IITH students
Visit to Water Purification Plant
Lectures on science and engineering, Laboratory introduction
Fieldwork in the suburbs of Hyderabad
Presentation of progress report

② Information exchange and discussion via internet

(from mid-September to early December, 2017)

③ PBL workshop with RU students in Japan

(from December 15 to 24, 2017)

PBL workshop between RU students and IITH students
Visit to local companies
(Mitsubishi Electric, OMRON HEALTHCARE, HIYOSHI)
Shinkansen (Bullet train) Experience & Fieldwork in Kyoto-city
Lectures on science and engineering, Laboratory introduction
Lectures on Japanese language and customs
Lectures on the relationship between Japan and India
Final presentation of solutions

Contents of the program in 2016

Five teams (each team consisting of 3 RU students and 2 IITH students) investigated problems facing Indian society and proposed solutions.

Students visited each other's university for 10 days. After they engaged in investigations through site visits and workshops, final presentations were conducted.

Before and after these exchange visits, they also conducted investigations from their own countries while exchanging information with team members via the Internet in order to craft solutions to the problems.

Themes

Water, Transport, Energy and Healthcare (two teams)

① PBL Workshop in India (from September 2nd to 11th, 2016)

PBL workshop between RU students and IITH students
Visit to Water Purification Plant
Lectures on science and engineering, Laboratory introduction
Fieldwork in the suburbs of Hyderabad
Presentation of progress report

② Information exchange and discussion via the Internet

(from late September to the end of December, 2016)

③ PBL workshop with RU students in Japan (from December 9th to 18th, 2016)

PBL workshop between RU students and IITH students
Visit to local companies (Mitsubishi Electric, OMRON, OMRON HEALTHCARE, HIYOSHI)
Shinkansen (Bullet train) Experience & Fieldwork in Kyoto-city
Lectures on science and engineering, Laboratory introduction
Lectures on Japanese language and customs
Lectures on the relationship between Japan and India
Final presentation of solutions

Contents of the program in 2015

5 teams (a team consists of 2 RU students and 2 IIT-H students) investigated the problem which Indian society faces and provided a solution respectively.

Themes

Water, Transport, Disaster, Energy and Healthcare

① PBL workshop with IIT-H students in Japan (from June 12th to 18th, 2015)

Visit local companies (Mitsubishi Electric, OMRON Social Solutions, HIYOSHI)
PBL workshop between RU students and IIT-H students
Fieldwork in Kyoto-city
Lectures on science and engineering, Laboratory introduction
Lectures on Japanese language and customs
Lectures on the relationship between Japan and India
Presentation of progress report

② PBL Workshop in India(from September 2nd to 11th, 2015)

Observation of Water Purification Plant
Lectures on science and engineering, Laboratory introduction

Observation of Husain Sagar
PBL workshop between RU students and IIT-H students

Fieldwork in the suburbs of Hyderabad
Final Presentation

③ Accomplishment Report(September 29th, 2015))