Brencis Kim, one of the RU first cohort students visited RU campus on Thursday, April 14. It was his long-waited return to RU as he had been barred from entering Japan due to the COVID-19 border restrictions. Taking this opportunity, we invited RU and AU Sakura Scholars to a social event for Brencis, who was not able to walk in
the 2021 RU commencement ceremony
.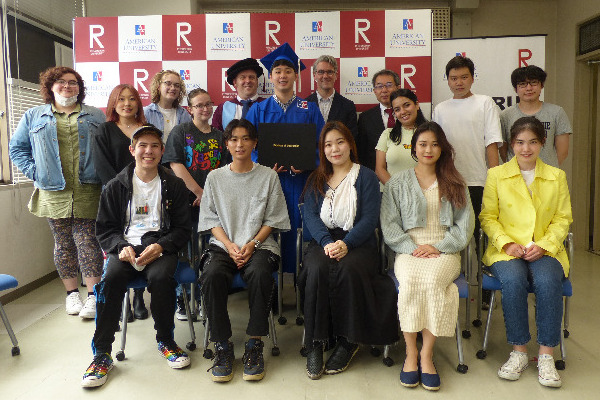 At the beginning of the event, a small ceremony was held to celebrate Brencis' graduation. Our Vice Dean Koga-Browes Scott awarded him the diploma, which he was supposed to receive at the commencement ceremony. The fellow students attending the event expressed their best wishes for all his future endeavors.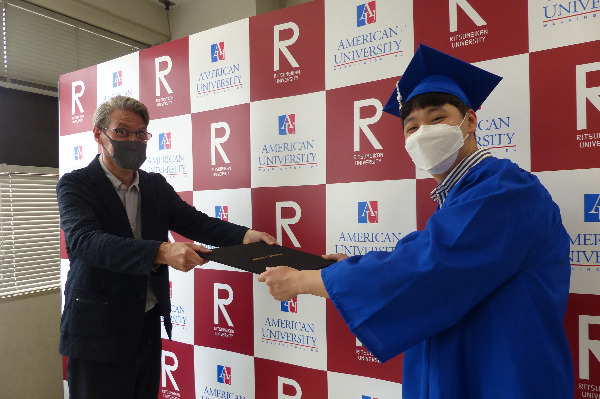 Brencis shared his experiences in the four years of his studies by answering questions from the other students. This Q&A session particularly helped the lower-class peers imagine how the time in the JDP will be like.
Before closing the event, all the attendees including faculty and staff members enjoyed mixing and mingling with each other. With the pandemic forcing many events across cohorts and home institutions cancelled, this became a great opportunity for the students to socialize and build fellowship.
We will continue to offer such opportunities as this event for Sakura Scholars to get together while taking necessary precautions to prevent coronavirus transmission.