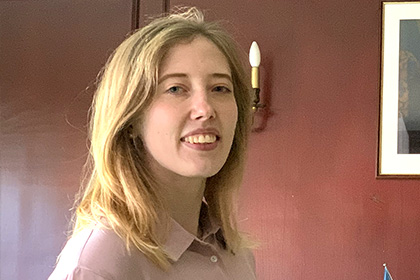 Anna Madli PILL
Working at the Estonian Embassy
graduated in September 2018
Studied at Ritsumeikan University, Department of Global Studies, Faculty of International Relations. While still in university, she had a chance to partake in internships at the Embassy of Estonia during summer and winter breaks. She got a full-time position at the Embassy after graduating in September 2018. Since February 2019, she has worked as a Secretary and Consular Assistant, after temporarily returning to my country.
Learning diverse perspectives from the students from all over the world to be a person demanded by the international society.
Working in Estonian Embassy as a bridge between Japan and Estonia
Having studied international relations, working in the Estonian Embassy is one of the few jobs where I can actually put my knowledge to use and continuously keep learning about my field of interest, not to mention that I am actually able to use my native language Estonian in addition to Japanese and English at the workplace.
My current work involves a lot of communication with both Japanese governmental and local establishment as well with our HQ - Ministry of Foreign Affairs in Estonia. I have additionally assisted in organising numerous high-level state visits to Japan.
My duty is also to support and advise Estonians living in Japan and Japanese people looking to locate to Estonia, as well as assisting in visa procedures and other administrative activities.
Going to Ritsumeikan gave me a good skillset to work in Japan, as I am equipped to communicate in Japanese and better understand the locals' mindset. IR studies have also aided me in better understanding the relations between my own country and Japan, which is important for my work.
Important things learned in a diverse environment
My four years at Ritsumeikan studying international relations have provided me with critical thinking, research and analytical skills, but also taught me to adapt to a variety of different situations. I am also thankful for the excellent level of Japanese language classes offered, no matter how hectic my schedule might have been at the time.
Even more importantly, I met amazing people from all over the world, some of whom I am glad to call my friends for life. I am convinced that living in a foreign country and facing common challenges together truly bonded us very tightly. Some of them I have had the pleasure of visiting in their native countries after graduation as well.
The chance to meet people from all over the world gives you a first-hand opportunity to learn about and come to accept all these different perspectives on issues, proving that nothing in life is black and white.
People who have both Japanese and European perspectives are becoming the 'key'
More and more European companies are turning their heads towards the Japanese market, similarly more Japanese corporations are looking to invest in promising European start-ups. I believe this is a great opportunity for both sides to learn from one another.
The key to making it work is individuals who are equipped with both language and business skills, people who can understand both perspectives to make the cooperation between the two parties swift and efficient.
Thus, I am currently preparing to apply for the next year's MBA program to further elevate my career. I feel more prepared to face new challenges and to put myself in situations that might be out of my comfort zone.s