Conducted research on the internet
memes and populism
Won second place in the Zemi Research Convention
Ataka zemi
Mr. Joe Tien Ce
4th year student in Global Studies major
International student from Indonesia (Right)
Ataka zemi* is one of the three groups participated from GS major and selected an interesting research topic, "Meme-mingful Political Discourse: The Influence of Internet Memes on Populism." Ask Joe, the group leader of Ataka zemi, about his experience in the Zemi Research Convention.
Started early to give a good presentation
When and why did you decide to participate in the Zemi Research Convention?
JoeIt was first suggested by our Advanced Seminar advisor, professor Ataka, in the previous semester. The Zemi Research Convention provides us with the freedom and opportunity to present on any topics we are interested in, which is something we do not often get in normal classes where we have to follow a certain theme or criteria. So we all thought, "why not?" Also, for those are in their 4th year, including myself, we decided to participate in the Zemi Research Convention again this year because we thought that we were not able to do as well as we wanted to in the previous year. We had a very rushed preparation last year as our decision to participate came out a bit late, so we were motivated to participate once again, and with a more proper preparation this time.
How did you decide group members?
Joe We had everyone in Professor Ataka's seminar class, 14 members in total. All of our members are either 3rd or 4th year Global Studies major students coming from different countries including Japan, the United States, Indonesia, Thailand, South Korea, India, China, and Mongolia – it is very diverse. The participation was not necessarily mandatory because the Zemi Research Convention was not a part of our Seminar's assessment criteria, but everyone participated.
How did you prepare for the event?
JoeOur preparation started quite early. We began to brainstorm for topics at the end of the previous semester. After we decided our topic, the internet memes and populism, we had everyone do their own individual research during the summer holiday. It was like a preliminary literature review to see what has been done by past researchers on the topic so far and whether or not we have enough credible source materials to proceed with our research. Our first official meeting had been held in Kanazawa a week before the summer holiday was over. We stayed overnight and discussed in a relaxed and out-of-class environment. In the meeting, we had everyone present on their individual research results, from which we tried to find the link that connects all the information together, make a proper research question, and develop our research into the final presentation.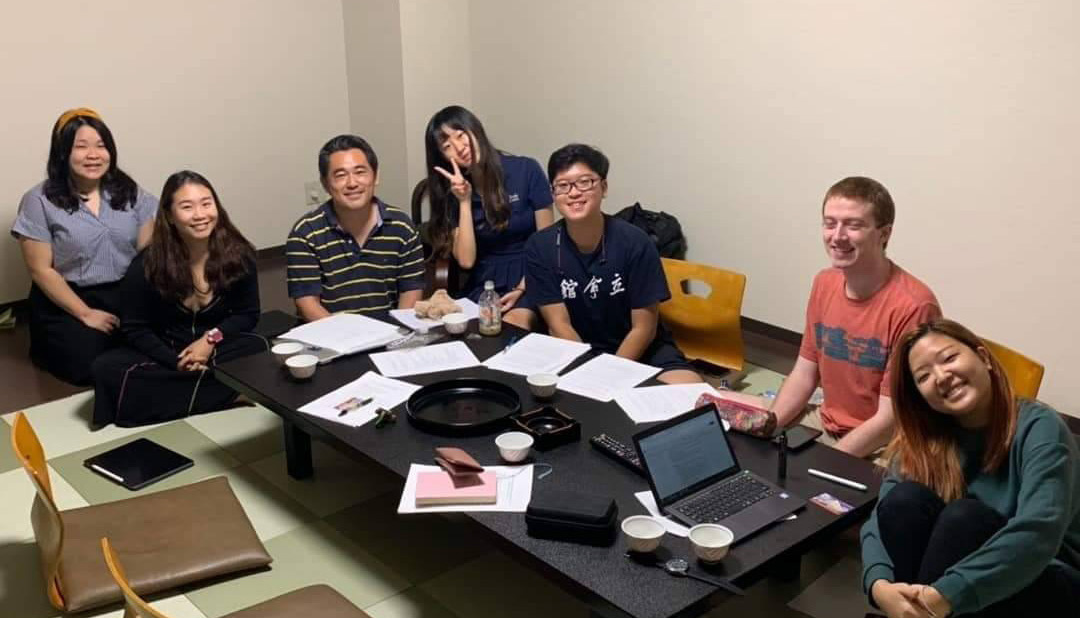 Could you explain more about the process of developing your research question?
JoeWe considered several aspects, for example, "Should we focus on one country only?" "Should we explore multiple cases of populist 'movements' (not just politicians)?" "Should we compare politicians considered populist from different countries, such as Donald Trump in the US and Marine le Pen in France?" and so on. After discussing all these, we came up with our final research question. We chose to focus on the United States only so that we could provide a more in-depth analysis of the populist phenomena in the country and how they were influenced by the internet meme culture there. The fact that we were simply more familiar with the American meme culture was another reason why we decided to focus on the US.
How did you manage the preparation after school started?
JoeProfessor Ataka dedicated two class sessions for us to work on our research further. After welcoming three new members who became a part of Ataka zemi in Fall 2019, we split roles by dividing our group into three teams: One for designing the poster and the other two for doing more research. Our research presentation was about how internet memes influence on the effectiveness of known populist movements in the United States. To answer this research question, we used two case studies: the 2016 presidential election and the "Occupy Wall Street Movement." Accordingly, our first research team was tasked with researching on the first case study, while the second research team focused on the second case study. After the two teams finished their research, we held our third meeting to combine our ideas together and create a coherent argument for our final research presentation.
What is the approximate total time you took for the preparation?
JoeWe had more than three months to prepare for the event. We spent at least 8 hours on actual meetings excluding the time needed for the research, designing the poster, and other tasks that we did outside of class and meeting hours.
Developing a coherent argument from everyone's idea was challenging
What did you feel difficult in the preparation?
JoeSince we had a lot of members in our group, trying to incorporate everyone's ideas into the presentation was one of our greatest challenges. We experienced this in the third meeting, for example, when the two research teams had to combine their ideas together. Our discussions went longer than expected, so we had to stay after class in order to get everything done. In the end, we were able to have a satisfying outcome.
What do you think you did well in the preparation?
JoeWe did quite well in incorporating everyone's ideas though we had a lot of members. While the research teams had to stay after class to get everything done, we were able to find a link between the two case studies that we chose and develop it into a coherent argument.
Is there anything you kept in mind while preparing for the Zemi Research Convention?
JoeNothing out of the ordinary. We just had to keep in mind the overall framework of our research. By doing so, our individual research did not deviate from our research objectives as a group.
Another challenge was to take Japanese audience into our presentation
So what did you feel after participating in the event?
JoeRelieved. Everyone did a wonderful job and we did not feel too nervous during the event. Everything went well.
What did you feel difficult on the event day?
JoeTrying to explain our research content in Japanese was quite challenging. We had a lot of content in the poster, so we decided not to include a Japanese translation, which might have made it difficult to understand for audience who do not speak English. Also, our research content focused heavily on American politics, and "meme culture" in the United States may be very different from Japan, so we had to find a way to make our Japanese audience relate to our presentation. Luckily, we had a few members who are native or very fluent in Japanese, and they managed to explain our research quite well.
What did you do well on the event day?
JoeWe did well on the Q&As. We were able to answer most of the questions, if not all, our audience asked us, even the ones in Japanese.
Is there anything you kept in mind on the event day?
JoeWe had to keep in mind that we were doing a poster presentation, which is very different from the "oral presentation" we usually do in class. The difference between the two is, in a poster presentation, we don't speak much when not being asked as the poster does most of the explaining, while in an oral presentation, we have to explain everything thoroughly. In a poster presentation, we are expected to be more interactive with our audience, too.
Is there any change in you before and after the event?
Joe I think now I have a better understanding of what a poster presentation is like.
If you would participate in the event again, what would you like to improve? Is there anything you would like to challenge?
Joe I'm already in my fourth year, so I am afraid this was my last Zemi Research Convention. For the newer members in Ataka zemi, my advice would be to have Japanese translations in the poster, so that they could explain their research better to Japanese audience.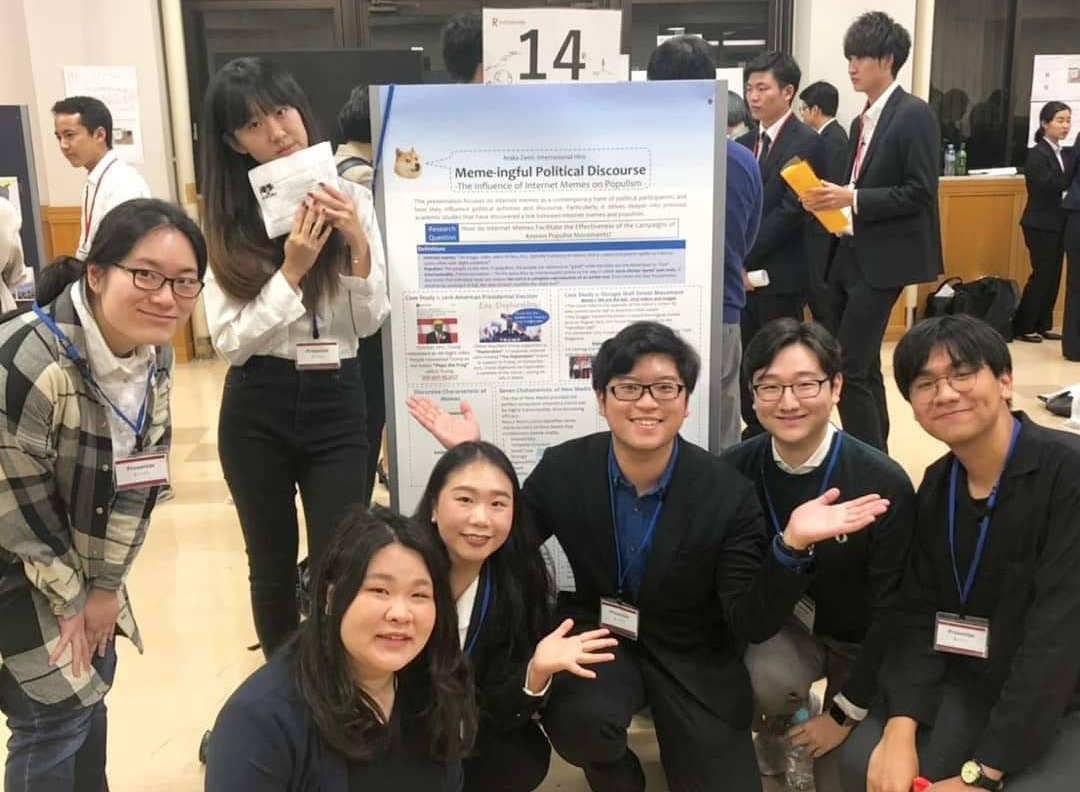 Exploring a topic of interest results in a good academic research
Do you think it was a good choice that you participated in the event?
JoeYes, definitely.
Why?
JoeBecause the Zemi Research Convention provides us with the freedom to present on any topic of our choice. As young people who grew up in the internet age, many of us are very fond of internet memes, so we were glad that we were able to incorporate our interest in memes into our field of study. We could also experience the poster presentation which we don't usually do in regular classes.
What did you learn through the event?
JoeA good academic research can also come from fun topics such as internet memes. While many people might regard memes as nothing more than an internet pastime, we demonstrated in our presentation that memes also have significant influence in contemporary political life and could become an interesting subject of inquiry for further research. The fact we were able to win second place in the Zemi Research Convention shows that our audience have taken our research seriously. Any kind of research can be a good research as long as we are able to provide convincing arguments and justify why our research is worthy of attention.
How do you define Zemi Research Convention?
JoeThe Zemi Research Convention is essentially an event where you can research on any topic of your choice and share them with a wide range of audience.
Any message from you to those who are thinking of participating in the event next year?
JoeDo not be afraid to explore the topics that you are interested in. Most of the guests in the Zemi Research Convention were representatives from Japanese companies and we were very heavily focused on American politics and meme culture, so we were initially worried about whether or not our research topic could appeal to their interests. But the fact we were able to win second place means that our audience liked our presentation. I think this demonstrates the best research outcomes are usually produced when the researchers are interested in the topic they are researching.
Any message from you to the first & second year students next year?
Joe If you are still trying to figure out what your research interests are, participating in the Zemi Research Convention as an audience could help you explore the range of topics you can cover in the major and find your research interests. International Relations is a very broad and interdisciplinary field of study where we can learn about politics, economics, sociology, and philosophy, among other things. We have a lot of freedom to choose a topic that interests us and become an expert in that specific field.