Zemi Research Convention 2021


"Don't let infectious diseases get the better of you! -International law in the wake of the COVID crisis"

Nishimura Seminar (Team name: Nishimura Justice Court)

MOON Jiyeon, Natsuki Iwamoto, Akari Shinada and Rina Murata.

We interviewed the members of the Nishimura Seminar who presented: "Don't let infectious diseases get the better of you! -International law in the Wake of the COVID crisis" at the 2021 College of International Relations Zemi Research Convention
Please give details of your Zemi Research Convention presentation (please explain in more detail than the presentation outline posted on the website).
The Coronavirus has been interfering with our daily lives since 2020. To prepare the world for unexpected infectious diseases like COVID, we created and proposed our own "Pandemic Convention", a treaty to fight against virulent diseases.
We analysed and discussed existing global health regulations and WTO initiatives and attempted to fill in the missing gaps. We placed particular focus on the supply of vaccines for infectious diseases. We analysed existing international law treaties that failed to address COVID and devised a set of international health protocols to aid health regulations that were lacking.
Why did you choose your theme?
We wanted to utilize our knowledge of international law to combat the current issues of the COVID pandemic. We thought by combining international law with something recently commonplace for the world; people would find interest in the seemingly complex topic of international law.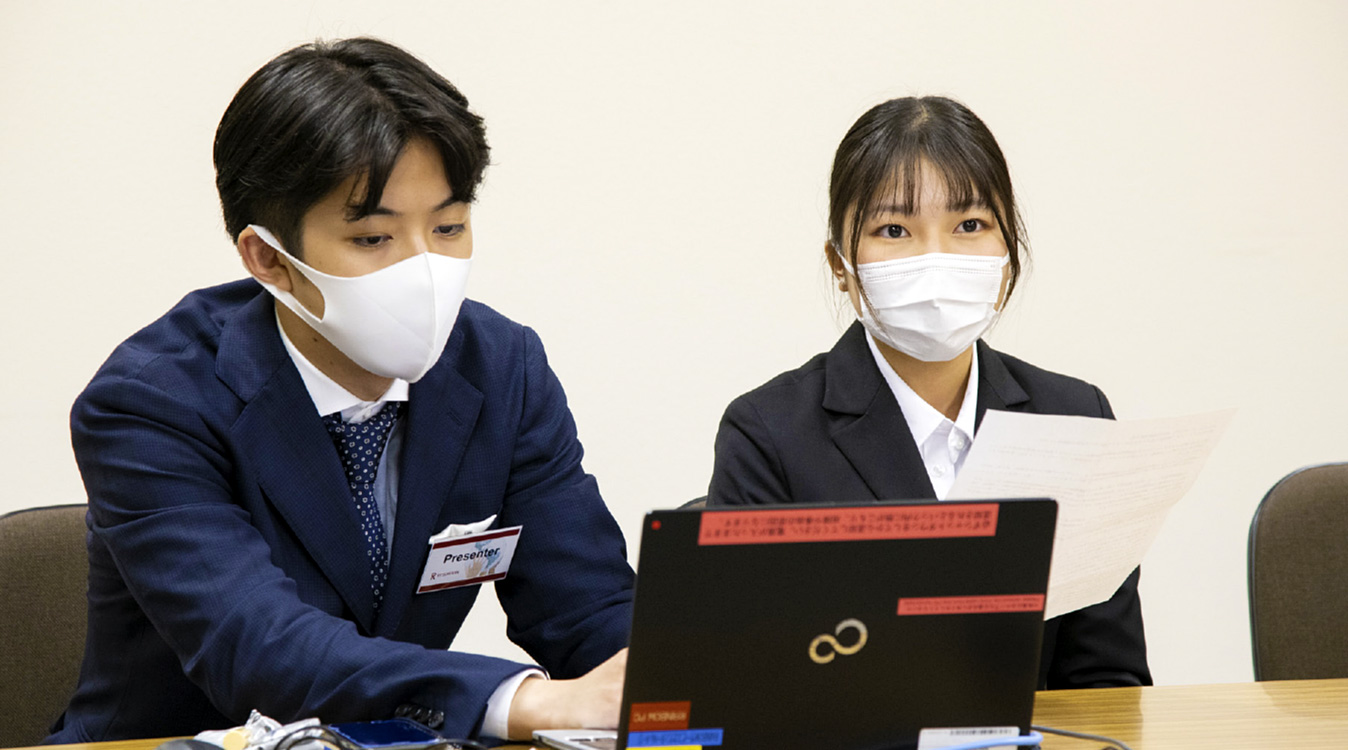 What questions and comments did you receive on the Zemi Research Convention, and which made the most impact on your group?
New structures need to be in place for the "Pandemic Convention" we have drawn up to be realised. We were blind-sighted by the question of "where will the funding for setting up the new establishment come from". We were also struck by the comment that if the WHO were to provide services in Phase 6, when the pandemic is already underway, it would inevitably require more human resources, leading to a situation where no action can be taken to prevent further infection. Therefore, we realised that we should provide our suggested services and new structure in "Phase 4", not in "Phase 6".
What kind of things did you experience as a group leading up to the convention?
The first step in creating our pandemic treaty was to identify what was missing from existing treaties and laws. Once we had identified what was missing, we had to work out what we could add to the treaty to address those issues.
Treaties require correct, articulate words, phrasings, and expressions, which was difficult for us. We also had to fit a torrent of information in a visually pleasing way for the poster, which was a challenge in itself.
What did you learn through the Zemi Research Convention you can apply to your future career?
We learned how difficult it is to work as a team on a single research project. We initially thought that a group project would mean fewer workloads for each individual but soon realised that integrating different opinions is more complex than thought. At the convention, we felt it was crucial to present in a concise and easy-to-understand way to make people interested in the subject in the short time that we had. We learned the importance of making complex issues relevant to our daily lives and breaking them down. We understood that different audiences have different interests, and questions and we were able to develop flexibility and skills of building rapport on the day of the event. This was the first time any of us made posters, and we feel that we have enhanced our ability to create such informative materials. By creating our treaty, we have had the opportunity to study the structure of a treaty in-depth, and we hope to use this experience when writing international texts in the future.
Message to the next year's participants
It is surprisingly rare in university life to have the opportunity to present your research to a large audience in your field of expertise. This is one of the most important events in your student life, so we hope that you will enjoy participating in it. On the day of the event, you will find out what other seminars are researching and interact with them, and it is a lot of fun. The Zemi Research Convention is also a great way to get to know each other. This is one of the critical events in your student life, so we hope that you will enjoy participating in it.
Furthermore, the convention is an opportunity to rethink what "research" is all about. The preparations can be challenging; on the day, things may not go as planned, but the sense of achievements afterward is tremendous, so please don't give up and work together until the very end.
Introduction of the seminar
The theme of the Nishimura Seminar is international law. It is not an exaggeration to say that all fields are related to international law because it is present all around us in our daily life. All the things that occur in our lives can be a subject for the International Law Seminar. Professor Nishimura is a clear and lively speaker. He is always smiling, but his expression changes when it comes to international law, and he explains any question with precision and detail. One of the unique activities of the Nishimura Seminar is the mock trial. It is a joint activity with the International Law Seminar in the Faculty of Law. The course allows students to learn in-depth about international law by going one step beyond the vague question "what is international law?" It is a chance to learn about the procedures for resolving international disputes using international law by taking on the roles of plaintiffs, defendants and judges. The seminar has a "family" atmosphere and the seminar time is a "healing time" for our busy daily life. It's a great environment to study international law with passionate professors and classmates who motivate each other.