! meta http-equiv="Content-Type" content="text/html;charset=ISO-2022-JP">
---
FPGA Design Competition
Autonomous Vehicle Driving using FPGA
Dec.11, 2019, Tianjin(China)
in conjunction with FPT'19
FPGA Design Competition entitled "Autonomous Vehicle Driving using FPGA" has been held at Dec.11, 2019, Tianjin(China) in conjunction with 2019 International Conference on Field-Programmable Technology.
Summary of the competition [YouTube]
---
Test Runs
All the teams can make their test runs before preliminary/final runs.
---
Runs and Scores
We had fourteen teams from three countries at the event. We have preliminary runs as a qualifying round and the top six teams will advance to the final runs.

<!- ---------------------------------------------------------------- ->
Preliminary Runs
Out of the fourteen registered teams, two teams (11,14) gave up the runs because of machine troubles and twelve teams appeared in the preliminary runs.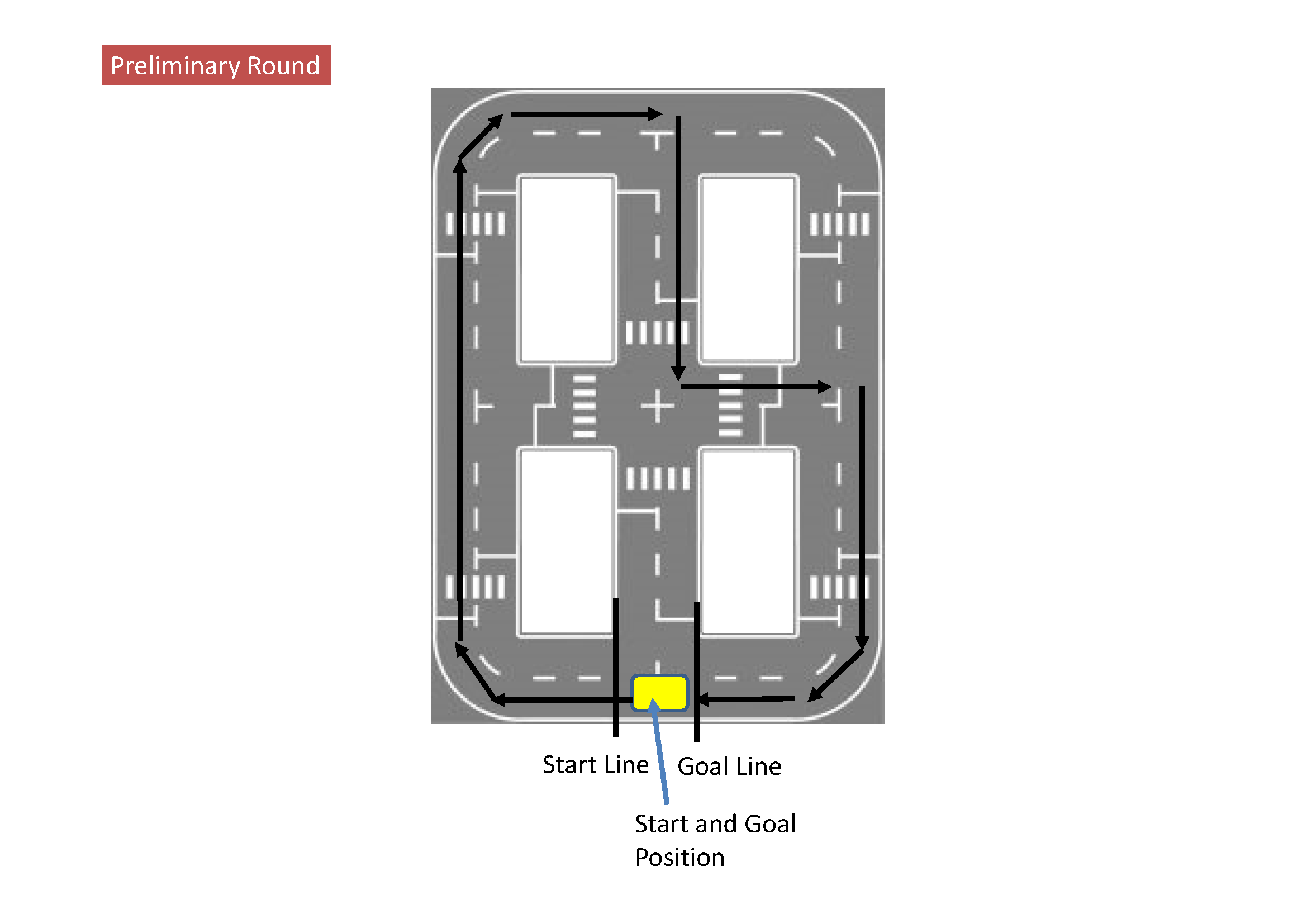 Course for Preliminary Runs
Each run gets the following scores:
Run : length of the run following the lane
Traffic Signals : the behaviour for the traffic signals
Obstacles : the behaviour for the obstacles
Pedestorians : the behaviour for the pedestorians(dolls)
and the evaluated by the total of the scores. The table below lists the teams, runs, and scores. Clicking Run No. leads to the YouTube video of each run. Clicking Team No. leads to the paper of each team.
Run
Team
Score
No.
No.
Affiliation
Run
Sig.
Obs.
Ped.
Total
P01
(3)
Kaiho Highschool(JP),
U the Ryukyus(JP)
0
0
0
0
0
P02
(12)
Ritsumeikan U(JP)
300
0
200
0
500
P03
(5)
Hiroshima City U(JP)
230
80
0
0
310
P04
(2)
Massey U(NZ),
Hebei U Tech(CN)
0
0
0
0
0
P05
(13)
Tokai U(JP)
0
0
0
0
0
P06
(8)
Kochi U Tech(JP)
230
0
0
0
230
P07
(4)
Meisei U(JP)
10
0
0
0
10
P08
(14)
Massey U(NZ),
Hebei U Tech(CN)
P09
(9)
Waseda U(JP)
40
0
0
0
40
P10
(1)
U Chinese Academy of Sci(CN),
Shanghai JiaoTong U(CN),
Xidian U(CN)
10
0
0
0
10
P11
(10)
Nagasaki U(JP)
40
0
0
0
40
P12
(6)
Kyoto U(JP)
60
0
160
0
220
P13
(7)
Massey U(NZ),
Hebei U Tech(CN)
0
0
0
0
0
P14
(11)
U Tsukuba(JP)
<!- ---------------------------------------------------------------- ->
Final Runs
Cars of the final runs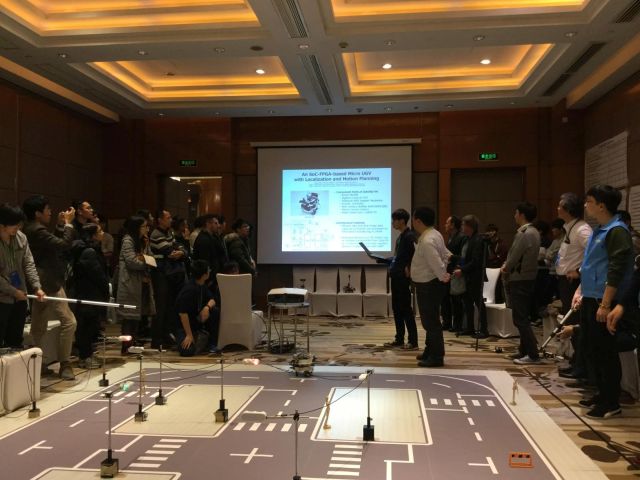 Presentation about the design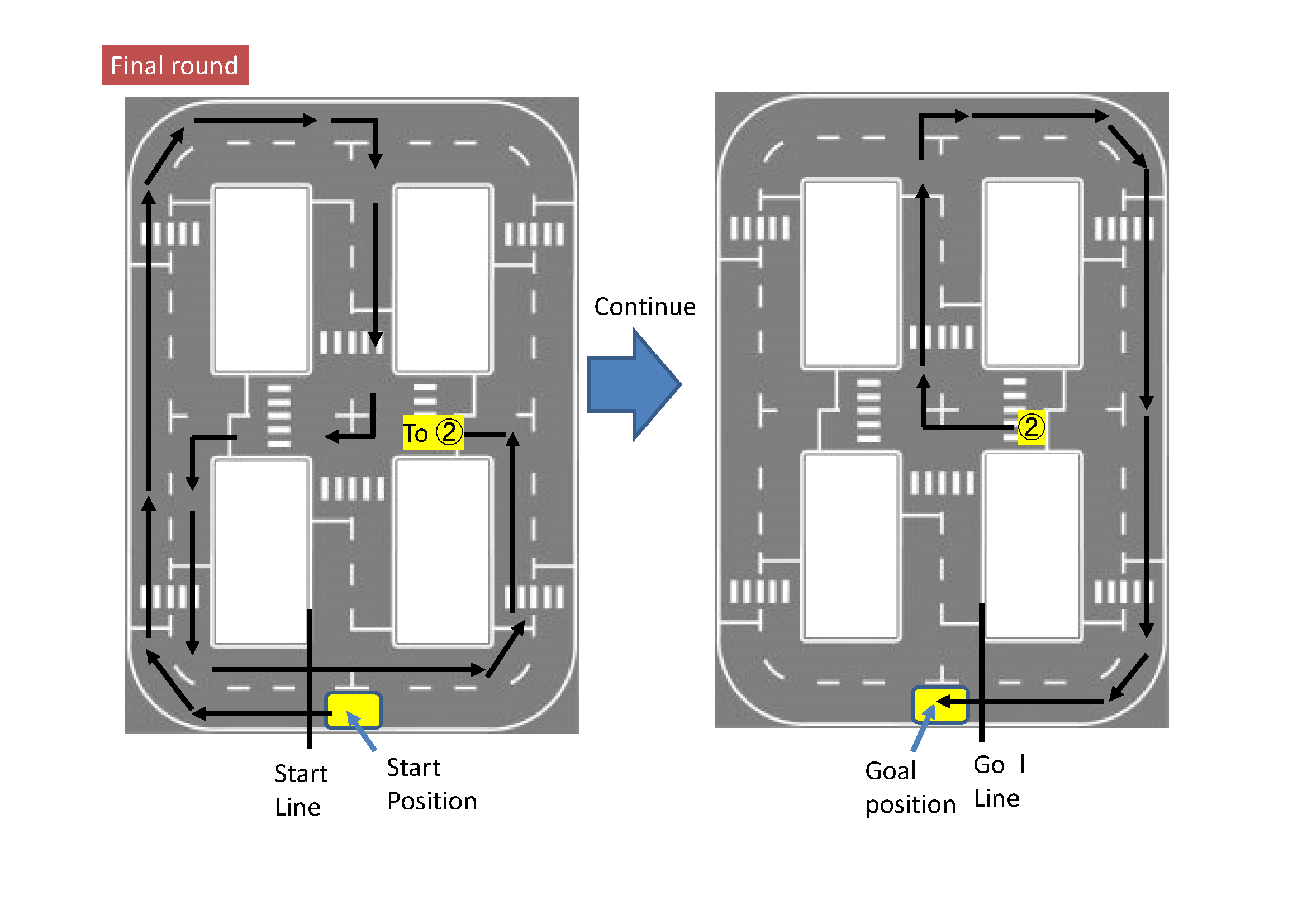 Course for Final Runs
Run
Team
Score
No.
No.
Affiliation
Prelim.
Run
Sig.
Obs.
Ped.
Total
F01
(6)
Kyoto U(JP)
220
350
0
200
0
770
F02
(9)
Waseda U(JP)
40
110
0
40
0
190
F03
(10)
Nagasaki U(JP)
40
10
0
0
0
50
F04
(12)
Ritsumeikan U(JP)
500
350
0
200
0
1050
F05
(5)
Hiroshima City U(JP)
310
260
160
200
0
930
F06
(8)
Kochi U Tech(JP)
230
110
0
40
0
380
---
Awards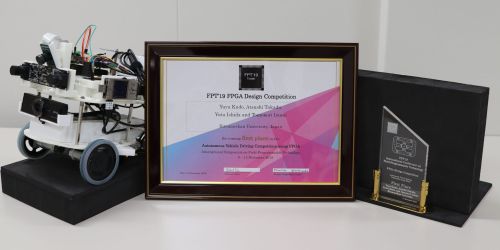 1st Place

2nd Place

3rd Place

Team Members and Supporters
---
Special Thanks to:
FPT'19 Design Competition Chairs

Prof. Minoru Watanabe (Shizuoka University, Japan)
Prof. Lin Gan (Tsinghua University, China)

Competition Support Team (Shizuoka University, Japan)

Takumi Fujimori, Takumi Hatamochi, Shinya Fujisaki, Yusuke Takaki, Masaki Watanabe, Junya Ishido, Hirotoshi Ito, Yuichi Moriya, Toru Yoshinaga
---
Links
Other FPGA driving competitions

Videos of FPGA driving competitions

Design Examples and Kits
---
References
---