Student Voice日本語 >
I decided to go to graduate school in order to have more time to reflect on myself.
To be honest, I had never considered going on to graduate school until my fourth-year as an undergraduate. Actually, I was looking for jobs in the education industry from December of my third-year. However, something was triggered inside me during the final screening session for the company that I considered my top choice. I started feeling uncertain about my past job hunting activities, what I really wanted to do, and what path to choose for the future.
In June of my fourth-year, I made it to the final selection stage for a company that creates learning materials. During the interview, an interviewer said to me, "I don't know why you want to create learning materials," and I couldn't think of a good response to that. After this, I reexamined my situation and asked myself, "Why do I want to create learning materials?" and "Why do I want to work in the education industry?" No matter how much I pondered this, I was unable to find a convincing answer. I felt a lack of knowledge about education and wondered if it was really okay for me to start working for a company at this stage. After deep consideration for nearly six months, I reached the conclusion that I needed more time to learn about education and reflect on myself. This is when I finally decided to go to graduate school and learn more about education, especially educational psychology. I decided on the Graduate School of Letters at Ritsumeikan University which offers courses provided by a leading professor in the field.
After finding my resolve, I just needed to confidently push forward toward my goal.
During the six months leading up to my decision to go to graduate school, I heard stories from various people including those who were trying to enter the workforce, already working, wanting to go to graduate school, were currently in graduate school or have already graduated from graduate school, as well as teachers and professors.
By listening to all these people, I was able to organize the advantages and disadvantages of entering graduate school from various perspectives.
I ended up deciding to go to the graduate school only one month before the entrance examination date. So, I worked hard to create my research proposal and prepare for the graduate school's entrance examination the month leading up to the exam. I completed the research proposal with help from a graduate student who revised it, and reviewed a whole range of subjects using the handouts, notebooks, and textbooks that I used during the four years of my undergraduate studies.
Graduate students can enjoy seeing things from a "neutral" position.
I think that graduate students are in a unique position, somewhere between being a student and a full-fledged member of society. Thanks to my decision to go to graduate school, I feel that I became able to see various things from a perspective that is neither that of a "student" or a "member of society". For example, when I participated in a class as a TA, I could see both the student's side and instructor's side and see the class from a more "neutral" position.
I also realized that I should have been more actively connected with communities outside of the university, such as participating in an internship or being involved with local activities when I was an undergraduate. If I would have made connections outside of my university with society, I might have had less questions and concerns when I was job hunting.
I am now different from before, and I would like to try to find a job in a private company again.
After completing graduate school, I would like to work for a private company. I once thought that it might be a disadvantage for job hunting to go to graduate school and felt some anxiety. However, since beginning my job search, I have never felt that I am at a disadvantage when compared to undergraduate students. In order to enter the world of work without regrets next April, I will do my best to find a job and write my master's thesis.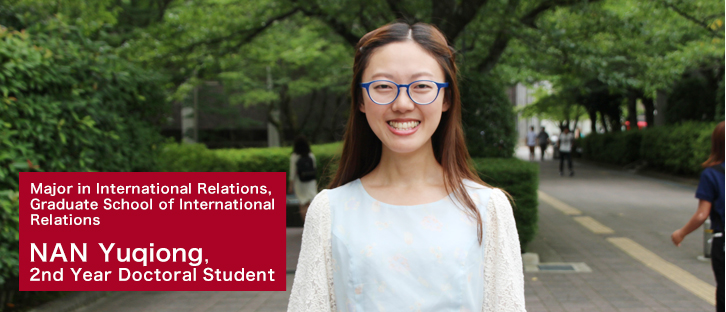 I definitely needed graduate school to reach my goal.
I want to be a university professor in the future. In order to achieve this goal, I knew I had to go to graduate school. My dream is to become an exceedingly knowledgeable professor that researches ways to solve the various issues facing society. I hope that my interests will be useful to society and that I will be able to keep learning and growing as an individual through education.
When looking at graduate schools I also considered national universities. To be frank, on the surface national universities excel in terms of name value and cost. However, when I thought about the kind of research I wanted to do, I decided that the Graduate School of International Relations at Ritsumeikan University could offer me more of what I was looking for. It is a rather close-knit graduate school and I feel professors and students can easily communicate with each other. Being able to receive full and personalized guidance has been one of the greatest things about being here. When I decided to get a doctoral degree, my faculty advisor helped guide me throughout the two years of my master's program so that I could make the right choice and continue my education without any doubts.
I prepared for study abroad early so that I could focus on my graduate school entrance exam.
Since I always planned to go to graduate school, I planned various things in advance.
First, in order to help clarify my research theme for graduate school, I worked hard to write my undergraduate thesis so that it was relevant to my research. Once my research theme became clear through my thesis, it became apparent what I needed to do in order to continue my search for answers and information. I used this realization to draw up my research proposal for my master's program.
Also, since I was going to be studying abroad, I knew I not only had to prepare various documents for the graduate school's entrance exam, but also my student visa. Soon after becoming a 4th year university student, I started collecting information about graduate schools. This allowed me to feel prepared, and since I wasn't in a rush I could smoothly prepare for entrance exams. When examination day finally came, I didn't feel so uneasy. I actually felt pretty confident.
In graduate school I learned the importance of facing problems and solving them one at a time.
My time as a graduate student has been a truly happy period in my life. I could lose myself in my research and freely use my time to study what interested me. Through my research I was able to learn more about history and society as well as expand my own view of the world. I became able to take an objective point of view and began to understand things in a way that I couldn't before. I feel that through this experience I was able to overcome some of my own hang-ups. Even when I came across something I didn't know, I learned how to analyze the situation calmly and make a decision.
I feel I have gained a more mature outlook on life since entering graduate school. Since this was my first time studying abroad, my first few days were filled with stress and uncertainty. Of course I really wanted to begin my research, but I was so concerned about things unrelated to research such as my everyday school life that managing my time became difficult and I became really stressed out. I worried about my life almost every day, however over time I began to realize that the problem wasn't with my environment but rather with my self-confidence. Once realizing that, I began to face my problems head on and worked on solving them one at a time. So now when faced with a problem, I don't run away. Instead, I feel like it is just a challenge I need to face and figure out how to solve.
One thing is for sure though, after starting my graduate research, I came to the acute realization that I actually knew very little. Although I always intended to go to graduate school to further my studies, I wish I would have read more theories and books related to my field of research beforehand.
I hope to continue my studies and become a university professor that can continuously grow and learn more.
For now, my primary goal is to get my doctoral degree. Then, as I mentioned before, I hope to be a university professor. I plan to study hard so that I can continue my research, and hopefully one day see it help society in some way. I want to live a life where I can continuously grow and interact with various people, researchers and companies as well as learn together with my future students.
To work in a specialized field in the future. This is why I decided to go to graduate school.
I decided that I wanted to find employment where specialized skills and knowledge are required. This is because I wanted to do something that only I could do, rather than something that anyone could do.
In the College of Science and Engineering at Ritsumeikan University, students are assigned to laboratories only in their fourth-year, and I thought that I would not able to develop a significant level of expertise during a single year of research. Therefore, my decision to go to graduate school happened when I was a third-year student. After this decision, I was able to consider my research as a long-term activity, starting from my fourth-year as an undergraduate student and through my graduate school years. This allowed me to focus my energy on my research.
Expertise was not all that I acquired in graduate school.
During my two years in graduate school, I had a lot of opportunities to realize my own growth. This is especially true in regards to my attitude to think and act for myself. Students generally proceed with their research while consulting with their adviser, however, students are responsible for developing their research proposal and proceeding with their own research. Develop a plan, control the progress, make adjustments—by repeating this process, I feel that I have acquired the power to achieve any goal.
In addition, the graduate schools at Ritsumeikan University are conducting research in collaboration with various companies, so we have opportunities to engage in practical research while we are still students. Through communicating with those in the business world, we have the opportunity meet a lot of people and advance our research to reach a common goal. I feel that these experiences have not only increased my level of expertise but also allowed me to grow as an individual.
I hope that undergraduate students use their time effectively.
I encourage current undergraduate students who are going onto graduate school to use their time effectively, especially while they are undergraduate students. I wish I would have set aside more time for club activities, part-time jobs, and travel, instead of concentrating solely on my studies. In the Department of Architecture and Urban Design at the College of Science and Engineering, in which I was enrolled, difficult assignments are also given to younger students. Almost all students give priority to assignments and give up club activities. However, I feel I put too much importance on assignments and now I regret that I did nothing but assignments every day. After beginning graduate school, I am even busier with research activities. However, although I am working two part-time jobs, I also find time to relax. I hope that students effectively use their time and spend their student life trying a few things and not just concentrating on one thing.
I will make efforts to obtain a license in an industry where my professional skills can be utilized.
I will start working this spring as an architectural environment and equipment designer, which is related to my field of study in my current laboratory. This is a long-cherished professional job for me. In the Japanese architectural industry, if you have a minimum of two years working in the architectural industry after graduation, you qualify to take the first-class architect exam. Therefore, I will first focus on my work and studies in order to make this a reality.
First ask yourself why you want to go to graduate school.
You should constantly ask yourself, "Why do I will go to graduate school?" Proceeding via process of elimination is possibly a good way to go about it. Concretely visualize what you will learn during your two years and what kind of future you want.*Two years seems like a long time, but it will be over before you even know it. It is meaningless to go to graduate school without thinking about your reason and purpose. You will probably be spending most of your time on your research, but after you enter the work force, your private time will be even more limited. Therefore, I hope you will always have a goal in mind and do as much as possible during your student days.
* Master's program period is usually two years.
I had a chance to begin conducting research when I was an undergraduate student.
When I was a student in the College of Social Sciences I took a seminar course that included field work. During that field work I experienced interacting with people on site while conducting research and I became awakened to the joys of research. From then I decided that I wanted to be a researcher and give back to the places that afforded me the opportunity to conduct my research there.
I wanted to conduct my research in the same environment if possible, so when I graduated from the College of Social Sciences I decided to enter the Graduate School of Sociology. There are two courses that you can choose from in the Graduate School of Sociology, depending on your goals. Since I planned on continuing my studies in a doctoral program, I chose the "Research Course".
Preparing early for graduate school is vital.
The entrance exam consisted primarily of English and Sociology subjects so I focused my attention on those areas. I would frequently visit the administrative office in order to look at previous entrance examination questions.*Since I wanted to focus my energy on entering graduate school, I also made sure to work on my undergraduate thesis as early as possible. Because I established the theme of my thesis and started writing it early, the purpose of my research automatically became clear and I feel that I was able respond to my interview questions smoothly.
*Previous exam questions can also be viewed online.
The ability to come into contact with diversity through research. This is one of the best things about graduate school.
I feel there is a limit to the kinds of people you can meet outside of an environment like graduate school. For example, if I decided to join a sales company instead of continuing onto graduate school, my interactions with new people would primarily be with clients. However, in graduate school there are graduate students from various backgrounds, consisting of a variety of age groups. Therefore, it isn't just a place to interact with other "young people" who may think quite similar to yourself, but a place to meet others with diverse values, experiences and points of view. I feel that through discussing wide-ranging themes with these kinds of people and trying to explain my research as well as understand their research, I have gained a greater ability to think about things in a logical manner.
I have been able to interact with people from various places, universities and countries through research. Through these types of interactions I can truly feel myself growing as a person. I think that these kinds of opportunities can only be experienced in graduate school, and may possibly be one of the best reasons for attending graduate school.
Developing a broad perspective while you are an undergraduate is important.
Looking back on my own undergraduate years, I wish I would have read more books and theories concerned with my area of research. Not necessary detailed or specific research themes but rather more broad subjects related to my field of research (Social Sciences). By doing this, I think I could have developed an unbiased perspective at an earlier stage and possibly have been able to discover an original way of thinking. Of course, I am also including books and theories from the international community and not only Japan.
The graduate schools at Ritsumeikan University will support you in your research. Definitely take advantage of this!
Kinugasa Campus has great facilities such as Kyuronkan Hall, which is exclusively for graduate students. Kyuronkan Hall not only has spaces to conduct individual research, but also a space known as "Commons" where students from other graduate schools can easily interact with and learn from each other. In the Graduate School of Sociology you are able to receive financial support to help you research with other graduate students as well as financial support from the department and Office of Graduate Studies for participating in academic conferences. When I speak to graduate students from other universities about this kind of support, it seems like there are not many other schools that offer as much as Ritsumeikan University. I think these resources are definitely worthwhile and hope graduate students make the most of them.
I hope to submit my doctoral dissertation while still attending graduate school. I want to have an academic position in the future.
I plan to continue my research and submit my doctoral dissertation while being enrolled at Ritsumeikan. Since beginning my graduate studies, I've had a few experiences writing theses and participating in academic conferences, so I'm finding ways to incorporate these experiences into my current research and using them to help me write a dissertation that serves as a compilation of all my previous work. In addition to this, I am of course constantly consulting with my faculty advisor and hope to find a future position related to my research at a junior college, university or research institution.