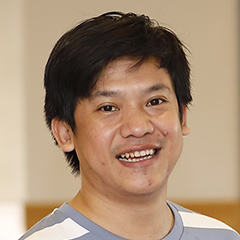 Kyaw Swa Hein
Graduated in September 2019 Myanmar
"The Reason why I chose the GSIR for my further study is that I knew the GSIR would give me a strong and solid education which would be a firm foundation for a carreer in the International Relations community"
What made you choose the GSIR?

The Reason why I chose the GSIR for my further study is that I knew the GSIR would give me a strong and solid education which would be a firm foundation for a carreer in the International Relations community and I'm so glad I made the decision to go to school there. Another thing is that the motto "Beyond Border" which draws my attention to study in Ritsumeikan first.

How did you feel about studying at the GSIR?

I have learned a lot and had a great time in the GSIR, not only for educational reasons but also as I could extend my social network regionally and globally. During my stay in the GSIR, I had great time and cannot forget the valuable memories I had there.

What are the benefits and strengths of being a part of the GSIR?

There are several things to mention regarding this question. However, the most important thing is the education which reflects on my personal development as well as the community and my country's development. Also, I could build up strong relationships and expanding my social network to students from different countries. It can be said that the GSIR at Ritsumeikan is a world where we can make our dreams come true and learn about diversity and multicultural life, in all one spot.

How did you feel about the study/ research environment, such as the diverse campus environment and also your teachers etc.?

The educational environment is very convenient for all students. Good facilities, courses, and teachers are there and I really appreciate the staff from the GSIR who are ready to help us anytime.
As you consider your career path, what elements from your research and study at the GSIR were helpful?

I am a young faculty member in an International Relations department in Myanmar. As a young faculty member, the opportunity of studying abroad at the GSIR, Ritsmeikan University has created tons of inspiration and the knowledge and experience that I gained are valuable and will help to achieve our academic and professional goals and create a successful future for us.

What was the hardest thing you did at the GSIR and how did you overcome the challenge?

Life is struggle and challenges are waiting everywhere. When I first came to Japan, every single day was challenging to me. To be honest, I didn't have many really hard things because I always looked for the best solutions instead of getting downbeat. I believe that every issue has an answer and we can overcome them, with less risk and the best solution they aren't problems. Challenges motivate us to get more success.

When you get back to your work, how will you be able to utilize what you studied at the GSIR?

Of course, I will apply all this knowledge and experience to my work. Within two years, I have learned not only what I studied but also teaching techniques and classroom management. These experiences are benefits for my career path and it cannot be denied that the GSIR offered me strong and valuable opportunities when I joined it.