DMDPDual Master's Degree Program with overseas partner universities.
Students can earn 2 Master's Degrees in as short as 2 years.
One-semester Exchange ProgramOne-semester Exchange Program with overseas partner universities.
Students will attend the host institution as a visiting, non-degree seeking student.
DMDP is an innovative program in which students can obtain Master's degree from two academic institutions in as short as two years by spending one year at each institution. Graduate School of International Relations signed a DMDP agreement with the School of International Service at American University in 1992, the first such agreement by a Japanese university. This highly-acclaimed program aims to produce human resources that can play a leading role in the field of international cooperation and global governance.
One-semester Exchange Program is a program to study at an overseas partner graduate school for a semester as a visiting, non-degree seeking student.
2ways to perticipate in DMDP
Option1: Apply for Regular Admissions(DMDP Applicants)

DMDP candidates are selected at the time of admission to RU. Applicants will be able to have enough time to be well prepared for their study abroad.
Option2: Apply for Internal Selection after Entering RU

Students can apply for DMDP after entering RU. Please have a look at the following DMDP Application Guidelines and Form.
To participate in One-Semester Exchange Program,
see the following guidelines and form.
Significant Reduction
in Tution Costs.
Compared to studying abroad by yourself for a Master's degree, total tuition costs will be reduced significantly if you join our DMDP. Ritsumeikan University's Scholarship for DMDP students is a big advantage as well.
Tuition for MA program if studying at AU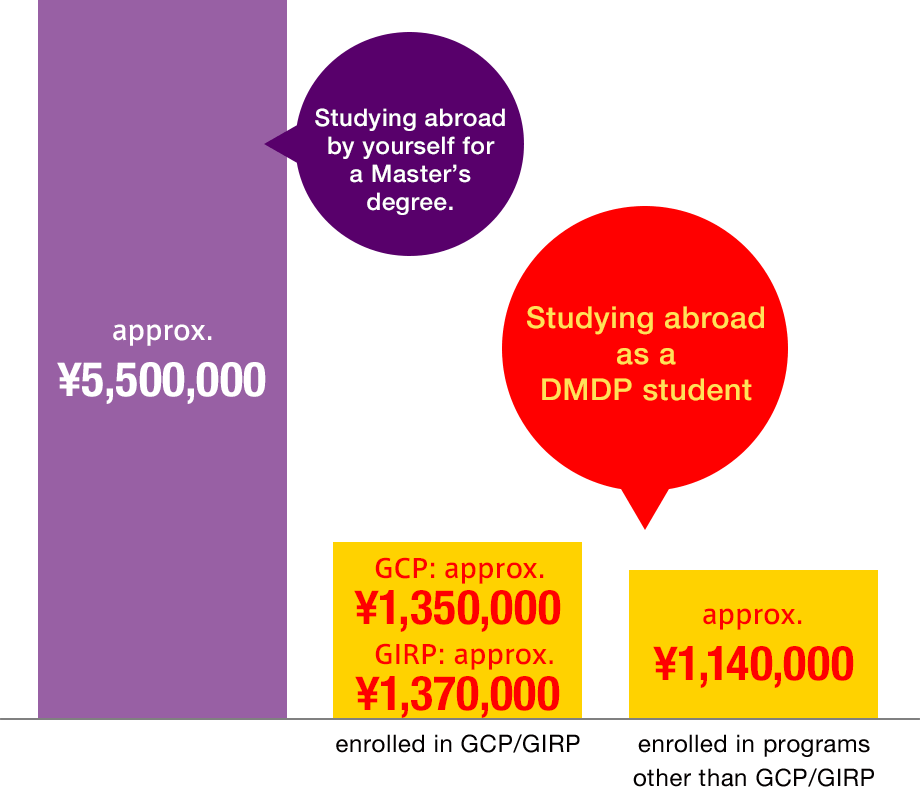 KYOTEI RYUGAKU Scholarship(Scholarship for the Graduate Students who study abroad on Student Exchange Programs provided by Ritsumeikan University)
The KYOTEI-RYUGAKU Scholarship is scholarship program for graduate students who study abroad on student exchange programs provided by RU, Ritsumeikan University grants KYOTEI-RYUGAKU Scholarship equivalent to the half of amount Ritsumeikan tuition to students.
Past Records
Total Number of Hosting/Sending Students
| Partner Universities | No. of Hosting Students | No. of Sending Students |
| --- | --- | --- |
| American University (starting from 1992) | 46.5 | 45 |
| The International Institute of Social Studies of Erasmus University Rotterdam (starting from 2004) | 0 | 13 |
| University of Granada (starting from 2005 to 2013) | 10 | 3 |
| Lancaster University (starting from 2007 to 2015) | - | 2 |
| Royal Holloway, University of London (starging from 2007) | - | 6 |
| The University of York (starting from 2007) | - | 9 |
| Kyung Hee University (starting from 2008) | 3 | 4 |
| National Chengchi University (starting from 2017) | 7 | 0 |
(as of March 2022)
Places of Employment
Governments

Ministry of Foreign Affairs
The Japan Embassy

Other Public Organizations/NPOs

JICA
Japan Foundation
Kyoto Prefectural International Center
Jetro
Thai Reps Office, Asia Seed

Universities

Faculty of International Relations, Ritsumeikan University
Faculty of Social Science, Ritsumeikan University
Asia Pacific University

Financial Institutions

World Bank
Sumitomo Mitsui Banking Corporation
Shinsei Bank
Consultancies

Accenture,
Nomura Research Institute America, Inc.
Nomura Research Institute

Private Companies

C. Itoh & Co.,Ltd.
Mitsubishi Corp.
Chunichi Shinbun Washington
Toyo Keizai Inc.
Kawasaki Heavy Industries, Ltd.
Hitachi Plant Technologies, Ltd.
Rakuten, Inc.

Post Graduate

Graduate School of Columbia University
Doctoral Program at Tsuda College
Doctoral Program at The University of Pittsburgh
Doctoral Program, Faculty of International Relations at Ritsumeikan University
in random order