Ryoma Endo (RU Home)
Talking about life at AU and beyond


Ryoma Endo in the JDP first cohort enrolled in the program in April 2018. He started his two-year studies at American University (AU) in August 2019 after spending one and a half years at Ritsumeikan University (RU).

Due to the outbreak of COVID-19, AU has transitioned students to remote learning and he is currently online classes in Japan.
Before kick-starting his senior year job search, he visited Ritsumeikan University (RU) for career consultation with his academic advisor.
Here he talks to us about life at AU and his ongoing job searching.

Life at AU
AU is racially and ethnically diverse. Ryoma was once struck by the high degree of internationality at RU's College of International Relations, but later discovered that AU students were more diverse.
AU has a number of students from other Japanese universities than Ritsumeikan JDP and there are communities for these students to come together.

He mentioned that being part of such a group provided emotional support at the initial stages.

Washington DC offers a variety of ethnic foodstuff and ingredients. Ryoma used to shop at groceries nearby and cook for himself in the dorm kitchen. His dorm mates were curious about his Japanese dishes and often came and asked for a bite. "Cooking is a great way of getting to know people from different countries", he says.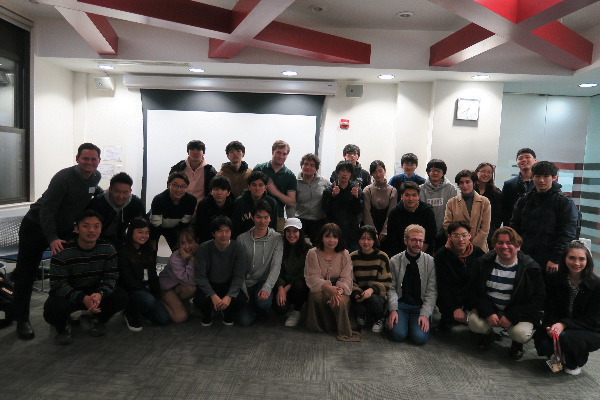 -AU classes
Ryoma did not experience a considerable language barrier as he had taken classes together with international students for the three semesters at RU. What first surprised him was that AU students were more proactive and always expressed their opinions in class. Even after shifting to remote learning, they continue to speak up throughout online classes. "They are energetic outside class and actively participate in internships", Ryoma says.
Teaching at AU differs from his home country. Students are expected to submit many pieces of coursework at AU. "For each course you will be expected to do a lot of reading on particular topics and discuss your view with your classmates. Some students do additional reading apart from reading assignments given by their instructors," he says.
He often examines how differently a particular topic are being covered in the US and Japan. He offers his own insights to classmates who are interested in Japanese points of views. Naturally the habit of comparing issues from perspectives of both countries has been developed.
-Interaction among JDP students at AU

AU offers classes tailored for JDP AU and RU students only and they also take other classes together. Ryoma used to eat out with his fellow AU students, join extra-curricular activities such as the visit to the Embassy of Japan, and go to other fun events such as a Hallowe'en party. "AU rents out one of the museums at the Smithsonian for one night and AU students got together in formal attire. This was an unforgettable memory," he recalled.
Studying in Washington DC
-Creating network through social gatherings

In Washington DC, there are a number of social gatherings and events where you can meet up with people of different ages and nationalities. "You may find it difficult to walk in these events and talk to working professionals that you first meet, especially when they are very famous. But I've prepared my own cards and tried to introduce myself to them as much as possible," Ryoma says. There he learnt that finding something in common could keep the conversation going. This has improved his skills of listening and talking to new people. He did not forget to reach out to these people through email and could meet again with many of them. He was offered an opportunity for internship through such connections.

-Organizing visits to international institutions

Ryoma joined a Japanese association in DC through one of his Japanese friends at AU. He teamed up with other members of working professionals to launch tours to visit international institutions and corporations for Japanese students in DC. His role was coordinating with selected destinations and advertising events to interested students. So far, their visits include the White House, the World Bank, Japan Bank for International Cooperation, Embassy of Japan in the US.
"I was able to gain very important skills of communications through the activities and by having a lot of these experiences I could develop both personally and mentally. If I had been only in Japan, I might not have ventured doing such things," he says. A change of environment during his stay in the DC, the center of world politics, has made him proactive.
Future plan

When Ryoma visited RU, Japan's annual recruiting schedule for soon-to-be-graduates did not started. However, Ryoma, a third year student spending the Fall semester, has already begun preparation for job hunting. He attended Boston Career Forum, a career fair for students studying in the US and participating Japanese corporations started recruiting. He is open to different possibilities and trying to see industries and occupations with an open mind.
"I got interested in marketing and corporate branding during my stay in the US. Seeing Japanese products overseas gives you new insights on brand credibility," he says, "I hope I can take advantage of these experiences whatever path I choose to take."