STORY #1
Digital Archives
Preserving Japanese Art and Culture and Making Best Use of It
Keiko Suzuki
Professor, Kinugasa Research Organization
Takaaki Kaneko
Associate Professor, Kinugasa Research Organization
Kazufumi Fukuda
Senior Researcher, Kinugasa Research Organization
At the Art Research Center (ARC) of Ritsumeikan University, we digitally archive the tangible and intangible art and culture that Japan is proud of, with a focus on Kyoto.
At the same time, we conduct advanced research by integrating various academic fields of the humanities and the sciences, and disseminate the results globally.
This story provides opportunities to spotlight the digital archives of the cultural heritage that has a deep connection to Kyoto, such as Kyo-Yuzen, Hangi (woodblocks used as printing plates), and digital games, as well as research.
Gowns, aloha shirts, kimonos and
Kyo-Yuzen that went abroad
Keiko Suzuki
Professor, Kinugasa Research Organization
There is a kimono masterfully dyed in the hand-painted Yuzen technique, depicting a pair of mandarin ducks and reeds covered in snow on a white background, reminiscent of the crisp and cold surface of a body of water. This was ordered by the ARC's research project team to investigate the current state of Kyo-Yuzen and for archiving purposes, and was produced over a period of approximately one year, starting in 2013.
Kyoto has long been leading Japan's textile industry, as represented by luxurious and gorgeous textiles such as those in Yuzen dyeing and Nishijin textiles. However, owing to a decrease in the demand for kimonos and a shortage of successors, the dyeing industry in Kyoto is in a critical situation. Kyoto's kimono production process is characterized by the division of labor, and the production of high-quality "made-to-order items" has been facilitated by specialized craftsmen with advanced skillsets for each stage of the process. In other words, difficulties may arise if production is interrupted in even one of the processes.
Considering this situation, the ARC has been promoting the digital archiving of documents such as Kyo-Yuzen design drafts and katagami stencils. Keiko Suzuki, a cultural anthropologist who is also a member of the ARC, explains, "As a part of the conservation process, this project recorded and preserved not only the kimono as a work of art, but also the process of making kimonos, the techniques and comments of the craftsmen involved in it, and the tools used."
In this project, from the production of its white silk fabric woven in Kyotango City, the selection of its designs, and finally to its dyeing and tailoring processes, each of the steps was ensured to be made in Kyoto authentically. For the project, permission to use the motifs of "Snow, Reeds, and Mandarin Ducks" and "Grapes" (originally created by Jakuchu Ito, a painter born in Kyoto) was obtained from the artwork collector, and in addition to the tailoring process of the kimonos, the dyeing techniques used in Kyo-Yuzen—such as hand-painted Yuzen and stencil-printed Yuzen—were meticulously recorded through videos, photographs, and interview surveys.
Suzuki, who is also conducting research on stencils, says, "It was a great benefit that we were able to research the connection between each process from a consistent viewpoint by recording all the processes of Yuzen dyeing." In the case of Kyo-Yuzen, in which very fine motifs are printed in various colors, it is said that dozens of stencils are employed to decorate an entire kimono with the motifs. The Yuzen kimono of this project is black and white, but it is made using 30 stencils. The completed stencils are numbered in order of dyeing and then passed forward for the dyeing process. Because of the perfect division of labor, those at the stencil-carving site usually do not know what colors will be used in the end, and certainly, the stencil carvers would hardly ever get to see the dyed kimonos.
Suzuki says, "While we knew the order in which each stencil was used, to witness the craftsmanship that goes into this process at the actual dyeing site, how they used those stencils and apply their skills in that production process gave us valuable insights that will be useful in furthering the research on stencils."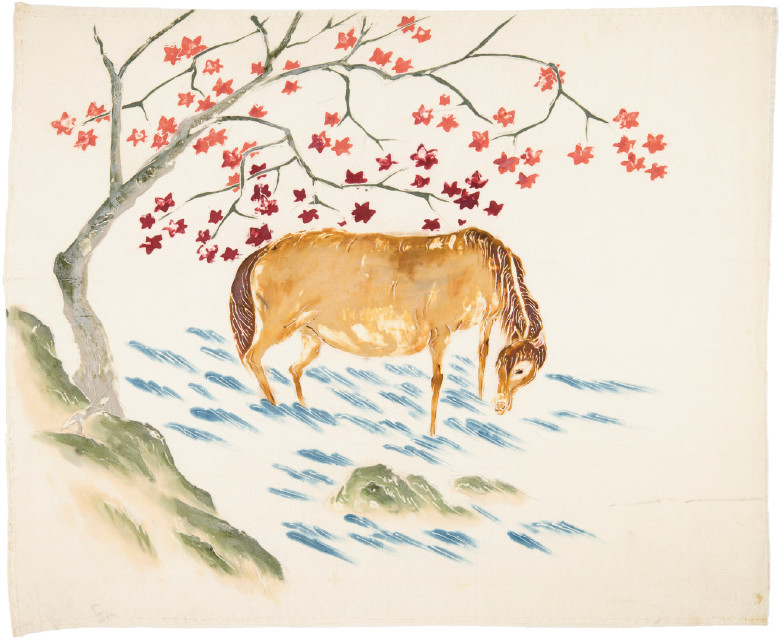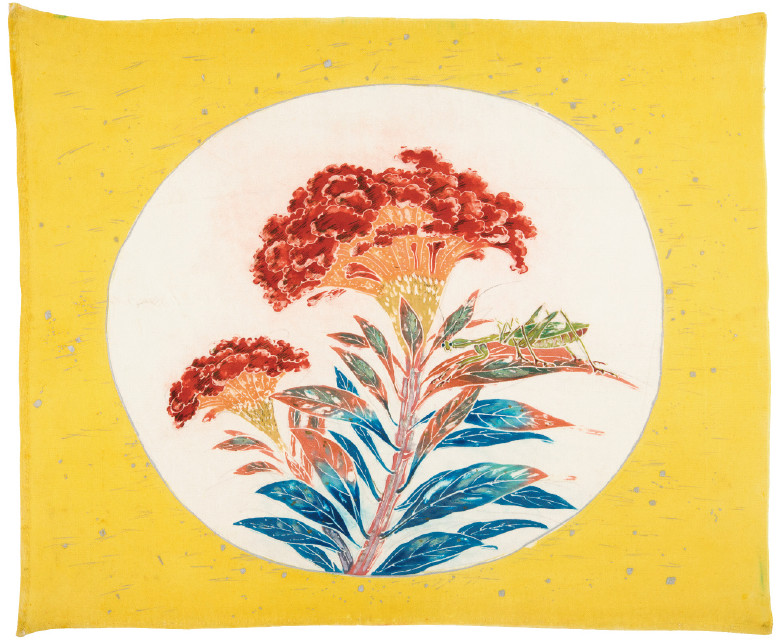 Suzuki explains that as "traditional" industries spread on a global scale, they affected the cultures and industries of other countries. She is interested in the globalization of the kimono culture through such objects as kimonos and stencils.
According to Suzuki, it is common knowledge that the Japanese kimono was brought to Europe in the 17th century by Dutch traders and became popular among aristocrats. This kimono was known as "Japanse Rokken" (Japanese gown) and was mainly used indoors as a gown worn over clothes. "Material culture was given various meanings depending on the understanding and interpretation of the people in each country where it was introduced; there are cases where unique developments can be seen. It is interesting to follow such ways of understanding, for example, how to understand different cultures through the kimono."
Suzuki's research also found that multicolored, gorgeous kimonos that were skillfully crafted were popular among Westerners, and made their way to foreign lands in various ways. In addition, Kyo-Yuzen fabrics with glossy patterns were exported before the war and were used to make aloha shirts, which are a special Hawaiian product; and the "Happy (happi) Robe," a variation that makes it easier for foreigners to wear kimonos, has been popular as a souvenir for foreign tourists, visiting Japan.
More recently, Suzuki, who has also researched Yuzen dyeing firms, discovered the existence of Yuzen works that were created immediately after the Second World War. While the demand for expensive kimonos dyed using Yuzen techniques reduced due to a lack of supplies, in the dyeing industry of Kyoto, parachute fabrics, which became available in the market after the war, were dyed with various designs and made into souvenirs for the soldiers of the Occupation Forces; Yuzen dyers helped out their living with this practice.
"It was accepted abroad because it was an advanced technique. It seemed as though the traditional industries, such as that of kimonos, had demand only in Japan. However, in reality, there were many things that were highly competitive internationally," says Suzuki. When looking at the situation on a global scale, we may see a breakthrough in the revival of the textile industry of Kyoto, which is currently said to be in decline.
Art Research Center, Ritsumeikan University
The Art Research Center (ARC) of Ritsumeikan University was established in 1998, whose mission has been not only to conduct historical and social research and analyses of both tangible and intangible cultural properties such as visual and performing arts and craftsmanship, but also to record, organize, preserve and disseminate the research outcomes.
The vast digital archives of Japanese culture and art such as ukiyo-e and early Japanese books, accumulated since its establishment, has become essential research resource for scholars of Japanese culture both in and outside of Japan.
At the ARC, we also focus on promoting advanced research and education in diverse fields through collaboration and integration of the humanities and information sciences, while promoting international collaboration as a representative center for digital humanities in Japan, as well as developing young researchers.
❶ Print artist: Hasegawa Sadanobu, "Jitsukawa Enzaburo as Ashikaga Yoshinori," and "Mimasu Gennosuke as Yuki no sho," (1841, ARC Collection, arcBK01-0038_02)
❷ Hashimoto Chogetsu, ed., "Detailed District Division Map of Kyoto Prefecture," (1879, ARC Collection, arcBK03-0116)
❸ Author: Kyokutei Bakin; and print artist: Teisai Hokuba, Eiyu gafu ("Illustrated Book of Heroes"), (1838, ARC Collection, arcBK02-0165)
❹ Paper stencils mainly used for dyeing fabrics, with patterns such as komon, yukata and yuzen (ARC Collection, arcKG00122)
Art Research Center, Ritsumeikan University