---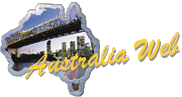 Australia Web by Australia - Japan Foundation
There are lots of information on visa application and study program, etc.
---

Australian Trade Commission
You can find out the business affiars at Australian's Export and Investment Facilitation Agency.
---

South Australia Tourism Commission
SA is famous for beautiful sightseeing spots and tasty wine, etc.
---
Visiting Scholar at Bond U & UQ
Bond University in Gold Coast and the University of Queensland in Brisbane where I researched as a visiting scholar during June 1994-April 1995.
---

Guide to Australia
You can find out more about Australia where I and my family love.
---
A Booklist on Australian Culture
This list gives some ideas on publications regarding Australia and the Aussies.
---

Australia Quiz
and
interesting Q&A
Some quiz links as well as an interesting Q&A are given to learn about Australia.
---