Going to graduate school
Graduate School Enrollment Rate of Ritsumeikan International Students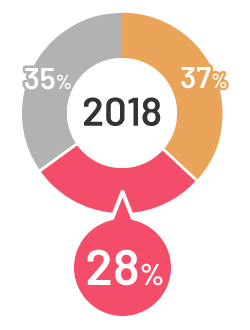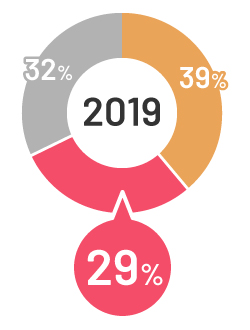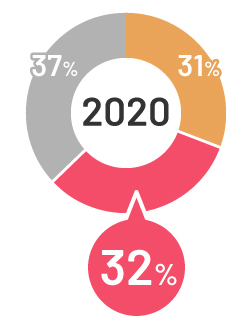 *Included "possible employment" in Employment
*Figures only for undergraduate students
Examples of graduate schools for Ritsumeikan international students have enrolled for the past 3 years (2018-2020)
Kyoto University, Waseda University, Osaka University, University of Tokyo, Keio University, Columbia University,National Chengchi University, University of British Columbia, University of Pennsylvania, Yonsei University
Purpose of pursuing further studies at graduate school
First, you need to gain an understanding of the graduate school system and make your goal clear to ensure successful further studies. Although the general term "graduate school" is used, there are several types of programs on offer, such as master's programs, doctoral programs, and professional degree programs. It is up to you whether you want to begin your graduate studies immediately upon graduation or pursue further studies in the form of recurrent education after gaining some real world skills.
It is vital that you have a long term goal to achieve by taking a big picture view of your career. Consistency between your study and career plan is highly rated. Conducting research in a program offered in Japanese can be an option if you would like to find a job in Japan in the future.
When you are considering what topics to research, either at Ritsumeikan or graduate schools at other universities, it is a good idea to seek the advice of your seminar instructors and the faculty who teach major subjects.
Research styles and future career paths will vary depending on whether you are studying the liberal arts or science. The table below describes the general pros and cons of pursuing graduate level study. The best way to obtain accurate information is to consult with graduate school students or lecturers in the field you are interested in.
Pros

Increase expertise, gain logical thinking skills and an inquisitive mind
Quickest path to becoming a researcher
Possible chances in finding jobs that require special knowledge, such as working at the UN or a research institute*
A master's degree or higher may be required for some jobs, especially when you are searching for work outside Japan
Initial salary might be better compared to graduates of bachelor's degree programs (depending on your study field)

Cons


(Things you should consider carefully)

Need for sufficient funds (Graduate school is often less expensive than university You should see if there is any scholarship available to you.)
Age can be a disadvantage because you may be older than other new university graduates. (Japanese companies still tend to hire new graduates in a batch once a year, meaning almost all new staff are in the same age bracket.)
Although you may develop more expertise, you will be expected to have a good reason to change your career path It can be harder to switch careers along the way.
*Work experience related to your study field is often required as an entry qualification for graduate school, so one option is to gain some real world work experience before applying for graduate school Advancing to graduate school. immediately upon graduation from a bachelor's degree program is not the only option.
Focusing on a high level of expertise in a specific field, professional degree programs are often named after a profession students are most likely to enter with that expertise after completion. Although you can acquire specialized knowledge in a specific field, if the profession is different from the image you have of your career after completion, you should think carefully again about the purpose of pursuing further education.
Resources
Advancing to Graduate Schools at Ritsumeikan University
Ritsumeikan University Graduate School Entrance Examination Information Website
Graduate Student Career Path Support Center
Advancing to Graduate Schools in Japan
List of Graduate Schools all over Japan 【University Journal ONLINE】(Publication and operation of university journal ONLINE Universe Cape Co., Ltd & Touch Point Co., Ltd.)
Advancing to Graduate Schools Outside Japan
In general, the requirements for admission to graduate schools outside Japan consist of a resume, an essay, references, and evidence of your language proficiency Also, some schools in the U S for instance, ask for GRE® or GMAT® scores These are specialized tests for certain fields of study Please access websites below to double check the requirements for graduate schools you are interested in and consult with your instructors before you apply.
China
Netherlands
Consultations on graduate school advancement provided by the Career Center
The Career Center can provide helpful information including the following.
Consultations about your career path (e.g., pursue further study or look for a job)
Information on post graduation career paths for graduates of Japanese graduate schools
Please feel free to contact us English assistance is available You can email us at r-career@st.ritsumei.ac.jp Be sure to include your name, student ID number, and the name of your college/graduate school