Activities in 2017
30 March 2018

New room preparation and small BBQ.
Our lab got a new room. We made it up to be "No Shoes".
Small BBQ party
What is this? :-)
Masih is cooking Afghanistan food!!
We have Halal pot and Halal hot-plate for Muslim.
Got tired but enjoyable day!!
14-16 March 2018

Visiting Hanoi University of Science and Technology
Breakfast meeting
@Prof. Huy's laboratory
Meeting with agricultural researchers.
Institute tour.
Enjoying tasty lunch.
A tasty hot pot!!
Some students kindly introduced Hanoi city. They gave us Non la.
Dr. Jordi with Prof. Quang
A dinner before departure.
Dr. Jordi and Mr. Kosai also participated as well as me, and carried out field survey, followed by a meeting for our collaboration with Prof. Quang and Prof. Huy, etc. We would lke to say thank you for their hospitality. We will visit again on September.
2018.3.22

-farewell party-
Congratulations on your graduation!
We wish you luck in all your future endeavors.
27 Feb 2018

4th operation of Tatata ironmaking
Many people visited us.
My students also joined.
Effective use of waste heat..
A bit interviewed
Start of iron removal.
A big product.
Never forget cleaning.
Appreciating Japanese sword
Celebrating his retirement and 60-years-old.
2018.2.25

Contribution of Prof. Yamasue to Zeze high school is appeared in a newspaper.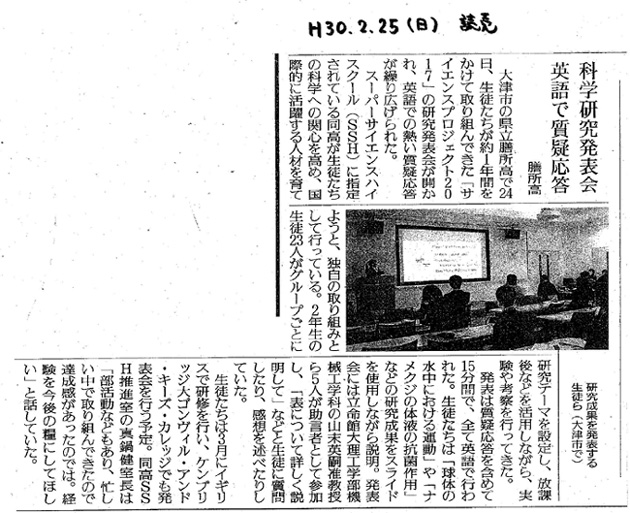 2017.11.30~2017.12.03

A study trip to Taiwan
Fujimura, a 4th year undergraduate, visited National Tsing Hua University(NTHU) in Taiwan to give a presentation.
After we arrived at Hsinchu city, We visited the TSMC Museum Of Innovation.
On the second day, all of us gave presentations in front of students at NTHU.
We had a great time and fruitful discussion.
On the third day, we had a free time for sightseeing.
We made a plan for that by ourselves and went some areas by local public transportation.
As was expected, Taiwanese food was tasty and their prices were good.
Especially, the fried rice pictured on the right seems like a Japanese normal fried rice, but the taste was really good.
During this training trip, I was overwhelmed by the abilities of the students at NTHU.
I got motivation from them, and strongly felt I would like to improve my English skills.
2017.9.20

A joint meeting at Tohoku University was held
upper left:Oyaizu
upper right:Nakanishi
lower left:Komada
lower right:Fujimura
upper left:Nishiura
upper right:Fukushima
lower left:Narimoto
lower right:Mizuno
researcher:Kosai
Everyone worked hard in the seminar.
Good job!!!
We had a social gathering after the seminar.
It was very very exciting!
We had various deep talks about research and private.
We did sightseeing in Matsushima the next day of seminar.
We went to the Fukuura Bridge.
The wind felt good and the view was amazing!
Local beers were also excellent!
We ate kaisen-don and sushi for lunch.
Everything was fresh and tasty!
This time was a seminar with Tohoku University. Oyaizu got the first prize and Fujimura also got an excellence award in Yamasue laboratory. We could spend fulfilling two days including social gatherings and sightseeing. Let's do our best in the second half
2017.9.6-8

Report of domestic conference participation (ISIJ)
We went to Hokkaido University to participate in an academic conference.
The campus was large enough so our legs got too tired exploring it.
A warm welcoming of our arrival!
On the second day of the conference, Mr. Oyaizu, a graduate student, presented his poster presentation.
Fujimura, a graduate student, also attended various presentations among audience.
Foods of cafeteria at Hokkaido University was really delicious.
We hope we could have such delicious meals at BKC soon enough…
With suggestion of our Professor we had a famous meal named "Tsukkomeshi(つっこ飯)"! and we really enjoyed it.
Stories and life experiences of the professors were totally meaningful and useful for us during dinner gathering party.
We consumed the extra calorie through a night street walking after the wonderful dinner and too much eating. This is one of the photos we took while walking in Sapporo city. This is one of the photos we took while walking there.