Report on the guest lecture (Representative director of Data Lupe Company: Kiyotsugu Yoshihara)
Dr. Kiyotsugu Yoshihara, representative director of Data Lupe Company Limited, was invited as a guest lecturer at the Professional Workshop (English class: led by Pr. Wanxue Lu).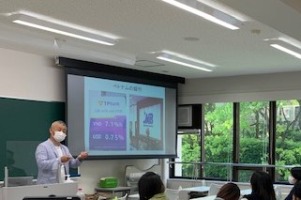 We invited Dr. Yoshihara Kiyotsugu to the professional workshop. He addressed several topics, like the financial system, the difference in business styles of cooperative banks, regional banks, and mega banks in Japan, Vietnam, Philippines, as well as his professional path in the banking sector for the past thirty years. He particularly placed great emphases on the Japanese banking business at present, which is considered to provide students with a more specific and in-depth understanding of working in the Japanese banking industry. Banks are now required not only to act as providers of capital but also to provide consultation to and continuously support the restructuring and development of client firms through long-term business relationships.