Report on the guest lecture (Senior researcher at kiko Network and CAN-Japan:Masayosi Iyoda)
Masayosi Iyoda, senior researcher at kiko Network and CAN-Japan, was invited as guest lecturer at the Professional Workshop (English class: led by Pr. Wanxue Lu).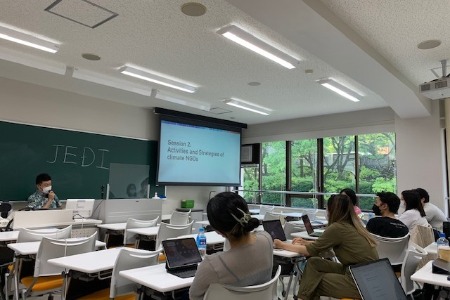 We invite Mr. Masayoshi Iyoda, senior researcher in NPO named Kiko Network and Climate Action Network Japan (CAN-Japan), to the professional workshop today. He shared his life story and all the works related NGO. Along with the increased awareness of the environment and human rights of citizens, private companies as well as NGOs try to practice the social economy.
The lecturer briefed on the global climate problem, its trends and NGO strategies first. Mr. Masayoshi Iyoda showed the graph's trend of CO2 concentration in the air was extremely severe, and depicted how the world is contaminated with map. Finally, he discussed his NGO career in Japan.